[ad_1]

Boris Johnson has suggested the UK employ Donald Trump-style tax cuts in a bid to catch up with the economic growth being enjoyed in the US.
The former foreign secretary believes income tax, stamp duty and capital gains tax should all be slashed – measures likely to appeal to Conservative voters at a time he is being tipped to launch a leadership challenge.
Speculation is rife that Mr Johnson is weighing up a move to displace Theresa May, despite his latest Brexit intervention prompting a furious backlash from senior Tories.
Former Foreign Office colleagues Sir Alan Duncan and Alistair Burt are among those to have criticised his comparison of the Chequers deal to a "suicide vest", with the former saying that it should mark the end of his political career.
But Mr Johnson – who has also made headlines in recent days over his divorce from Marina Wheeler – appears unlikely to allow such rebukes to put an end to his public questioning of government policy.
Writing in his regular Daily Telegraph column, he said: "Instead of canvassing tax rises, we should say that tax henceforward will not go up. That's it. No new taxes and no increase in rates.
"We do need to spend more on the NHS. We must find the extra £20bn that the chancellor has rightly promised. We do need to step up our investments in the police and schools and other vital public services.
"But I am afraid I am not convinced that the answer is immediately to turn to the hard-pressed taxpayer, when Britain is now by no means a low-tax economy compared with several other jurisdictions in Europe."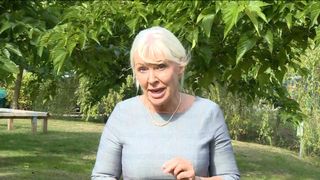 Mr Johnson again hit out at the ongoing Brexit negotiations with the EU as part of his pitch, suggesting that it was "very odd to be proposing tax hikes when we are about to hand over £39 billion to the EU for nothing in return".
He said that public finances were improving and that the government needed "to show how a post-Brexit Britain will be a happy and dynamic economy".
In a reference to the policies of President Trump, Mr Johnson said: "The US currently boasts economic growth rates far in excess of this country, at about 4.5%, and with record low unemployment.
"That growth is being driven not just by the US government's decision to cut taxes and regulation, but perhaps even more by psychology: by the sense that the government wants to cut taxes, wants to liberate and energise people.
"Do we send out that signal, here in this country? I am not so sure."
The US president signed his $1.5tn (£1.1tn) tax cut programme into law last December.
It was the first major overhaul of tax laws in the country in 21 years.
[ad_2]