[ad_1]

In a defiant message to Boris Johnson and other Eurosceptic critics in the ranks of her squabbling party, the Prime Minister insisted she will stay in her job "for the long term" and will not be forced out of Downing Street.
And signalling growing optimism that agreement with Brussels is within her grasp, one of her senior officials today declared: "We are closing in on a deal."
Mrs May fired her broadside at Tory Brexit rebels today in her first public remarks since returning from her summer walking holiday in Switzerland.
Speculation about her future among has raged over the summer following attacks on her EU departure plans by Mr Johnson and other Brexiteers.
Speaking in a television interview in Cape Town today at the start of a three-day visit to sub-Saharan Africa, the Prime Minister said: "I am here for the long term because I want to deliver for the British people – that is delivering on the Brexit vote, doing that in a way that protects jobs and livelihoods, maintains the UK, means no hard border between northern Ireland and Ireland.
"But also deliver for the British people on the concerns that they have."
Mrs May also dismissed speculation about a possible leadership challenge by Mr Johnson when she was questioned by journalists during her flight to South Africa on Monday evening.
"I've been asked before if it's my intention to lead the Conservative Party into the next election and I've answered that question before – I'm in this for the long term.
"What I'm focused on is doing what the British people want. The British people voted for us to leave the EU and I, and my Government, will be delivering on that," she said.
She also rejected suggestions that her position was threatened by a surge in Eurosceptic voters joining local Tory associations in the hope of wrecking her "Chequers" blueprint for a customs deal and backing a Brexiteer candidate in a future party leadership contest.
She said party chiefs had been working from the start of the year to raise membership and had achieved "a steady increase – that's what you would expect a political party to be doing."
Some of her allies fear Mr Johnson, the former Foreign Secretary, could be preparing a leadership challenge following his resignation from the Cabinet in protest at the Brexit proposal agreed by her ministers at her Chequers country retreat.
But Mrs May said: "I've said before that I'm in this for the long term.
"I'm in this for delivering for the British people and that's what I'm focused on."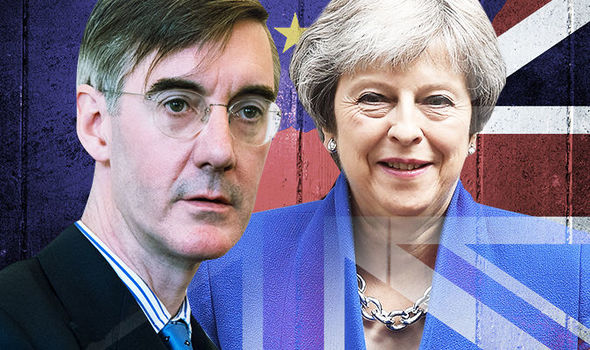 Brexit news: Theresa May today stared down her Eurosceptic rivals (Image: GETTY)
She also rejected warning from some her party critics that she could face a hostile reception from grassroots members at the Tory conference in Birmingham in October.
"I will be going to conference with important messages about what we as a government are doing, not just in relation to Brexit issues and delivering a good deal but on the domestic agenda," she said.
As the Prime Minister kicked off her visit to South Africa, a senior Government source hailed the progress in the Brexit talks with Brussels.
"We are closing on a deal. A significant amount of the withdrawal agreement is now agreed and we remain confident we can make progress by October," the official said, ahead of fresh talks between the two sides reconvening in Brussels today.
"But as we have set out, no deal planning is taking place and the purpose of that is to make sure that the UK continues to thrive and succeed outside the EU in whatever scenario."
EU Exit Secretary Dominic Raab had formed a strong working relationship with chief EU negotiator Michel Barnier, the source said.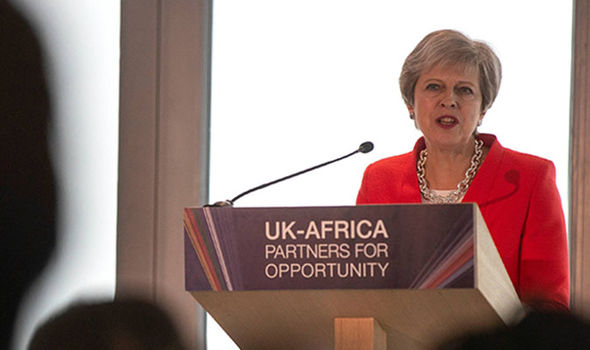 Brexit news: Theresa May speaking during her visit to South Africa (Image: EPA)
"If you look at the recent interactions there have been between the Brexit Secretary and Michel Barnier, you can see both parties are going about the negotiations in a spirit of great goodwill and are working very hard to achieve the outcome that both sides recognise will deliver for the citizens of the UK and the citizens of the EU," said the source.
EU and UK officials in the two negotiating team are set to hold talks today, and Mr Raab and Mr Barnier will meet to continue their wrangle over a future trade deal later this week.
"They are both committed to working extremely hard to delivering the Brexit deal," the spokesman said.
"They have upped the intensity and the pace of negotiations and they will meet this week.
"We have made good progress, we continue to make good progress and we are confident we can deliver the deal we are after. We are working towards the October deadline."
The official also dismissed a warning from French President Emmanuel Macron that the EU could unravel if the bloc agreed to Mrs May's proposals.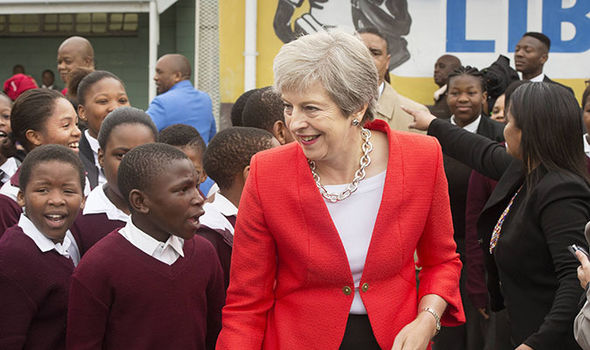 Brexit news: Theresa May sent a direct warning to her Eurosceptic rivals today (Image: EPA)
"We are confident that we can negotiate the deal we are after. We are also committed to maintaining relations with the EU and it is in our interests for the EU to remain a strong trading partner and ally of the UK," the source said.
During her flight to South Africa, Mrs May laughed when asked if she was frightened by the example of her Oxford University contemporary Malcolm Turnbull being recently ousted as Australian Prime Minister in a party coup.
She said: "The Australian politics have certainly been active over the last week or two…
"But I think if you look at Australian politics, they are rather different from the politics we see in the UK."
[ad_2]