[ad_1]

The French president will push EU leaders to make a post-Brexit deal with the UK at an upcoming meeting.
Emmanuel Macron aims to use an EU summit next month to put pressure on the bloc's leaders to push for a partnership with Britain.
At the meeting in Salzburg, Austria, Mr Macron will outline a new structure for European alliances, based on "concentric circles" with the EU and Euro at its core and the UK in a second ring, according to The Times.
The newspaper quoted a diplomatic source saying: "He sees a no-deal scenario as something that would break links and poison relations at a time when Europe needs to be united beyond the EU."
Mr Macron has said that any Brexit deal must not damage the EU's integrity.
It comes as the EU's chief negotiator Michel Barnier offered words of optimism, saying: "We are prepared to offer Britain a partnership such as there never has been with any other third country."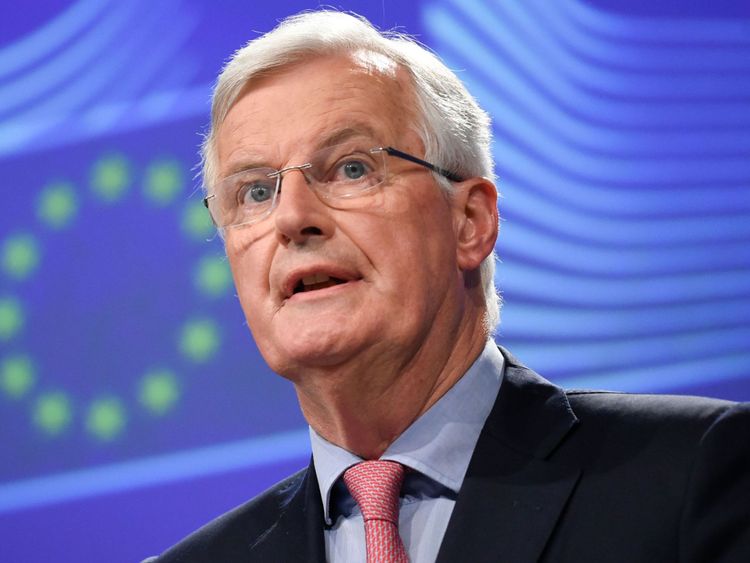 His words helped trigger a sharp rise for sterling, seeing the pound rise to its highest level for weeks.
"We respect Britain's red lines scrupulously," Mr Barnier said during a news conference in Berlin.
"In return, they must respect what we are. Single market means single market. There is no single market a la carte."
Following his comments, the pound rose to more than $1.30 for the first time in over three weeks.
Sterling jumped by a cent against the dollar, and was also up by a cent against the euro at just over €1.11.
Mr Barnier's comments came as Brexit Secretary Dominic Raab admitted the UK and EU might miss October's deadline for agreeing a divorce deal.
With negotiations still deadlocked on issues such as the Irish border, Mr Raab called for "renewed energy" to push an agreement over the line.
Giving evidence to the House of Lords' EU select committee, Mr Raab said: "It is important as we enter the final phase of the negotiations in the lead up to the October council and the possibility that it may creep beyond that, we want to see some renewed energy.
:: Pound rises as EU's Barnier hints at 'ambitious' Brexit deal
"We're bringing the ambition and the substance of our white paper on the future relationship and also, I think, some pragmatism to try and go the extra mile to get the deal that I think is in both sides interests.
"We need that to be matched obviously – it's a negotiation."
His comments appear to confirm reports that EU and UK officials are now aiming to finalise divorce terms by the middle of November at the latest, which could prompt an emergency Brussels summit.
Mr Raab also said a no-deal Brexit could alter the payments of the UK's £39bn divorce bill to Brussels.
Mr Raab's fellow Brexiteers have argued no money is payable to the EU if there is no final agreement.
Earlier on Wednesday, de facto deputy prime minister David Lidington delivered a warning to both Brussels and Tory Brexiteers.
He urged them to swallow their opposition to Theresa May's Chequers plan for the future UK-EU relationship or risk no deal.
Mr Lidington told a French business conference: "With exactly seven months until the end of Article 50 process and less than two months ahead of the October European Council, we face the choice between the pragmatic proposals we are discussing now with the European Commission, or no deal.
"The alternative models do not meet the level of ambition or the outcome we all want to see delivered.
"So, we need the EU to engage with us on our positive vision of the future relationship."
[ad_2]