[ad_1]

Donald Trump told Theresa May to be "brutal" and "tough" in the Brexit negotiations, according to one of the president's former advisers.
In an interview with the Daily Telegraph, Steve Bannon said Mr Trump told the PM she should demand much more from Brussels than she realistically expected to get.
The president told Mrs May she had to maintain "momentum" because "if it drags out the deal doesn't get done", according to Mr Bannon.
He added that his former boss offered the PM some of the suggestions contained in his book The Art of the Deal, which states: "Overshoot your target, be tough and get on with it."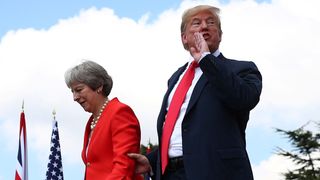 It comes after Mr Trump said he had given Mrs May advice on how to come out on top in the negotiations with Brussels but "she found it maybe too brutal".
He said the PM "can't walk away" from the talks, but suggested she could use other means to get a good deal.
During a joint news conference at the PM's country retreat of Chequers, the president also rowed back on his criticism of Mrs May's Brexit strategy and handling of the exit talks – which came in a bombshell newspaper interview.
He showered praise on the PM, describing her as an "incredible" leader who was "doing a fantastic job", adding that he had apologised for comments made to The Sun.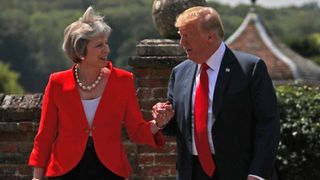 Speaking at Chequers, Mr Trump told Mrs May "whatever you do is OK with me" on Brexit, but urged her to "make sure we can trade together".
Despite an audio recording being released of the interview, Mr Trump claimed he "didn't criticise" the PM and said he has a "lot of respect" for her.
The president said: "The only thing I ask of Theresa is that we make sure we can trade and we don't have any restrictions because we want to trade with the UK and the UK wants to trade with us.
"So if they go in a slightly different route [on Brexit] – and I know they do want independence… if they are going to go in a certain route I just said that I hope you are going to be able to trade with the United States.
"I read reports where that won't be possible, but I believe after speaking with the prime minister's people and representatives and trade experts it will absolutely be possible."
The remarks were in stark contrast to Mr Trump's comments in The Sun on Thursday, which were published as Mrs May entertained him at a lavish banquet.
He claimed her Brexit blueprint would "probably kill" any hopes of a future US-UK trade deal.
In addition, Mr Trump said he would be negotiating Brexit "much differently" and declared that the PM "didn't listen to me".
[ad_2]