[ad_1]

Jeremy Corbyn has declared Labour would "absolutely" vote against a "no deal" Brexit in Parliament, as he again failed to state whether he believes Britain will be better outside the EU.
The Labour leader insisted his party "would not countenance" the UK leaving the EU without a withdrawal agreement, saying it would be "very, very bad for the whole country".
Mr Corbyn spoke ahead of the government publishing the first batch of papers outlining contingency plans for such a scenario, after Prime Minister Theresa May ordered Whitehall to step up no deal preparations last month.
Asked whether there were circumstances in which he would accept a no deal outcome, Mr Corbyn said on Wednesday: "No deal would be a very, very bad for the whole country.
"We would not countenance a no deal Brexit because that would mean trade would then immediately move onto World Trade Organisation rules.
"That would mean our manufacturing industries would be hit very, very badly immediately.
"Our supply chain would be hit very, very badly – it would have a massive economic damage to this country.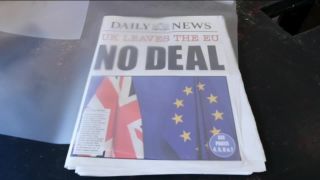 "That's why, early on in this process, Labour called for a transition period. And, we would absolutely vote against that in Parliament."
On a visit to Scotland, where he met asylum families, Mr Corbyn accused the government of having "wasted" the more than two years since the Brexit vote by not negotiating with Brussels in an "effective way".
He added: "I would say get round the table, stop dreaming up fantasy arrangements with Donald Trump and realise that to protect jobs we have to trade with Europe.
"And we have to have both that sales opportunity and the ability, of course, to import from Europe, and give Europeans nationals living in Britain some peace of mind and some security.
"We've already got 100,000 vacancies across the NHS in the UK, many of those people should be working in our NHS."
On Tuesday, Mr Corbyn failed six times in a TV interview to say whether Britain would be better off outside the EU.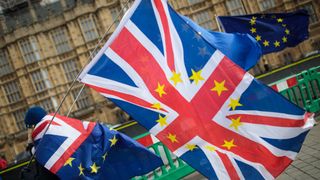 Asked the same question on Wednesday, the Labour leader – who backed Remain in the EU referendum – said: "It's a hypothetical question because we haven't reached that point yet.
"If we have a trade relationship with Europe, if we have a customs union with Europe, then we can make sure that people are as well, or better off, than they are now.
"But, it will be a Labour government that invests in the future of our people that will make people better off.
"It's a Labour government that will make people better off, not this chaos."
The Labour leader is under pressure from some of his MPs and party members to give his support to a second referendum on any final Brexit deal.
Mr Corbyn, who will give a lecture on the media on Thursday, earlier agreed "everyone believes in that principle of a straight answer to a straight question".
He used his trip to Glasgow to call for an end to the privatisation of asylum and refugee accommodation.
[ad_2]