[ad_1]

It's been another first for Brexit.
The recent two-day "no deal" meeting of the Civil Contingencies Secretariat appears to be the first time official Whitehall apparatus to deal with planning for emergencies and disasters has been used in anticipation of actual government policy.
It was one of the revelations about "Operation Yellowhammer", the code name for no-deal contingency planning, included in a government document inadvertently leaked on Thursday.
Carried out of the Cabinet Office by Treasury minister John Glen, the paper was snapped by photographer Steve Back.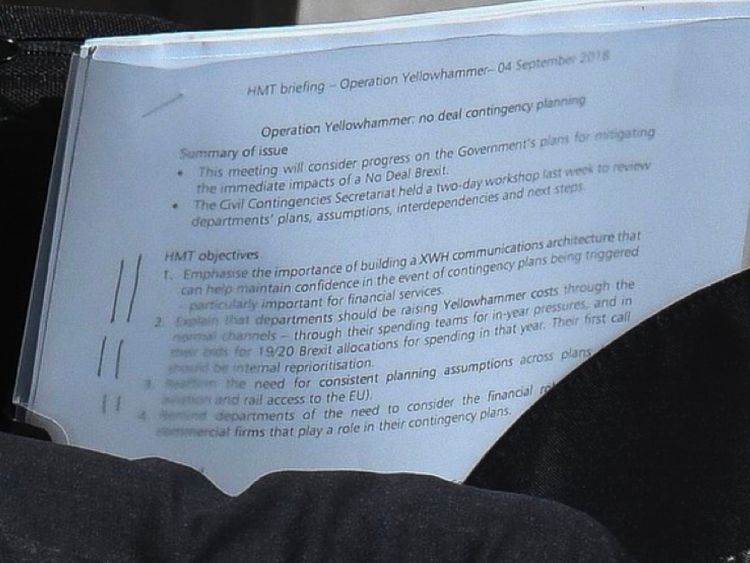 The Civil Contingencies Secretariat, which services the COBRA emergency committee and is designed for "emergencies and disasters", was created in 2001 during the foot and mouth crisis and in the aftermath of disruptive fuel protests.
The government would argue its involvement in no-deal Brexit planning is a sensible precaution, while Brexiteers might suggest it is necessary for a credible strategy to leave the EU without an agreement.
On the other hand, as Remainers have suggested, the deployment of the government's civil planning system for emergencies and disasters was not exactly the promise of the Leave campaign during the EU referendum.
The detail of the Treasury memo is quite revealing in and of itself.
The Treasury is playing hardball with the £3bn earmarked for Brexit contingencies, encouraging departments to find funding for no deal plans from existing budgets first.
The same day as the revelation of the document, Health Secretary Matt Hancock disclosed taxpayer funds might be required to reimburse pharmaceutical companies for some no-deal costs.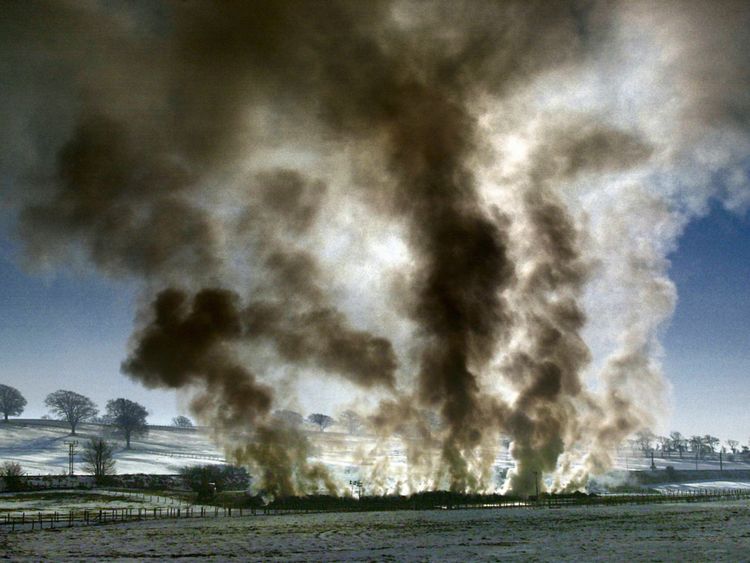 The document also reveals what the Treasury thinks is obvious, but is a view not necessarily shared elsewhere in government; that there will be a no-deal Brexit impact on "aviation and rail access to the EU".
Its briefing paper states all departments need to come up with "consistent planning assumptions" for the disruption to traffic.
And the Treasury also sought to "remind departments of the need to consider the financial [robustness] of commercial firms that play a role in their [no-deal Brexit] contingency plans".
This suggests concerns about the share prices and financial liquidity of key transport and logistics operators, in the event of no-deal.
The work of the Civil Contingencies Secretariat also raises questions about whether there are plans to deploy the Civil Contingencies Act, which gives central government emergency powers over local government and agencies.
Last month, Sky News revealed local councils are planning for a range of Brexit impacts from social care problems to social unrest.
Already there are concerns emergency police powers will be required to force lorry traffic to take certain routes under the no-deal Brexit traffic plan, named Operation Brock, to turn a 13-mile stretch of the Dover-bound M20 motorway into a lorry park.
[ad_2]