[ad_1]

John McDonnell has said Britain's rail industry can be renationalised without the need to borrow money.
When asked by Sky News if the return of rail to government ownership would require any further borrowing or upfront cost, the shadow chancellor said: "No, on rail, not at all."
He said: "We're doing the detailed work as well about how we'll do that.
"I'm confident we can bring it back into public ownership promptly and then have an efficient service. I'll tell you why – people are demanding it, they've had enough of being ripped off with high fares and a poor service."
Mr McDonnell described a £176bn estimate on renationalisation by the Centre for Policy Studies as "laughable".
He added: "I think it has been laughed out of court by any independent commentator. They're pursuing their own particular political agenda."
If Mr McDonnell had a figure in mind, however, he was not sharing it with his shadow cabinet colleagues.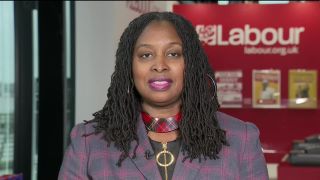 On the eve of Labour's annual conference in Liverpool, shadow minister for woman and equalities Dawn Butler said: "I can't give you a precise figure because I'm not the person that's doing all of the number crunching at the moment.
"But what I can tell you is that every single Labour policy has been costed, our manifesto was costed, no other party has a costed manifesto."
When pushed on the possible cost of re-nationalisation, however, Ms Butler could only remind voters of what "an absolute mess" the network is.
She said: "What I can tell you about the railways is that it's an absolute mess.
"What I can also tell you is that this government pays money – at least £5m a year – to companies who are failing to deliver a good service, and the Labour Party will change all of that and what I can tell you is that John McDonnell is the man for the job to do that."
She added: "I'm looking forward to his speech where he will outline everything that he would do as chancellor in the Labour government.
"John loves talking about figures…and crunching figures and I've been in meetings where they've talked about figures."
The news comes after Transport Secretary Chris Grayling's admission that Britain's railways are "bursting at the seams", with the industry operating on a structure created 25 years ago.
Announcing a review into the problems, Mr Grayling said: "My conclusion is that we've got an industry today where decision-making is too fragmented, we need a more joined up industry, we need an industry that moves on from the model set up at the time of privatisation."
[ad_2]