[ad_1]

Theresa May has dismissed questions over a reported rift with Defence Secretary Gavin Williamson about military spending.
Pressed over the rumoured cabinet row, the prime minister brushed aside the inquiry by insisting the UK has "the biggest defence budget in Europe".
Speaking to reporters on Armed Forces Day, Mrs May again shied away from pledging that the UK will remain a "tier one" military power, saying instead it would continue to be "a leading defence nation".
The PM is said to have sparked concerns within the the military after she reportedly asked the defence secretary to justify plans to maintain Britain's tier one status.
This is thought to require an independent nuclear deterrent, a full range of land, air and sea forces, and the ability to respond to modern threats like cyber attacks.
Mr Williamson has been pushing for an increase to the defence budget as plans are drawn up to prepare the armed forces to respond to future threats.
He has been supported by former military commanders, who have backed a recent call by the cross-party defence select committee for the government to raise spending on defence from the NATO minimum of 2% of GDP to 3%.
After the prime minister's promise of an extra £20bn a year for the NHS, allies of Mr Williamson on the Tory backbenches are reportedly threatening to rebel and vote down the next budget if there is no additional funding for defence.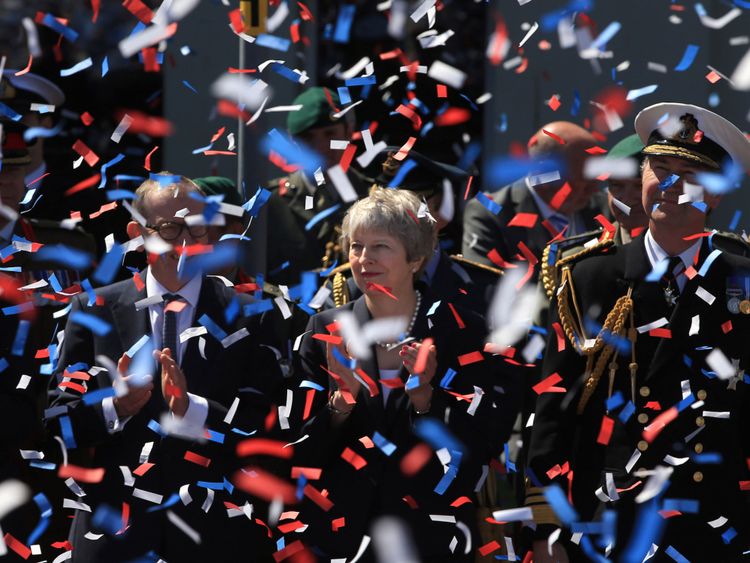 The defence secretary, a former chief whip who ran Mrs May's leadership campaign in 2016, is reported to have said: "I made her, and I can break her."
But asked about the reported cabinet spat, Mrs May said: "We are a country that has the largest defence budget in Europe. We are the second biggest defence budget in NATO.
"What's important is that we ensure that we have the capabilities to meet the threats of the future."
Questioned about Britain's tier one military status, she said: "We are a leading defence nation. We will remain a leading defence nation."
The prime minister was speaking as, together with the Princess Royal, she visited the Welsh town of Llandudno to celebrate the 10th annual Armed Forces Day.
Mrs May applauded and Princess Anne saluted service personnel taking part in a military parade, amid a flurry of red, white and blue confetti
After an air display by the Red Arrows, the PM went on a walkabout to meet members of the public and military personnel.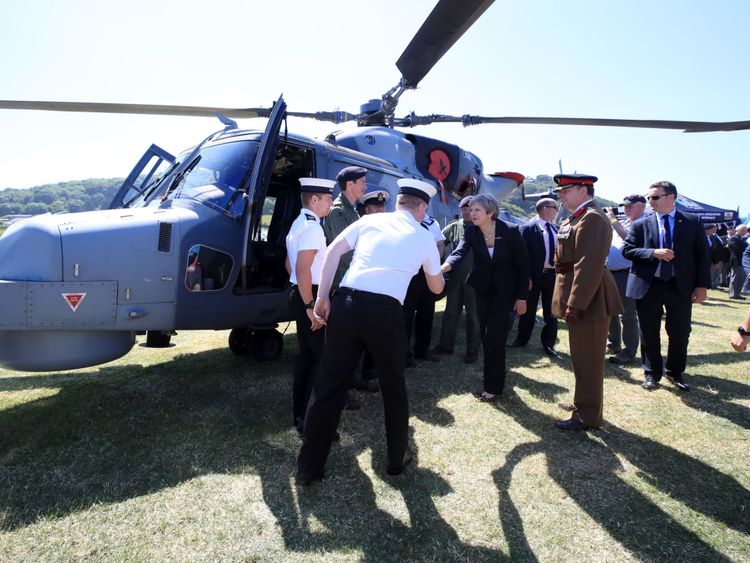 She also met volunteers who raise money for veterans in Salisbury, which she announced as next year's host for Armed Forces Day.
Mrs May told them she thought there was "nowhere more suitable" to host the event next year in response to the nerve agent attack.
The PM also promised a new national games for wounded, injured and sick veterans and personnel – inspired by the Invictus Games but focused solely on the British military.
[ad_2]