[ad_1]

A £100m government plan to halve rough sleeping in England by 2022 and eradicate it by 2027 has been launched.
Thousands of rough sleepers will be offered rapid specialist assessments and support, as part of a package of new measures announced by Communities Secretary James Brokenshire.
The Rough Sleeping Strategy will take a three-pronged approach of prevention, intervention and recovery.
About £30m will be spent on mental health treatment and to help those with addictions to problem substances like spice.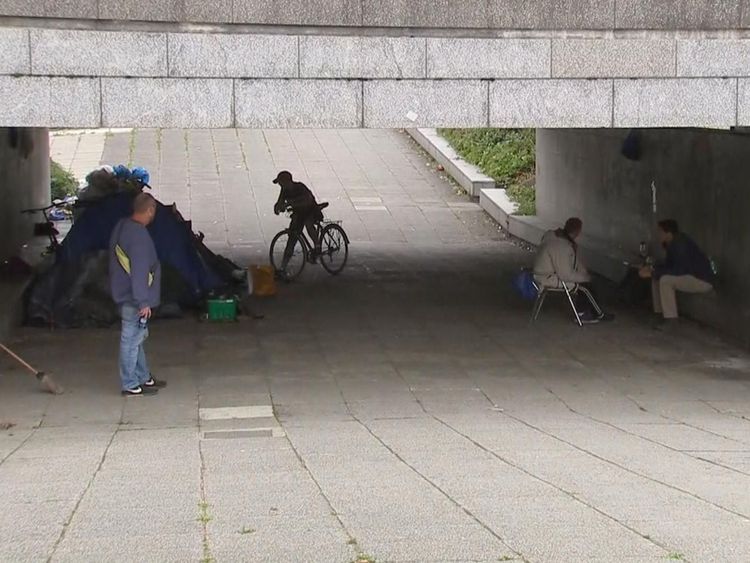 Prime Minister Theresa May said: "Nobody should have to sleep rough, and that's why we must do all we can to help the most vulnerable in our society get the support they need.
"But we recognise this is a complex issue – as well as ensuring people have somewhere to live, we have to deal with underlying problems and ultimately help people turn their lives around.
"The strategy launched today will help us act to prevent rough sleeping before it happens and make sure targeted support is reaching those that need it."
Charities welcome the commitment but hope more money will follow.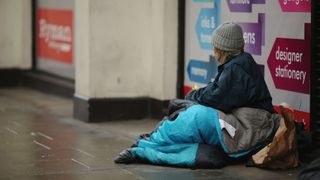 Howard Sinclair, chief executive St Mungo's Homeless Charity, told Sky News: "£100m won't end rough sleeping by 2027 – it will take more than that. But it's a good start – the money is welcome, it's already being expended in the areas in the country where rough sleeping is at its worst.
"This new plan shows the government is committed to ending rough sleeping and making a real difference."
However, the Labour party say rough sleeping is a problem of the government's making.
John Healey MP, Labour's shadow housing secretary, said: "This is a feeble plan that lacks any urgency. The scale of the problem is clear today but the government's target means waiting almost a decade to deal with this crisis.
"The funding announced will barely register compared to the reckless Conservative cuts to affordable housing, social security benefits and homelesssness services that have caused this crisis."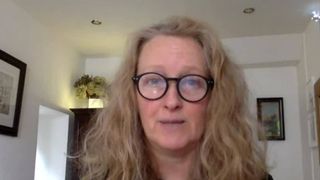 The most recent figures show homelessness in England has increased dramatically since 2010, when the Conservatives returned to government.
Official figures, seen as a low estimate, showed 1,768 people were sleeping rough in 2009/10, but last year, that had increased by 169% to more than 4,751.
As well as boosting existing systems to help homeless, the government wants to create a network of "navigators" – specialists who will act as trusted confidantes – to help people sleeping rough access the appropriate services and accommodation.
The new plan recognises that a housing-led approach – giving people their own front door – is vital to restoring dignity and a sense of security, hope and recovery.
Another new idea is to invest money from dormant bank accounts into housing for those on the streets or at risk of rough sleeping.
The new money follows a similar announcement in March of a £30m fund for 2018-2019 for local authorities with high levels of rough sleeping. Milton Keynes was one area to receive money and has since worked to halve the number of rough sleepers in the town using the £240m it received.
[ad_2]