[ad_1]

Alex Salmond is shutting his controversial crowdfunding campaign that raised money for a court battle after more than £100,000 was donated – double its target.
The cash is to help with the cost of his fight with Scotland's government over its handling of sexual misconduct allegations he faces.
The former Scottish first minister's decision earlier this week to ask the public for financial aid was criticised by opposition politicians as "unprecedented" and "unbelievable".
Some urged people to donate cash to women's organisations instead of giving money to him.
Mr Salmond's original funding target was £50,000 and by the time the campaign closed, it raised £100,007 from 4,146 supporters in three days – with donors giving an average of just over £24.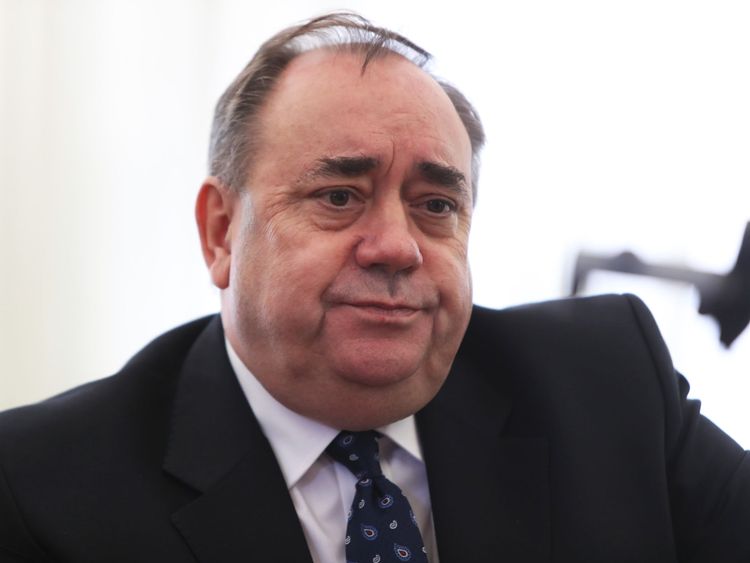 The 63-year-old ex-SNP leader, who denies the allegations against him, said he launched a donations page because the legal costs were "huge" and "many have asked how they can help directly".
After £100,000 was raised, he said: "Many thanks to the thousands of people who have come forward with support.
"We will now press on with the challenge to the lawfulness of the procedure. All funds will be used exclusively to support the judicial review.
"If we are successful in the Court of Session then there are likely to be substantial surplus funds and, as I have pledged, every penny will then go to good causes in Scotland and beyond."
Speaking about his legal complaint, Mr Salmond said: "There is a general interest in ensuring that such procedures are fair and lawful, just as complainers, and those complained about, have a right to confidentiality. That has been breached in this case.
"My entire focus is now on the judicial review and seeking fairness. I am content to let the court action take its course."
Mr Salmond was told in March of an investigation by the Scottish government, after two complaints about his behaviour were made in January.
The allegations date back to 2013, when he was the country's first minister, and details have been passed to Police Scotland.
On Friday, lawyers at the firm Levy & McRae confirmed a petition for judicial review in the Court of Session had been served on legal representatives of the Scottish government.
The Scottish government has pledged to "vigorously defend" its position in court, saying there are "a number of inaccuracies in Mr Salmond's public statements".
First minister Nicola Sturgeon had encouraged her Twitter followers to donate to a campaign for women's aid groups mounting a court fight against the UK government's so-called "rape clause".
[ad_2]