[ad_1]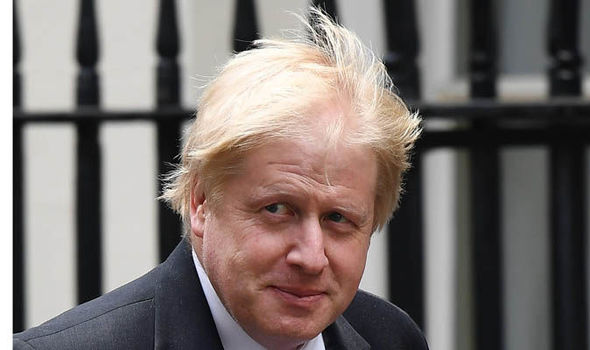 Boris Who? Kenyan Prime Minister fails to recall Johnson's name in a meeting with PM Theresa May (Image: EPA)
It came during a press conference in which he also gently chided Mrs May and Britain for being so late to engage with his fast-growing country – as he holds talks with superpower leaders US President Trump and China's President Xi Jinping.
Mr Kenyatta also appeared to play down Brexit as a decisive factor in forging stronger future partnerships with Britain.
Mrs May was on the last day of a three-day tour of South Africa, Nigeria and finally Kenya, seen as a drive to pave the way for new post-Brexit deals.
She is the first British prime minister to visit Kenya for more than 30 years, and the first to make a substantive visit to Africa since 2011.
Opening a press conference after his talks with Mrs May in Nairobi, Mr Kenyatta noted pointedly to his guest: "We are pleased you found time to honour our invitation to come and to see for yourself our country and our continent that has changed over nearly four decades since the last UK Prime Minister visited."
Asked later if he thought the UK had neglected Kenya and if Brexit was an opportunity to rebuild, Mr Kenyatta said: "Yes, it's been 30 years plus. I don't want to dwell on the past, I'm looking to the future."
He hoped Mrs May's visit would be the first of many as the countries built new bonds.
He said that despite the lack of PM visits, there had always been constant "high level" engagement between the two governments, now being reinforced but not just because of Brexit, since many other issues beyond trade were of mutual interest including security and education.
Mrs May's presence in Kenya and in Africa would "go a long way to creating that surety that the UK is a longterm strategic partner".
Later, Mr Kenyatta referred to Mr Johnson and his love of bicylcling and sponsorship of "Boris bikes" when he was London mayor, when discussing yesterday's THURS agreement for Britain to step up the return of funds stolen from Kenya in crime and corruption and hidden in British banks and assets.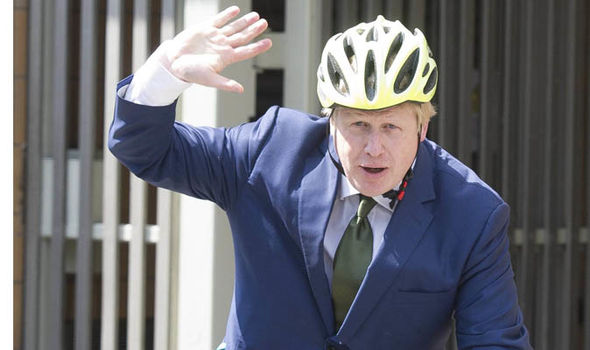 Foreign Secretary Boris is well known for promoting cycling in central London (Image: Tim Clarke)
The money is being used to fund Kenyan priorities.
In what may have been a slip or could have been a mischievous sleight – at the UK or at would-be British Prime Ministerr Mr Johnson, Mr Kenyatta told the event: "Last year as you will recall, the Foreign Secretary then – Boris erm, Boris, Boris … Johnson – bicycle guy! Boris Johnson was here."
Mr Johnson had seen ambulances bought from funds seized and return to fund public services in Kenya.
Mrs May maintained a diplomatic straight face as Mr Kenyatta struggled for Mr Johnson's surname, before breaking into a smile when he did so.
On Tuesday in Cape Town, Mrs May also cited Mr Johnson as she denied being "late to the party" in her visit to Africa.
She rejected the charge, adding:  "If you just look at the number of visits that the former foreign secretary made just last year to Africa is an example of that.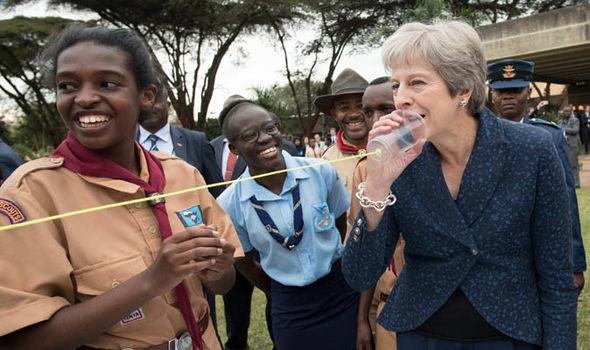 Theresa May with Kenyan scouts (Image: Press Association)
Mr Johnson has a history of controversial comments about Africa.
In 2016 the then Foreign Secretary mistakenly called Africa a country instead of a continent, at that year's Tory party conference.
Last year Mr Johnson was under fire for rushing to congratulate Mr Kenyatta for his re-election in a second, disputed, poll. 
In 2008 Mr Johnson had to apologise for calling black people  in an article in 2002 "piccaninnies" with "water melon smiles".
During the press conference, Mr Kenyatta was reluctant to say that Brexit would transform trading relations with the UK, suggesting that cooperation could be enhance despite it.
He hoped Brexit would not "dent" Kenya's prospect. But he welcomed Mrs May's assurance that Kenyan exporters would keep their duty and quota-free access to UK markets after Brexit, while also urging her to exploit Britain's links with the Commonwealth more.
He said: "I don't believe Brexit is going to dent our ability to further strengthen and deepen trade and investment between our two countries."
But he also stressed his growing links with superpowers America and China. 
He has just visited Washington for talks with President Trump and is shortly heading to see Chinese President Xi JinPing.
Asked how he would balance Kenya's trading links with "traditional" partners like Britain, and fast-growing economies of the east, particularly China, Mr Kenyatta said: "Kenya firmly believes in the multi-lateral trading system.
"We are keen to seek friends across the world.
"We have always insisted that Kenya is open for business with all, on the basis of win-win arrangements that are mutually beneficial to all parties.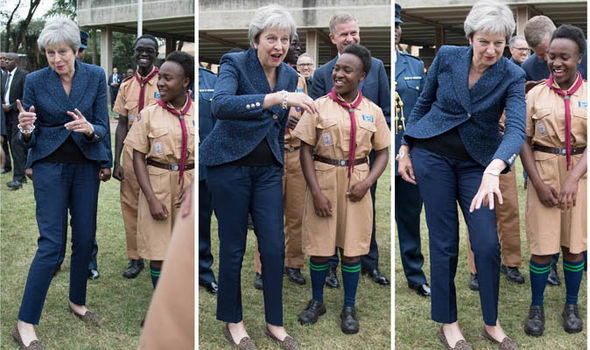 Theresa May dancing (Image: PA)
"And this is the basis of the discussions we've had with the Prime Minister today, as with President Trump and as we shall continue in China.
"We need to cooperate a lot more on these issues and to get greater understanding.
"And Kenya is saying that we are looking for investment across the world to help us achieve our social economic agenda.
"And that support is not coming, as the PM herself has said, isn't just we're going out with with  a begging bowl. No
"What we're saying is that Kenya has an attractive investment destination."
Kenyan priorities of housing, health, manufacturing and food supply had potential to offer investors good returns, he stressed
"So I don't think there is a problem and we will continue to look for partners across the globe to help us achieve our agenda as a republic."
Later Mr Kenyatta reassured Mrs May at a business meeting that it was not a case of Africa looking to China for trade: "China is looking to Africa."
Urging Mrs May to support UK companies to do business in Africa, he said:  "We are not married to anybody, we are just married to business."
But he also chided her gently, commenting: "I've asked Theresa that she doesn't necessarily have to go to France and Italy for her holidays." 
She could come to Kenya and enjoy the weather "especially after Brexit", he said. 
[ad_2]