[ad_1]

Theresa May has spent the day holding crunch Brexit talks with her cabinet and advisers at Chequers, her country retreat.
Following discussions over Britain's future relationship with the EU, the prime minister has announced that a new UK-European Union free trade area for goods will be created.
But what happened during the lengthy talks at Chequers?
Ministers reportedly had to hand their phones in as they arrived in order to concentrate on making some of the most important decisions in a generation.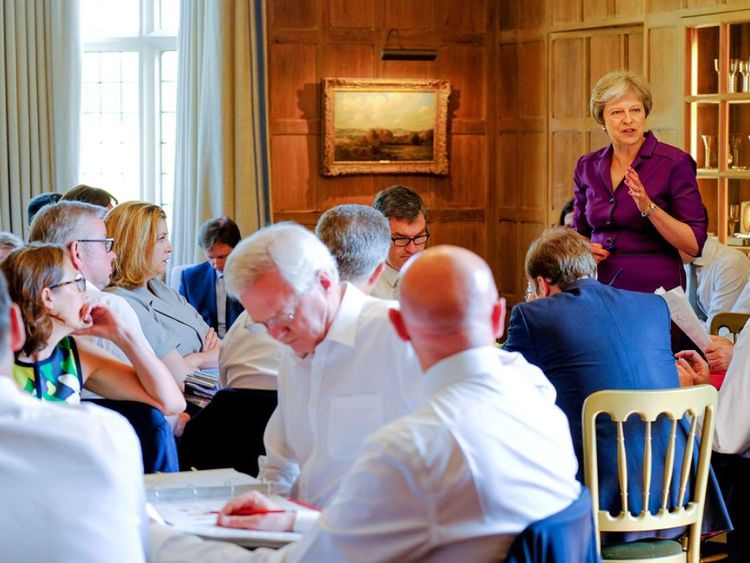 To power them through the day the group enjoyed a buffet lunch of BBQ chicken thighs with a salad of wheat, beets, squash and feta, estate new potato salad, estate grown mixed leaves and a summer tomato salad with pomegranate dressing.
For those still hungry they were served Chequers scones with clotted cream and estate strawberry jam, Graham's sticky tea loaf and a fruit platter.
Official photos released by Number 10 show ministers standing around in informal groups in the historic surroundings of the 16th century manor house in Buckinghamshire.
They first met in a high-ceilinged room under portraits, including a painting of Queen Henrietta Maria holding the future Charles II.
After more talks through the afternoon, where Theresa May was pictured talking to ministers, they were kept going with a dinner of whisky and treacle cured Scottish salmon smoked over whisky barrel chips and served on homemade sourdough.
For the main course they had Oxfordshire beef fillet with crispy shin, baby leeks, turned estates potatoes with rich beef gravy.
And for dessert there was marmalade bread and butter pudding with English custard and orange ice cream.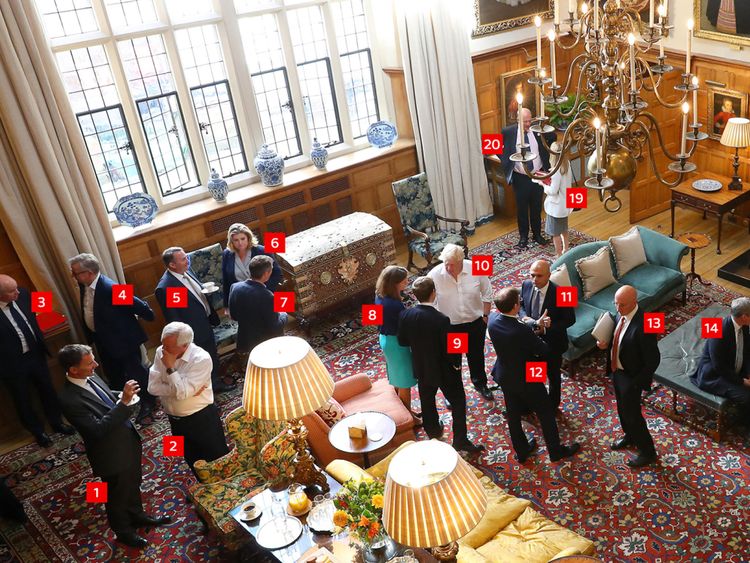 Who's who at Chequers:
1. Health Secretary Jeremy Hunt – Remainer who has said he would vote for Brexit if there was another vote
2. Brexit Secretary David Davis – Key Brexiteer
3. Number 10 director of communications Robbie Gibb – Brexiteer
4. Environment Secretary Michael Gove – Key Brexiteer
5. International Trade Secretary Liam Fox – Key Brexiteer
6. International Development Secretary Penny Mordaunt – Brexiteer
7. Defence Secretary Gavin Williamson – Remainer
8. Director of European policy and former director of budget at DExEU, Catherine Webb
9. Special adviser Ed de Minckwitz – Remainer
10. Foreign Secretary Boris Johnson – Key Brexiteer
11. Home Secretary Sajid Javid – Remainer
12. Director of the Treasury's Europe unit Jonathan Black
13. HMRC second permanent secretary Jim Harra
14. Education Secretary Damian Hinds – Remainer
15. Northern Ireland Secretary Karen Bradley – Remainer
16. Chancellor Philip Hammond – Remainer
17. Business, energy and industrial strategy minister Claire Perry – Remainer
18. Immigration minister Caroline Nokes – Remainer
19. Work and Pensions Secretary Esther McVey – Brexiteer
20. Transport Secretary Chris Grayling – Brexiteer
[ad_2]