[ad_1]

It comes despite him getting a Muslim cleric's backing for criticising the face-covering veil, and Britain's most senior police officer assessing him to be innocent of "hate crime".
The party's internal inquiry process was triggered when it received formal complaints about Mr Johnson's saying that women in burkas look like letter boxes or bank robbers.
It is understood the complaints will be considered and could then go to a full inquiry before a specially appointed panel, if it is decided the matter should go further.
It could potentially end with Mr Johnson being suspended or even expelled from the party.
But that would ignite civil war with party members, among whom the ebullient Brexiteer is hugely popular and widely seen as the best person to succeed Theresa May.
Mr Johnson's remarks were in a newspaper column arguing that Britain should not follow other European countries in banning the burka, because that would foment extremists' claims the west was waging a campaign against Islam.
But he also said the garment was "oppressive", that it was "weird and bullying to expect women to cover their faces" and that it was "absolutely ridiculous that people should choose to go around looking like letter boxes".
It sparked criticism from across the political spectrum that he had been rude and Islamophobic, with some people claiming his statements were deliberately calculated to court rightwing grassroots support for a future Tory leadership bid.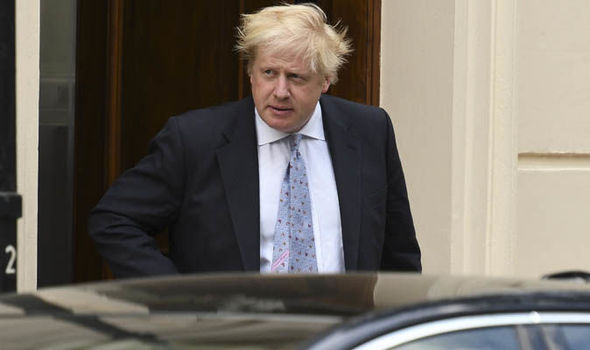 Boris' remarks are to be investigated (Image: GETTY )
Supporters of Mr Johnson by contrast scented a party attempt to shackle him from mounting a leadership challenge as Theresa May approaches the most fraught stage yet of Brexit negotiations.
A Conservative Party spokesman declined to comment on the inquiry process tonight, saying: "The code of conduct process is strictly confidential."
Tory rules say formal complaints against Conservative representatives will be investigated "in a timely and confidential manner" by someone "with appropriate experience and no prior involvement in the complaint.
"The investigation should be thorough, impartial and objective, and carried out with sensitivity and due respect for the rights of all parties concerned."
The code requires representatives to "encourage and foster respect and tolerance" and not to "use their position to bully, abuse, victimise, harass or unlawfully discriminate" against others.
Complaints to Mr Lewis include a letter signed by about 100 Muslim women who wear the burka or niqab, calling for action against both Mr Johnson and some of those who have spoken out on his behalf and also criticised the outfit.
It said: "Given a deliberate choice was made to inflame tensions in a way which makes it easier for bigots to justify hate crimes against us, we concur with the Conservative peer Lord Sheikh who has demanded that the whip be withdrawn from Mr Johnson."
The letter also demanded a wider independent inquiry into alleged Islamophobia in the Tory party.
But prominent Muslim Imam Taj Hargey, of the Oxford Islamic Congregation, who has previously criticised the burka and other practices such as segregation of male and female worshippers, came to Mr Johnson's defence.
He said Mr Johnson should "not apologise for telling the truth" about the burka.
Face-covering veils had "no Koranic legitimacy" and were "hideous tribal ninja-like garments that are pre-Islamic, non-Koranic and therefore un-Muslim", he said.
Mr Hargey, who wants Britain to ban the burka, said it had security, health and community cohesion  impacts and was about "a toxic patriarchy controlling women".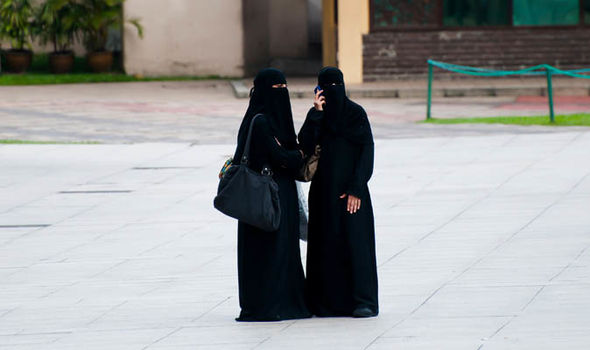 The burka, worn by two women, was criticised by Boris (Image: GETTY )

I spoke last night to my very experienced officers who deal with hate crime and, although we have not yet received any allegation of such a crime, I can tell you that my preliminary view having spoken to them is that what Mr Johnson said would not reach t
Metropolitan Police Commissioner Cressida Dick said that while many people found Mr Johnson's comments offensive, others saw him arguing against a burka ban and engaging in a legitimate debate.
Ms Dick told the BBC Asian Network: "I spoke last night to my very experienced officers who deal with hate crime and, although we have not yet received any allegation of such a crime, I can tell you that my preliminary view having spoken to them is that what Mr Johnson said would not reach the bar for a criminal offence. He did not commit a criminal offence."
The Prime Minister earlier this week stressed women must be free to wear what they chose and she endorsed party chairman Brandon Lewis's demand that Mr Johnson apologise.
Mr Johnson, who is on holiday, was defiant, with sources saying it was vital to defend "liberal values" and not "shut down" debate on difficult issues.
In further controversy, Mr Johnson was today reprimanded for breaking rules by failing to seek advice after he quit the Government before resuming his highly paid weekly column with the Daily Telegraph.
The Advisory Committee on Business Appointments, which governs the take-up of new jobs by former ministers, said it was "unacceptable" that he signed a contract with his former employers the Daily Telegraph on July 12 – three days after quitting the Cabinet – but did not seek the committee's advice on the propriety of the move until 14 days later, by which time his appointment was public knowledge.
This was "a failure to comply with your duty" under the Government's rules for former ministers, it told the MP.
[ad_2]