[ad_1]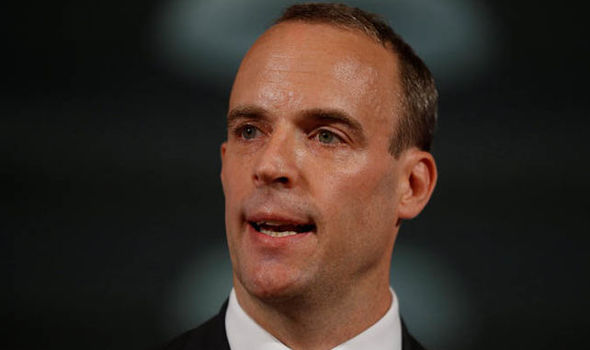 Dominic Raab insists Brexit will be 'SMOOTH' (Image: getty)
Setting out details of Whitehall contingency preparations, the EU Exit Secretary insisted the Government was ready to take "unilateral action" to minimise disruption from a sudden break with Brussels.
"I want to see the UK leave the European Union in the best possible way, preferably with a deal, but prepared, in any eventuality, to manage the risks and grasp the opportunities of life outside the EU," the Tory Cabinet minister as the Government published 25 technical notes explaining how businesses, public bodies and households should prepare for a no-deal Brexit.
"In some cases, it will mean taking unilateral action to maintain as much continuity as possible at least in the short term, in the event of no deal, and irrespective of whether the EU reciprocates in practice," he added.
Detailing some of the potential pitfalls, the documents admitted that the impact on the financial system could lead to a surge in charges for credit and debit card users shopping online or visiting European countries.
Ex-pat pensioners could struggle to get access to pensions and other savings in a worst-case scenario.
And tobacco labelling may have to change virtually overnight because the European Commission currently holds the copyright on warning images.
But Brexit-backing MPs said the Whitehall document overwhelmingly showed the "Project Fear" alarm-raising by Remain supporters had been proved unfounded.
Former Tory Cabinet minister John Redwood, a leading Leave campaigner, was "very reassured" by the indication that Britain could thrive without an EU deal.
"There are millions of us who think it is a great idea, and one of the things that would be superb if we don't go for the withdrawal agreement we have in mind is that that £39 billion that is pencilled in to the withdrawal agreement, we could spend it and we could start spending it now," he said.
"Wouldn't it be great, a fantastic boost for our economy, if we had more money on public services that are a priority and some tax cuts and we could increase the growth rate quite quickly?"
The documents released by the Department for Exiting the EU were the first batch in a total of 84 technical notes expected to be published in the coming weeks.
The papers covered a wide-range of issues including banking and financial services, trade and tariffs, workers' rights, medicines and nuclear safety.
In most cases, the overwhelming message was that the Government will keep existing regulations in place when EU rule is ended to ensure maximum continuity.
Government departments will also guarantee to continue payments already promised under a string of EU schemes covering farming, research and development, student exchanges and other projects.
The documents also insisted a "no deal" Brexit was "unlikely".
"A scenario in which the UK leaves the EU without agreement remains unlikely given the mutual interest of the UK and the EU in security a negotiated outcome," an introduction to the 25 technical notes said.
Mr Raab insisted he was "confident" of securing a good trade deal for Britain in his current talks with EU chief negotiator Michel Barnier.
The pair are due to go face-to-face in another round of talks next week.
"We are stepping up the pace and the intensity of our negotiations, and I am confident a good deal is within our sights.
"That remains our top priority," he said in a speech at the Treasury headquarters in Whitehall.
"I am still confident that getting a good deal is, by far, the most likely outcome.
The vast majority, roughly 80 percent, of the Withdrawal Agreement has now been agreed, and we are making further progress on those outstanding separation issues."
But he added: "We have to got to consider the alternative possibility, that the EU does not match our ambition and pragmatism, and we do not reach a deal.
"Let me be clear about this – this is not what we want and it's not what we expect.
"But, we must be ready. We have a duty, as a responsible government, to plan for every eventuality."
Mr Raab said the Government was taking "sensible, responsible and realistic" steps to ensure the country was ready for no-deal.
"The notices are practical and proportionate.
"They prioritise stability for our people, our businesses, and for our country.
"They are part of a common sense approach to planning for a no deal Brexit.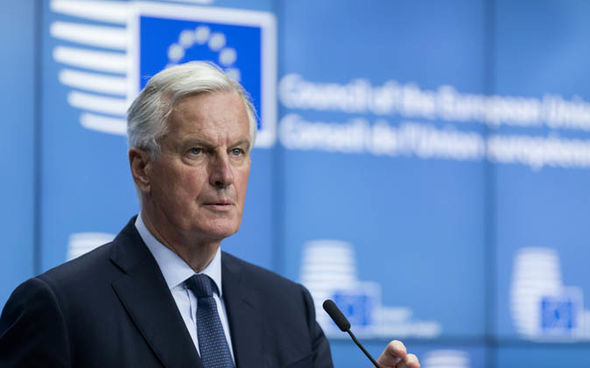 Mr Raab said he is confident in securing talks with Michel Barnier (Image: getty)
"And they underline our resolve, whatever the outcome of negotiations, to chart our own course, in collaboration with friends abroad, to deliver on Brexit in a way that serves the best interests of the British people."
Mr Raab pointed out that the Government had already passed legislation including the EU (Withdrawal) Act to ensure a "smooth and orderly" Brexit in any circumstances.
"We've passed legislation to make sure that the UK has the legal powers it needs to support British truckers to continue operating internationally, and we've enacted the Nuclear Safeguards Act, to provide a new regime for safeguarding our nuclear materials, which will come into effect when we leave Euratom," he said.
He said an extra 7,000 civil servants had been recruited to work on Brexit and funding was available for 9,000 more to accelerate preparations.
An extra 300 border guards were also being recruited "with plans in the pipeline to recruit 1,000 more staff, so they are ready to deal with any increase in work".
Mr Raab dismissed "misinformation" about what may happen in the event no deal is reached by March, saying his stress levels were "fine".
He rubbished suggestions that the Army or the RAF could be brought in to deliver emergency food supplies in a no-deal scenario.
Claims by an Amazon boss that there could be civil unrest within weeks of a no-deal Brexit were "not credible", he added.
Labour condemned Mr Raab's speech as "thin". Shadow Brexit Secretary Sir Keir Starmer said:  "We are eight weeks out from the deadline for reaching an agreement. Ministers should be getting on the job of negotiating a Brexit deal that works for Britain, not publishing vague documents that will convince no-one."
[ad_2]