[ad_1]

Donald Trump's explosive Brexit intervention has threatened to deepen Leave and Remain splits in the fractious Conservative Party.
The US president's trip to the UK has piled pressure on Prime Minister Theresa May after he delivered a scathing attack on her Brexit policy.
In a newspaper interview, published as Mr Trump enjoyed a lavish meal with Mrs May at Blenheim Palace, the president warned the prime minister her Brexit blueprint will "kill" hopes of any future trade deal with the US.
Mr Trump also claimed he would have handled Brexit negotiations "much differently" than Mrs May, who he accused of ignoring his advice on dealing with the EU, while he touted ex-foreign secretary Boris Johnson as a future prime minister.
The president's comments have drawn widespread condemnation, with even government minister Sam Gyimah asking: "Where are your manners, Mr President?"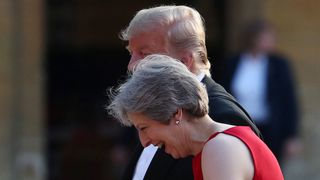 But Mr Trump also found support for his remarks from leading Tory Brexiteer Jacob Rees-Mogg.
The prominent backbencher, who chairs the European Research Group (ERG) of Conservative eurosceptics, defended Mr Trump's "perfectly reasonable" intervention as "a matter of US foreign policy".
He told the BBC: "The UK wants to do a trade deal with Donald Trump, and he said if you want to do a trade deal with the United States this isn't the way to do it."
Mr Rees-Mogg was a fierce critic of Barack Obama's own Brexit intervention during the 2016 referendum campaign, in which the ex-president warned Britain would be "back of the queue" for a trade deal with the US.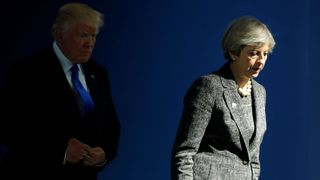 At the time, the Tory MP branded Mr Obama's warning, recently revealed by a former White House aide to have come at the request of ex-prime minister David Cameron, as "splendidly arrogant".
But, Mr Rees-Mogg stuck to his criticism of Mr Obama as he insisted Mr Trump was entitled to express his views on Brexit.
"Barack Obama came over just before an election to try and bully us into doing what the United States wanted," he said.
"What Mr Trump is saying is that if the UK goes ahead with this deal the chances for a trade deal with the US are very low. If you can't do a trade deal with your closest ally who are you going to do one with?"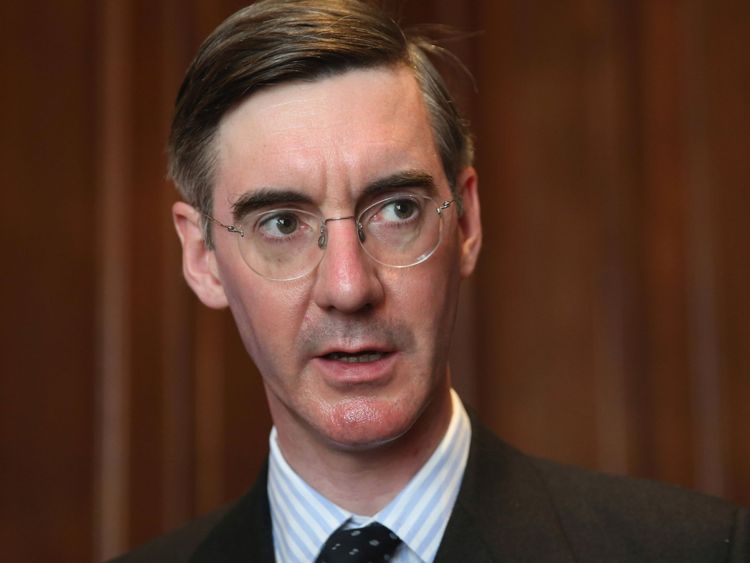 Remain-supporting Tory MP Simon Hart had earlier publicly wondered whether Brexiteers would criticise Mr Trump as they did Mr Obama.
He posted on Twitter: "When Obama 'intervened' in the Brexit debate it was considered outrageous, so no doubt the same will be said of Trump…"
Mr Trump's damning criticism of Mrs May's Brexit strategy was also condemned by other Remain-supporting Tory MPs.
Sarah Wollaston claimed the president was "determined to insult" Mrs May, adding: "If signing up to the Trump world view is the price of a deal, it's not worth paying
"Hard Brexiteers need to wake up. The strings that would be attached to any deal with Trump likely to be totally unacceptable to the majority."
Former minister Nick Boles posted on said: "The President of the United States must always be welcome in Britain.
"But I would no more take advice from Donald Trump on negotiating Brexit than I would on staying married or choosing a good hair dye."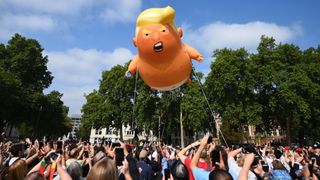 Labour MP Chuka Umunna, who wants a second EU referendum, claimed the ERG were "working hand in glove with President Trump".
And Labour peer Lord Falconer, the former Lord Chancellor, alleged Mr Trump was "in cahoots" with ex-UKIP leader Nigel Farage and Mr Johnson over his Brexit intervention.
Mr Farage, who is close to the Trump team, declined to deny he had played a role in the president's comments.
But The Sun's political editor Tom Newton Dunn, who conducted the interview with Mr Trump, dismissed suggestions of Mr Farage being behind the president's intervention.
He tweeted: "Genuinely don't believe this is true, 1. for what Trump told us off the record, and 2. because he was a fervent Brexiteer when Nigel was in short stripy trousers."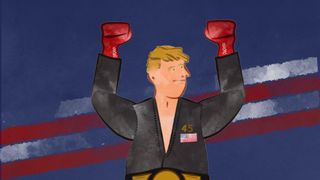 Chancellor Philip Hammond attempted to dampen down the row over Mr Trump's comments as he arrived in Brussels for a summit of EU finance ministers on Friday.
Mr Hammond stressed the president "hasn't yet had a chance" to discuss the government's white paper, which details its Brexit plan and was published on Thursday, with Mrs May.
"I know she's looking forward to the opportunity to discuss with the president how we can take forward the big opportunities for increasing trade and investment between the UK and the United States that she mentioned last night during the dinner at Blenheim," he said.
"I saw that the president was nodding furiously last night as she was speaking last night and I'm sure there will be a very positive discussion between them today."
A spokeswoman for Mrs May said it is understood the president made his comments before publication of the white paper.
The spokeswoman said: "The plan that we have put forward we believe is what people voted for and takes back control of our monies, laws and borders, and allows us to strike free trade deals around the world."
[ad_2]