[ad_1]

Nigel Farage has told a rally of supporters that the EU are a "bunch of gangsters" and a campaign is needed to stop a "Brexit betrayal".
Speaking in front of more than 1,000 people in Bolton, the former UKIP leader said out-of-touch "career politicians" did not want to respect the UK's 2016 vote to leave the European Union.
He said a cross-party campaign was required to keep the country on course for Brexit, regardless of whether a deal could be made between the UK and EU.
He said of the EU: "They are a bunch of gangsters.
"We will explain a free trade deal is possible, if that's what the gangsters in Brussels want.
"If they don't, that is fine, if they don't we will leave with no deal. No deal, no problem.
"I think it's about time that our elected politicians began to feel the heat over the extent of the betrayal."
Mr Farage told supporters to "queue up outside the constituency offices" of MPs to tell them to deliver Brexit".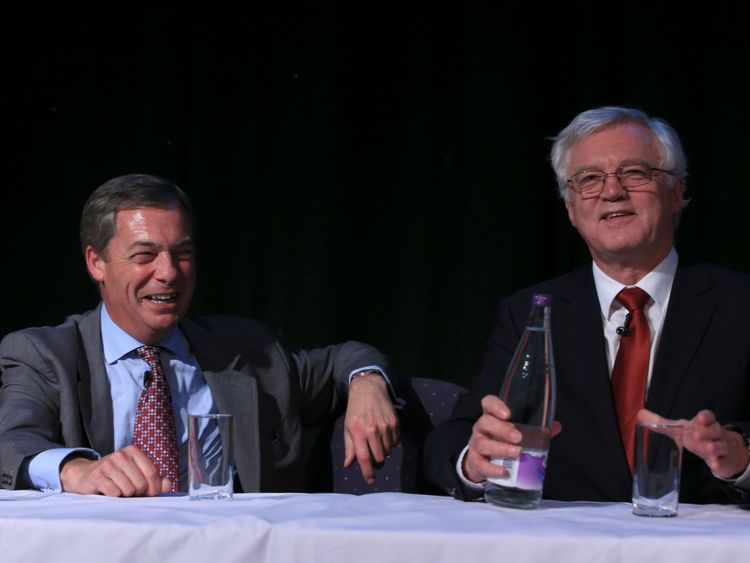 Mr Farage shared the stage with former Tory Brexit secretary David Davis and Labour Brexiteer Kate Hoey MP at the Leave Means Leave rally.
As the crowd waved small Union Jack flags, all three speakers encouraged supporters to stay on the path to Brexit.
There were boos from the crowd when Europe's Donald Tusk and Michel Barnier, former prime minister Tony Blair and the BBC were mentioned by speakers.
Mr Farage and Mr Davis both criticised the Chequers plan put forward by Theresa May.
The Chequers plan is the cabinet agreement to ask the EU to maintain, post-Brexit, common rules and existing borderless free trade in goods and agriculture, but not services.
Mr Farage described it as "dead" and slammed the EU for how the prime minister had been treated in Salzburg, and Mr Davis said the plan was a "fudge", although he too said he viewed the treatment of Mrs May "with contempt".
The rally in Bolton is the first of six events organised by Leave Means Leave, the group campaigning for a "clean, swift exit" from the EU.
The next rally is in Birmingham on 30 September, ahead of the Conservative Party conference in the city.
The others are in Torquay, Bournemouth, Gateshead and Harrogate during October.
[ad_2]