[ad_1]

The latest concerns raised from within the health service about the impact of a no deal Brexit reveal both the extent of anxiety and a little about NHS politics.
NHS Providers' letter to Simon Stevens, chief executive of NHS England, was intended to be widely read at the highest levels of government and NHS management.
It was copied to the health and Brexit secretaries, the prime minister's health adviser Dr James Kent, as well as executives at all 229 hospital and ambulance trusts it represents.
Whether it was intended for general consumption is another matter.
NHS Providers insist they did not leak it, but its emergence is unsurprising given the huge public interest in the health service and the stakes involved for those who deliver it.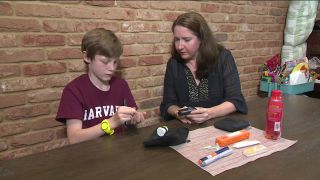 Some of the concerns raised are familiar. The pharmaceuticals industry and pharmacists have been warning for months that they might need to stockpile medicines to prepare for no deal, and health secretary Matt Hancock has acknowledged contingency planning is underway.
It is stark nevertheless to hear the issue raised by those actually responsible for administering drugs and supplies that depend on frictionless supply chains to and from Europe.
Almost 80 million packets of medicines are traded between the UK and the continent every month, many of them time and temperature sensitive. Their easy passage through customs, and the regulations that ensure they are safe and effective, currently rely on European co-operation.
Perhaps more instructive is the frustrations the letter reveals about the nature of the contingency plans in place.
NHS Providers complain of "radio silence" from NHS England on issues that would benefit from central planning, such as the warehousing of medicines and a national distribution network.
NHS England countered by effectively pointing the finger at the Department of Health, saying in a statement: "Government leads on contingency planning for different scenarios and we are working on them, ensuring NHS voices are heard."
What those contingency plans look like is expected to become clearer on Thursday, when the government begins to set out technical details of how it will address no deal.
Several papers will impact health, including separate documents on blood safety, the transport of human tissues and organs, batch testing of medicines and the life sciences.
Perhaps most relevant to the concerns raised by hospitals will be separate guidance offered to trusts, commissioning groups and the pharmaceutical industry.
The Department of Health believes these will offer reassurance to NHS trusts and the public, while maintaining that the government remains confident of a deal.
That has not stopped it entering discussions with pharmaceutical manufacturers, protected by non-disclosure agreements, about central warehousing of drugs.
[ad_2]