[ad_1]

Philip Hammond has signed-off on funding for the UK to develop its own satellite navigation system if it is excluded from the EU's Galileo project following Brexit, according to reports.
The Treasury has committed as much as £100m to "map out plans for a post-Brexit UK satellite system", The Sunday Telegraph reported.
An official announcement is due this week, the paper added.
Brussels has insisted that the UK cannot remain a full member of the Galileo system for security reasons following its departure from the EU.
In May, the Department for Exiting the EU (DExEU) warned that ending the UK's close participation in the project "will be to the detriment of Europe's prosperity and security and could result in delays and additional costs to the programme".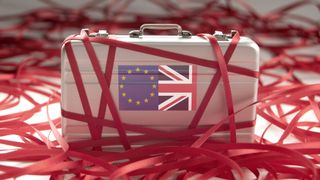 The UK wants to remain part of the multi-billion pound project after Brexit, in which it has already invested £1.4bn, for use across public and military communications.
British military leaders are keen to be able to use Galileo's encrypted services as the US withholds the best global positioning system (GPS) service for itself, and the UK has led the development of Galileo's critical encryption software.
The idea for a UK alternative to the EU system comes as the government begins to publish papers on the impact of a "no-deal" Brexit, raising fears for shoppers, farmers, businesses, NHS patients and UK expats.
Ministers have begun to release the first batch of a series of "technical notices" on the UK's possible departure from the EU without a divorce agreement.
It is possible that one of these papers will address the Galileo project, which originated in 1999 and is due to be completed in 2020, aiming to establish a European rival to the US-owned GPS system for satellite navigation.
The Galileo project has been an area of dispute between Westminster and Brussels regarding the UK's proposed future relationship with the bloc.
The government wants Galileo "to be a core component of a future UK-EU security partnership", with the paper in May suggesting the EU's stance risks breaching Brussels' commitment to "strong cooperation" on defence and security in Brexit negotiations.
The UK is already developing receivers for military platforms that will incorporate Galileo's navigation system and being excluded from the project could harm continued the UK's continued defence collaboration with European countries, the government has warned.
According to The Sunday Telegraph, the government will announce contracts for the UK's alternative within the next few days.
The paper's sources said that the UK system would be "far cheaper" than the £9bn cost of the Galileo project because so much of the work had already been completed in the UK.
[ad_2]