[ad_1]

Government papers on the impact of a "no-deal" Brexit have raised fears for shoppers, farmers, businesses, NHS patients and UK expats.
Ministers released the first batch in a series of "technical notices" on the UK's possible departure from the EU without a divorce agreement.
Covering areas such as finance, medicines and trade, Brexit Secretary Dominic Raab declared the documents explain how the UK will "mitigate" the consequences of a no-deal exit.
Mr Raab insisted the government's preparations mean Britain's "best days lie ahead", whether negotiations with Brussels successfully reach a deal or not.
But the publication of the papers prompted Labour to claim the government is "simply not prepared" for a no-deal Brexit, while pro-Remain campaigners took the opportunity to push for a second EU referendum.
They claimed ministers have now revealed "new information about a disastrous no-deal Brexit", which is "not what anyone voted for".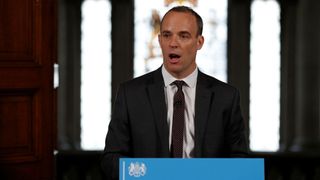 Within the 24 technical notices published on Thursday, it was revealed:
:: UK holidaymakers and online shoppers face a "likely increase" in the cost of card payments in the EU due to the removal of a ban on surcharges
:: Online shoppers may also see an increase in the costs of parcels delivered to the UK due to the absence of current VAT relief
:: British expats in the EU face losing access to their pension income and other financial services
:: NHS patients may face delays in accessing innovative treatments
:: Organic farmers face an effective trade embargo of exporting to the EU due to a requirement to apply for certification from Brussels, which takes up to nine months
:: Businesses are being advised they may want to employ extra customs resources
:: Stockpiles of at least six weeks' supply of medicines will be held, with urgent medicines airlifted in to the UK to avoid lengthy delays at road, rail and sea borders
In a speech marking the publication of the papers, Mr Raab also revealed there is government funding for an extra 9,000 staff to be recruited into the civil service to accelerate Whitehall preparations when required.
There are additional plans to employ 1,000 more border staff to deal with any increase in work, the Brexit secretary added.
More no-deal Brexit papers will be published by the government in the coming weeks, as Mr Raab urged industries to "take note" of the "practical information" and to review their own contingency plans.
However, the Brexit secretary insisted he would continue to "strain every sinew" to reach a deal with the EU by the end of March next year and so avoid the consequences the government set out in the papers.
A European Commission spokesman said on Thursday the bloc is "working constructively to reach a deal".
"It is also clear that the withdrawal of the UK is going to lead to disruptions regardless, with a deal or without a deal," they added.
"And that's why everybody, in particular economic operators, needs to be prepared."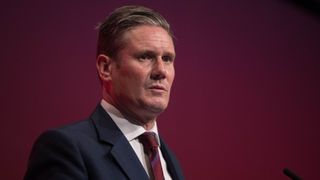 Labour's shadow Brexit secretary, Sir Keir Starmer, claimed Mr Raab had exposed "the reality that this government is simply not prepared for a no-deal scenario".
Fellow Labour MP Ben Bradshaw, a supporter of the People's Vote campaign for a referendum on the final Brexit deal, said: "Border delays, to extra bureaucracy and red tape, to UK citizens potentially losing access to their pensions.
"Today's speech by Dominic Raab was full of new information about a disastrous no-deal Brexit that no-one could have known about at the time of the referendum. This is not what anyone voted for."
Meanwhile, the Federation of Small Businesses suggested the government documents were too technical and called for follow-up guidance "that every small business owner can understand".
The National Farmers' Union said the papers were a "sobering reminder of what is at stake for farmers" in the event of a no-deal Brexit.
However, international development groups praised the government's commitment to take over the funding of EU aid projects provided by British non-governmental organisations.
Brussels has been accused of putting the world's poorest at risk by warning British organisations against continued involvement in the bloc's aid programmes.
[ad_2]