[ad_1]

Rough sleeping has soared because of "complex issues" not Conservative policies, according to the government.
Housing secretary James Brokenshire said he "did not accept" the claim as a £100m plan was announced to eradicate rough sleeping within nine years.
Mr Brokenshire expressed "huge concern" that the number of rough sleepers in England has jumped 169% since 2010, but denied Conservative policies were to blame.
"Have the numbers gone up? Yes," he told Sky News.
"Are the issues behind them complex? Yes they are. But I don't accept the central tenant of the charge that you make."
Mr Brokenshire gave the example of "instability in the private rental market" and added "governments of all colours have not appropriately invested in homes and houses".
He revealed new plans to halve the number of rough sleepers within five years by unlocking more properties, appointing rough sleeper champions and offering more help for mental health and addiction.
"It's about making impact as quickly as possible," the minister said.
Recent analysis by the House of Commons found that factors contributing to the rise in rough sleeping included welfare reforms, particularly reductions in entitlement to housing benefit.
Reduced investment by local authorities in homeless services and flows of non-UK nationals who are unable to access benefits were also blamed.
Labour has condemned the rough sleeping strategy published on Monday as "feeble" and "lacking urgency".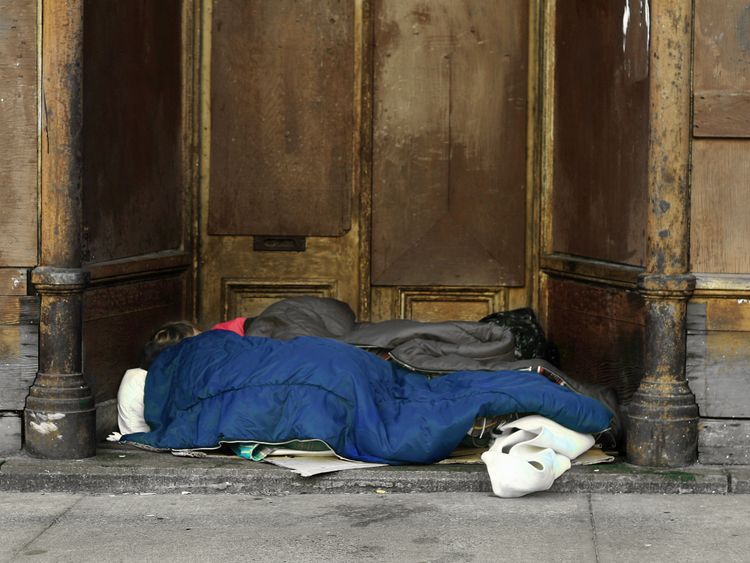 Shadow housing secretary John Healey said: "The funding announced will barely register compared to the reckless Conservative cuts to affordable housing, social security benefits and homelessness services that have caused this crisis."
Homeless charities welcomed the commitment but hope more money will follow.
Howard Sinclair, chief executive of St Mungo's, told Sky News: "£100m won't end rough sleeping by 2027 – it will take more than that.
"But it's a good start – the money is welcome, it's already being expended in the areas in the country where rough sleeping is at its worst.
"This new plan shows the government is committed to ending rough sleeping and making a real difference."
[ad_2]