[ad_1]

An alcohol care team would be based in every NHS hospital in England under a Labour government, the party has announced.
Shadow health secretary Jonathan Ashworth has pledged £13.5m for the idea.
The cash would be spent on ensuring all 191 district hospitals have teams of at least three staff offering specialist help to people admitted with drink-related problems.
The party has obtained figures through Freedom of Information requests, which show that more than 40 English hospitals do not have such a team in place.
It is one of a number of policies to be revealed on the first day of Labour's annual conference in Liverpool. The party also announced:
:: Plans for a £560m tax on holiday homes in England to pay for policies to tackle homelessness and inequality
:: A requirement for businesses employing more than 250 people to reserve one-third of seats on boards for workers
Mr Ashworth said research suggests the alcohol care teams policy could save the health service £40m in the long term, by reducing the length and frequency of hospital says by those with issues around drinking.
The MP for Leicester South has previously spoken about his own experience of growing up with an alcoholic father.
Speaking at an event hosted by the Huffington Post on the fringes of the party's conference, he said: "It seems to me we are ignoring huge numbers of people in society who have an addiction problem, whether it's for alcohol or drugs."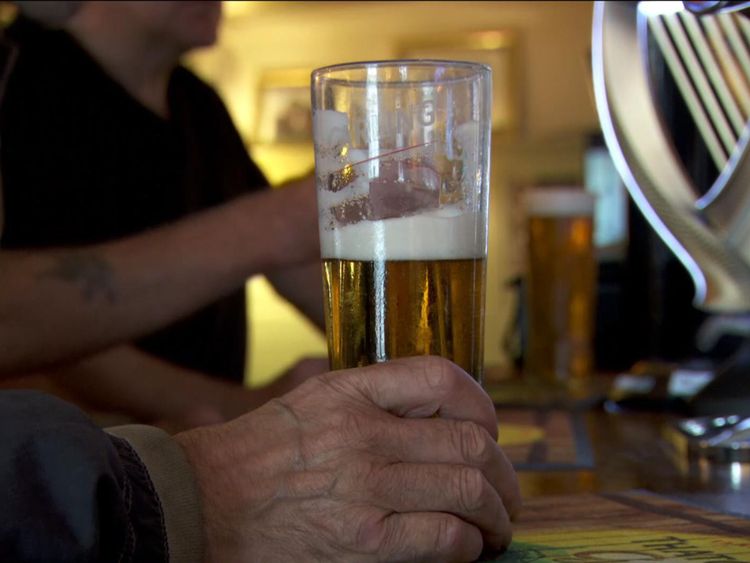 Mr Ashworth said 600,000 alcohol-dependent people were not getting the specialist support they need because of swingeing cuts to treatment services.
He spoke movingly of the impact his father's drinking had on his upbringing, revealing his own attitude to alcohol been affected by concerns the problem may have been passed down from his father.
Mr Ashworth said that while he was not teetotal, he often goes up to four months without touching alcohol. He said that after drinking "there are times when I ask myself 'Is this genetic'?"
In the last decade, alcohol-related hospital admissions have gone up by 17%. Alcohol-related crime in the UK is estimated to cost up to £13bn a year.
"I think we are failing large numbers of people," Mr Ashworth said.
"Not only is it wrong for those people, it also puts huge pressure on the wider NHS."
The party put out research last week which suggested substance misuse services are set to lose £34m in funding under government plans to cut overall public health spending to the tune of £800m by 2020/21.
The number of adults undergoing alcohol treatment fell by more than 11,000 (12.2%) between 2013/14 and 2016/17, Labour said.
According to estimates from Public Health England, alcohol care teams save the NHS £3.50 to £3.85 for every pound invested.
Richard Piper, chief executive of Alcohol Concern and AlcoholResearch, welcomed the announcement.
Dr Piper said: "All the evidence suggests these teams not only help people get the support they need, but that they also save the NHS money.
"Cuts to treatment damage lives and are a false economy, so initiatives such as this represent a clear step in the right direction."
[ad_2]