[ad_1]

Theresa May has suffered yet another resignation in protest at her Brexit plan.
Robert Courts, MP for Witney, has quit as a parliamentary aide to foreign office ministers in order to "express discontent" with the prime minister's strategy for leaving the EU.
He joins a number of Tory MPs in resigning their additional roles amid intense anger amongst Conservatives at Mrs May's approach, as agreed by ministers at an away day at her Chequers country retreat earlier this month.
Mr Courts announced on Twitter he has taken the "very difficult decision" to resign as a parliamentary private secretary (PPS) in order to vote against the government on its trade bill on Monday.
Tory Brexiteers have tabled a series of amendments to the proposed legislation in an attempt to kill off Mrs May's favoured post-Brexit customs arrangements.
Mr Courts said he "had to think who I wanted to see in the mirror for the rest of my life", adding he could not tell the people of his West Oxfordshire constituency he supports the prime minister's proposals "in their current form".
The former councillor was elected to parliament in 2016 at a by-election.
The contest was prompted by ex-prime minister David Cameron's decision to quit the House of Commons after departing 10 Downing Street in the wake of the Brexit vote.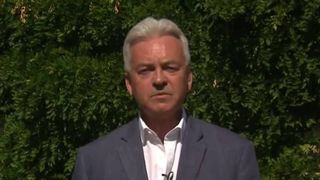 The most dramatic resignations over Mrs May's Brexit plan, subsequently set out in a white paper to parliament, saw former Brexit secretary David Davis and ex-foreign secretary Boris Johnson step down from government.
Steve Baker also resigned as a minister at the Department for Exiting the EU, while Conor Burns and Chris Green have also resigned their PPS roles.
Meanwhile, Maria Caulfield and Ben Bradley have both quit as Conservative vice-chairs.
It has been reported International Development Secretary Penny Mordaunt and Work and Pensions Secretary Esther McVey are considering joining Mr Davis and Mr Johnson in walking out of cabinet in protest at Mrs May's Brexit proposals.
Yet, Mrs May tried to quell the anger at her plan by using a TV interview on Sunday to insist her proposals represented "a good deal for the UK".
[ad_2]