[ad_1]

Stockpiles of at least six week's supply of medicines will be held in the event of a "no-deal" Brexit, with urgent medicines airlifted to the UK to avoid lengthy delays at road, rail and sea borders.
The government has asked the pharmaceutical industry to make plans to hold additional stocks amid concerns that hospitals and pharmacists could run short of supplies in the event of disruption at UK borders.
The instruction, which relates to medicines with a short shelf-life such as radioactive isotopes, implies that the government envisages there could sizeable delays of more than 24 hours at borders in the event the UK falls out of the European Union without a deal.
Hospitals, GPs and community pharmacies meanwhile have been explicitly told not to hold extra stocks, and warned that they could face investigation for over-ordering.
In a letter sent to the pharmaceutical industry, Health and Social Care Secretary Matt Hancock writes: "In the unlikely event we leave the EU without a deal in March 2019, based on the current cross-government planning scenario we will ensure the UK has an additional six weeks supply of medicines in case imports from the EU through certain routes are affected.
"We recognise that there are some products that have short shelf lives and cannot be stockpiled.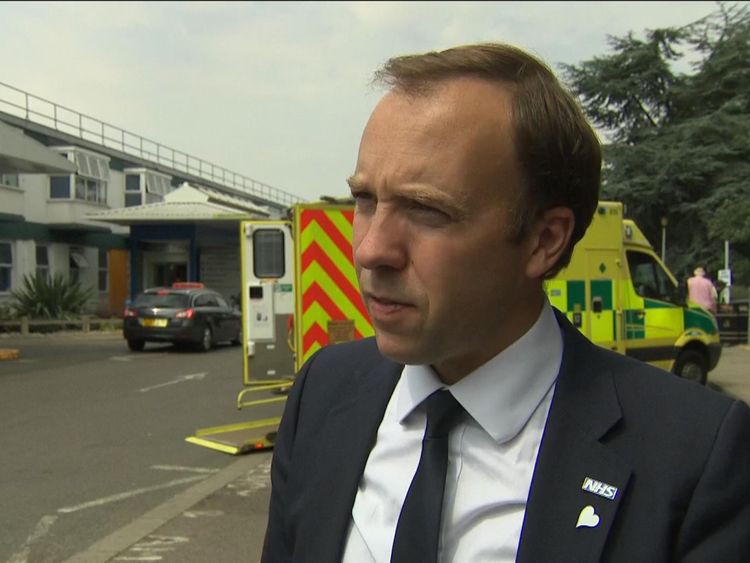 "Where such products are at present imported to the UK from the EU/EEA via road haulage and roll-on, roll-off sea, road and rail routes, the department is asking suppliers to ensure they have plans in place to air freight those products to avoid any border delays that may arise at the end of March next year in the event of a no deal exit from the EU."
In a separate letter to the healthcare sector Mr Hancock urges NHS staff to persuade patients they should not attempt to stockpile medicines, and warned that any organisations that over-order will be investigated.
"Hospitals, GPs and community pharmacies throughout the UK do not need to take any steps to stockpile additional medicines, beyond their business as usual stock levels," he writes.
"There is also no need for clinicians to write longer NHS prescriptions.
"Local stockpiling is not necessary and any incidences involving the over ordering of medicines will be investigated and followed up with the relevant Chief or Responsible Pharmacist directly.
"Clinicians should advise patients that the government has plans in place to ensure a continued supply of medicines to patients from the moment we leave the EU.
We've made significant progress in negotiations with the EU and I'm confident we will leave with a good deal for both sides – but as a responsible government, we prepare for all scenarios. (1/2)

— Matt Hancock (@MattHancock) 23 August 2018
"Patients will not need to and should not seek to store additional medicines at home."
Plans to ensure the continued supply of medical devices are less clear.
Mr Hancock has written to manufacturers asking them to get in touch so that contingency planning can begin next month.
NHS leaders offered a cautious welcome to the advice.
Niall Dickson, co-chair of the Brexit Health Alliance, said: "What we need is a categorical assurance that patients will continue to get the medicines and treatment they need, no matter what happens in the negotiations.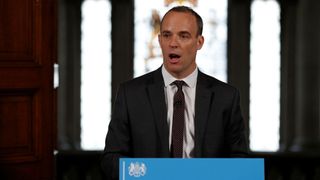 "This guidance is a first step, but only a first step, towards that.
"The NHS will now want to see more comprehensive operational advice on issues such as the stockpiling of medicines and equipment, medical research and public health, in time for them to take robust action locally well before the UK leaves the EU.
In separate papers the government has issued advice on how no deal will affect the import and development of medicines, currently subject to EU regulation.
Broadly the UK will mirror European standards, accepting for example medicines that have been batch-tested in other European nations to try and ensure continuity of supply.
The government says it hopes that the EU will reciprocate to allow the continued flow of around 45 million packets of medicine exported from the UK every month, but there is no guarantee.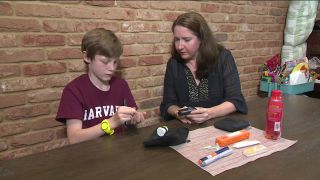 Mike Thompson, chief executive of the Association of the British Pharmaceutical Industry, said no deal would not be in the interest of patients.
"By agreeing to recognise and use medicines and vaccines licensed and manufactured in the EU, the UK government has taken an important step to protect patients.
"We urge the EU Commission to do the same.
"We need to be clear that a 'no deal' scenario is not in the interest of patients.
"Both sides must rapidly agree the terms of the UK's withdrawal and a future relationship based on cooperation to protect public health, control infectious diseases and manage medicine safety."
The UK Bioindustry Association warned that time was running out to make effective plans, saying: "We have stressed and recognise that endeavouring to deliver on this in less than 200 days will be a massive challenge for industry and the MHRA (Medicines and Health products Regulatory Agency) alike.
"Given that over 150 BIA members are actively involved in clinical development in the UK we will pay particular attention to the implications of this work with regard to ongoing clinical trials."


[ad_2]