[ad_1]

The government is considering banning online trolls who are convicted of intimidating election candidates from standing for public office themselves.
New legislation would target those found guilty of "threatening or abusive behaviour, either in person or online," towards those trying to become an MP or campaigners working for them.
The move, which will close a loophole in the law, comes after a report on intimidation in public life found that social media was "the most significant factor" in the harassment, abuse and intimidation of candidates during the 2017 election.
The abuse included threats of physical and sexual violence, as well as damage to property.
Under the plans, there would be a strengthening of measures to tackle "fake news", with the requirement for "imprints" showing who is responsible for election material to digital communications being extended.
The government is also seeking views on "clarifying" the electoral offence of having undue influence on voters, when people are threatened in an effort to try and influence how they vote.
At the moment, extreme incidences of intimidation are viewed as a serious criminal offence, punishable with a custodial sentence where there is evidence of sustained, pressurising behaviour intended to cause distress and have an impact on campaigning.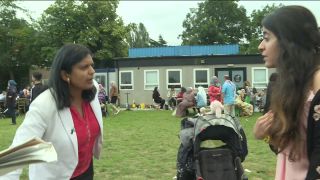 The length of the ban on standing or holding public office will form part of the consultation, a Cabinet office spokeswoman said.
Constitution minister Chloe Smith told Sky News all politicians know that abuse and intimidation is a "real problem".
She said: "What we want to do is take up the committee's suggestion that there ought to be an additional sanction that can go against that kind of criminal behaviour to show how important it is and to show that we're protecting voters from that kind of degrading of the political debate.
"Because they need to be able to take a clear choice, free from intimidation."
The committee on standards in public life's report in December called on ministers to consider a ban after identifying a gap in the legislation.
It also urged the government to establish a "trusted flagger" social media reporting team during elections so abuse and intimidation could be handled more swiftly.
Committee chairman Lord Bew said: "Intimidation presents a real threat to the integrity, diversity, and vibrancy of our public life.
"People of all backgrounds should not be put off from standing for public office as a result of intimidatory behaviour.
"We warmly welcome that the government are implementing our recommendation to consult on a new electoral offence of intimidating parliamentary candidates and introducing digital imprints.
"The Electoral Commission identified these gaps in electoral law in evidence to our review, and these measures would play an important part in protecting candidates and voters at election time."
[ad_2]