[ad_1]

Boris Johnson has accused Theresa May of wrapping a "suicide vest" around Britain and handing the detonator to Brussels.
Barely 24 hours after the former foreign secretary announced that he and his wife Marina Wheeler are to end their 25-year marriage, Mr Johnson used an article in the Mail On Sunday to dramatically turn up the heat on the prime minister.
He wrote: "At every stage in the talks so far, Brussels gets what Brussels wants.
"We have agreed to the EU's timetable; we have agreed to hand over £39bn, for nothing in return.
"Now under the Chequers proposal, we are set to agree to accept their rules – forever – with no say on the making of those rules. It is a humiliation.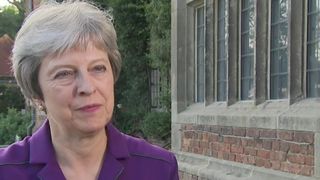 "We look like a seven-stone weakling being comically bent out of shape by a 500lb gorilla.
"And the reason is simple: Northern Ireland, and the insanity of the so-called 'backstop'. We have opened ourselves to perpetual political blackmail.
"We have wrapped a suicide vest around the British constitution – and handed the detonator to Michel Barnier.
"We have given him a jemmy with which Brussels can choose – at any time – to crack apart the Union between Great Britain and Northern Ireland."
A suicide bomber murdered many in the courtyard of my office in Helmand. The carnage was disgusting, limbs and flesh hanging from trees and bushes. Brave men who stopped him killing me and others died In horrific pain. Some need to grow up. Comparing the PM to that isn't funny. https://t.co/IeRWhmhgS9

— Tom Tugendhat (@TomTugendhat) September 8, 2018
He added: "We have been so mad as to agree, last December, that if we can't find ways of producing frictionless trade between Northern Ireland and the Republic of Ireland, then Northern Ireland must remain in the customs union and the Single Market: in other words, part of the EU.
"And that would mean a border down the Irish Sea.
"That outcome is completely unacceptable, as the PM has said, to the majority in Northern Ireland and to the UK Government; and yet that is the threat – to the integrity of the UK – that we have allowed our partners to wield. That is why Barnier seems so confident."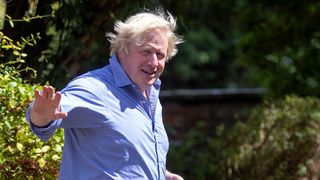 Mr Johnson continues: "That is why they are pushing us around. And we are now trying to sort it out, with a solution that is, if anything, even more pathetic.
"We are now proposing our own version of the backstop: that if we can't find ways of solving the Irish border problem, then the whole of the UK must remain in the customs union and single market.
"And as a so-called solution to that problem we are putting forward the Chequers plan which keeps us subject to EU rules for goods, for food, in practice for trade, and much else besides.
"Either means agreeing to take EU rules, with no say on those rules. It means exposing UK business and entrepreneurs to potentially hostile regulation over which we have no control whatever.
"It means we can't do any real free trade deals. It means we are a vassal state. So we have managed to reduce the great British Brexit to two appalling options: either we must divide the Union, or the whole country must accept EU law forever."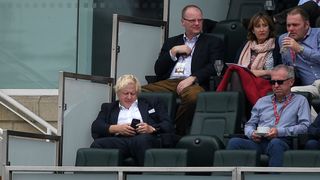 :: Boris Johnson booed by cricket fans as England face India
Mr Johnson concludes: "In a weird semi-masochistic way we have created the means by which the EU can bully us. We have conspired in this threat to the Union. We have put our own heads deliberately on the block.
"It is time to scrap the backstop, fix the borders for frictionless trade, and get back to the open and dynamic approach outlined in Theresa May's original Lancaster House speech – with a big Canada-style free trade deal.
"Otherwise, we should tell our friends they won't get a penny."
Mr Johnson's onslaught comes less than a week after he wrote in his Daily Telegraph column that the prime minister was "waving the white flag" in her negotiations with the European Union.
Tory MPs will see his latest broadside as further evidence of his determination to topple the prime minister, despite lurid revelations about his private life in recent days.
His attack comes amid reports of a "dirty dossier" on Mr Johnson being drawn up by Mrs May's supporters in an attempt to smear and damage his Tory leadership bid.


[ad_2]