[ad_1]

Boris Johnson has launched yet another broadside at Theresa May's Brexit proposals by claiming her plan is "substantially worse" than EU membership.
Despite facing scrutiny of his private life following the announcement he and wife Marina Wheeler are divorcing, the ex-foreign secretary is not shying away from his continuing campaign for the prime minister to "chuck Chequers".
Mr Johnson made a surprise appearance at a Brexiteer event in parliament, hosted by the Leave-backing organisation Economists for Free Trade.
In his third intervention in as many days against Mrs May's so-called Chequers plan, Mr Johnson attacked the prime minister's proposal to sign up to a "common rulebook" with the EU after Brexit.
He said: "In abandoning our seat around the table in Brussels and continuing to accept the single market legislation… we will be exposing UK businesses, manufacturers, entrepreneurs, innovators, to whatsoever rules the EU decides in the future to devise, even though those rules may well be inimical to the interests of UK innovation.
"That seems to me to be a particular economic risk in Chequers and makes it substantially worse than the status quo."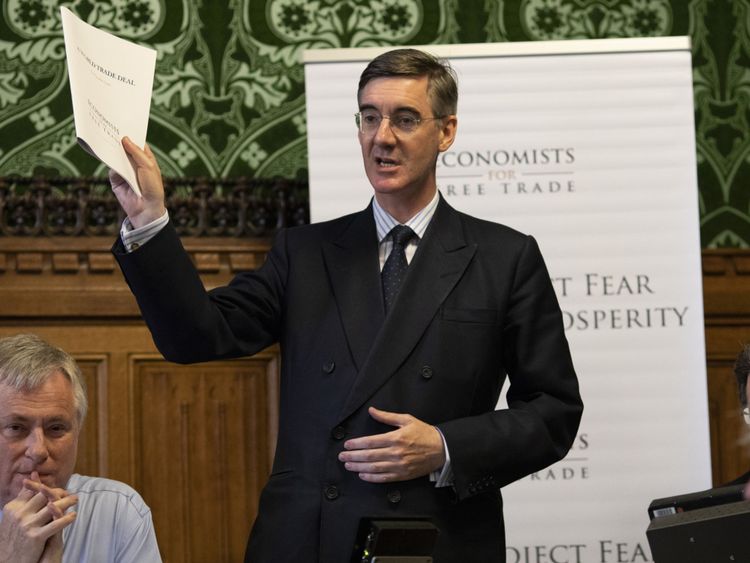 Economists for Free Trade want the government to form a post-Brexit relationship with the EU under World Trade Organisation rules (WTO), rather than a comprehensive negotiated agreement as Mrs May hopes to achieve.
They claim the UK's GDP would grow by around 7% over the next 15 years under a WTO model, while the Treasury's coffers will be swelled by about 10% in extra revenue – around £80bn.
Pro-Remain Labour MP Chuka Umunna, a supporter of the People's Vote campaign for a fresh EU referendum, attacked the economists' claims.
He said: "The latest 'Project Fantasy' document from advocates of an ultra-hard Brexit promises to take us to a land of milk-and-honey, when the reality is that, before we have even left, Brexit is forcing up prices in the shops, destabilising our economy and stripping our health service of the doctors and nurses that it so badly needs."
But, after the event, Tory backbencher Jacob Rees-Mogg told Sky News the Leave-backing economists had "consistently turned out to be more accurate" than the Treasury over their Brexit forecasts, as he highlighted former chancellor George Osborne's pre-referendum claims of major job losses after leaving the EU.
The prominent Brexiteer also hit back at former foreign secretary Lord Hague's suggestion that critics of the Chequers plan could leave the UK facing its worst constitutional crisis for 200 years.
"Ensuring we leave properly will avoid a constitutional crisis," Mr Rees-Mogg said.
"We had the biggest vote in the nation's history, 17.4million people vote to do something, more than have ever voted for any political party in our whole history.
"And then [imagine if] we didn't do it, and then we did Chequers and really stayed half-in and half-out, that would be a constitutional crisis by the bucketload."
Mr Rees-Mogg is aiming to "change the policy and not the person" amid claims a defeat of the Chequers plan could lead to Mrs May being toppled as prime minister.
But he also dismissed claims the focus on Mr Johnson's personal life could harm the former cabinet minister's chances of one day succeeding Mrs May as Tory leader.
"Monk-like behaviour is not a requirement for being prime minister," Mr Rees-Mogg said.
As well as staunch opposition to her Brexit strategy among Conservative Brexiteers, Mrs May's Chequers plan is also unpopular among Remain-backing Tory MPs.
Plymouth Moor View MP Johnny Mercer became the latest to voice his disapproval of the prime minister's proposals.
"I can't vote for Chequers as it stands. I think it's the worst of all worlds," he told the ConservativeHome website, adding that the scheme was a "good start" but is "not a good enough end point".
At the weekend, Mr Johnson controversially compared the Chequers plan to a "suicide vest" around Britain in an article for the Mail on Sunday, while he followed it up with further criticism of Mrs May's handling of Brexit in his weekly Daily Telegraph column on Monday.
[ad_2]