The scallop wars that have plagued the English Channel are set to continue after peace talks between British and French fishermen collapsed.
In a development Downing Street will hope is not a precursor to the climax of Brexit negotiations, UK industry leaders have walked away from talks with their continental counterparts without a deal.
The discussions sought to agree compensation for UK boats to stop foraging for the molluscs, with French mariners unhappy because they are banned from fishing in the territory during the summer in order to conserve stocks.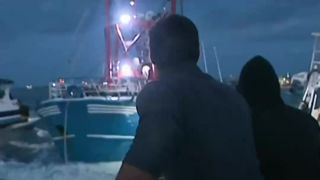 While an industry accord also prevents UK vessels larger than 15m (50ft) from pilfering the scallops between 15 May and 1 October, smaller boats can continue to help themselves to whatever they find.
The dispute peaked earlier this month when five British vessels sparred with dozens of French boats in the Seine Bay, with footage showing fishermen from both sides ramming each other. Rocks and smoke bombs were reportedly hurled at UK vessels.
Both sides were said to be keen to ensure such scenes were not repeated, but it was announced on Wednesday that talks had ended without a deal.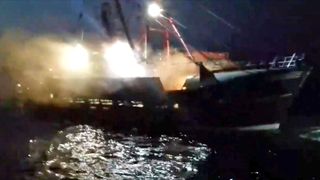 Stephane Travert, the French minister for food and agriculture, said he "regretted" the failure, but added that he "salutes" the efforts of his countrymen to "propose reasonable compensation".
However, a spokeswoman from the Department for Environment, Food and Rural Affairs described the French offer as "unacceptable to UK industry" – and warned the government's priority is the safety of British fishermen.
"Where the UK fleet is legally entitled to fish in French waters, the law is clear that they are entitled to protection from the French authorities," she said.
The Scottish White Fish Producers Association admitted that it was "disappointing for everyone", adding: "No one wants to see conflict on the high seas."
It had been thought that a breakthrough had been reached after talks in London last week, with small UK vessels pledging not to fish in the area of dispute if they would not lose out financially.
But the compensation being sought appears to have been too high for the French, which means the British scallop catchers may well return to the territory and risk a return to the recent skirmishes.