[ad_1]

Theresa May has again refused to say whether she thinks Britain will be better off after Brexit, asking a journalist why they were putting the question to her if they claimed to already know what she would say.
The prime minister was asked by Sky News to give a "clear" answer on whether she thought the UK would be more powerful and prosperous as a result of leaving the European Union.
Earlier on her three-day trip to Africa, Mrs May avoided the question, insisting she was delivering "what the British people wanted".
At a news conference in the Kenyan capital Nairobi, Sky's political correspondent Lewis Goodall again challenged her to give an answer, saying: "I know that you're going to say that you think there are opportunities, I know that you're going to say that you're executing the will of the British people, but I'd just like you to be quite clear now in a yes or no way.
"Do you think Britain, in the short-to-medium term, will be more powerful, more prosperous, in the world as a result of Brexit?"
Mrs May replied: "I'm tempted to say if you know the answer I'm going to give to the question, why are you asking the question?"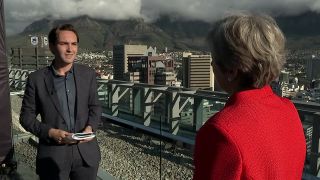 She continued that there were "opportunities" to improve prosperity and security, adding: "We're pursuing, of course, a good deal for trade with the EU once we've left the EU.
"But we will be looking to enhance our trade relationships around the world as well."
Mrs May got a boost from Kenyan President Uhuru Kenyatta, who said: "I don't believe Brexit is going to dent our ability to strengthen and deepen trade and investment between our two countries…
"I don't see Brexit meaning anything detrimental towards the strong ties we already have."
The two leaders announced they had signed a new security treaty to promote stability in east Africa.
New funding was also pledged for the African Union in Somalia to combat the militant group al Shabab.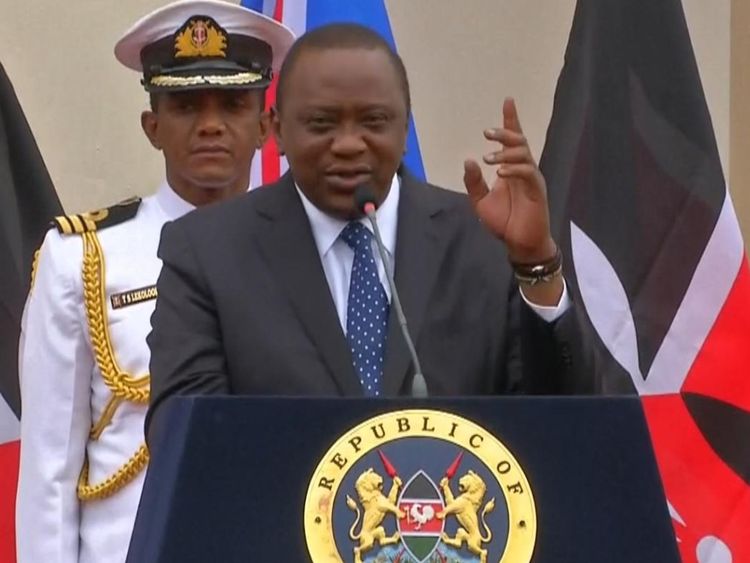 Mrs May also dodged questions on criticism of her Chequers Brexit proposals and a reported plan from French President Emmanuel Macron for Britain to have a "satellite" relationship with Brussels.
The prime minister answered that she was implementing the Brexit vote and extolled what she said were the benefits of the bid she has offered the EU.
The visit is the first by a British prime minister to Kenya in 30 years – since Margaret Thatcher toured the country in 1988.
Mrs May said Kenya has a "special place in the hearts of British people" because "it was here that our monarch learned she would become queen".
[ad_2]