[ad_1]

Theresa May had to contend with further backbench anger over Brexit at PMQs, as Jeremy Corbyn claimed the government had "sunk into a mire of chaos and division".
In her last Commons clash with the Labour leader before parliament breaks for the summer recess, Mrs May had to field a number of questions on Britain's EU exit, including from two former Brexit ministers.
There were also testy exchanges between the prime minister and Mr Corbyn, who sought to put pressure on Mrs May over the official Brexit campaign being referred to the police for breaches of electoral law.
The weekly confrontation across the despatch box came in a week that has seen the government survive knife-edge Commons votes amid an escalation of blue-on-blue attacks.
And Mrs May was left under no illusions that she would be in for another testing time when Brexiteer MP Andrea Jenkyns rose to ask the first question.
The MP for Morley and Outwood in West Yorkshire acidly enquired "at what point it was decided that Brexit means Remain?" – drawing shouts from across the chamber.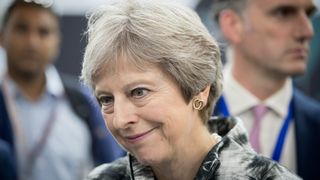 Mrs May batted away the charge, telling MPs she was focused on getting a "workable" Brexit solution.
Mr Corbyn then rose to his feet and swiftly attacked the government's handling of Brexit, claiming Mrs May and her top team have "sunk into a mire of chaos and division".
He said the much-heralded Chequers agreement, which the PM had hoped would allow her to strike a way forward on Brexit, had instead caused her cabinet to "fall apart within 48 hours".
Mr Corbyn asked the PM to "guarantee that her Cabinet ministers will fully co-operate with the police investigation" following the publication of the Electoral Commission report on the official Vote Leave campaign, which was backed by members of her cabinet during the 2016 referendum.
A furious Mrs May called on the Labour leader to "withdraw" his comments about Vote Leave, adding: "I still contend he made accusations against individual members of this government that were unjustified and he should withdraw them."
No current or former ministers who were involved in the campaign have been referred to the police.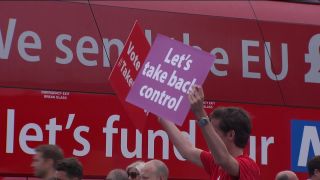 She said the Chequers blueprint and the recently-published Brexit white paper "are the basis for our negotiation with the European Union and we've already started those negotiations".
The PM also rejected a call from SNP leader Ian Blackford to extend the Article 50 period, a move which would give the UK more time to negotiate a deal with the EU before Brexit becomes official.
Mrs May defended her acceptance of Brexiteer amendments to key Brexit legislation and insisted her plan for Britain's post-exit customs arrangement had not been binned and was being discussed with Brussels.
Mr Corbyn replied: "Is she seriously expecting 27 member states of the EU are going to establish their own bureaucratic tariff collection infrastructure just to satisfy the war within the Conservative Party in Britain?"
In his last question, the Labour leader told the House: "With only three months to go until the final withdrawal agreement is due to be signed the Brexit secretary [David Davis] has resigned, the white paper is in tatters, the new Brexit secretary [Dominic Raab] is skipping negotiations, two years of negotiations with themselves and they wanted to shut down Parliament for five days.
"They've even given up negotiating with each other."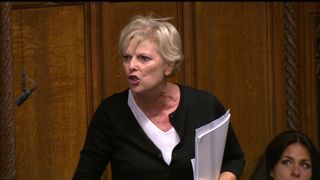 Speaker John Bercow was forced to intervene as Tory MPs tried to shout down Mr Corbyn.
After the hubbub had abated, Mr Corbyn continued: "Isn't it the case that the Government is failing to negotiate Brexit, failing to meet the needs of the country because they are far too busy fighting each other?"
Mrs May replied: "Let me tell you what I've been doing over the last week."
Laughter broke out when Labour's Emma Hardy was heard shouting: "Panicking."
Mrs May said: "While I was agreeing the future of NATO with President Trump, he was joining a protest march against him.
"While I was delivering a plan for our future trade with the EU, he was delivering a plan to teach children how to go on strike.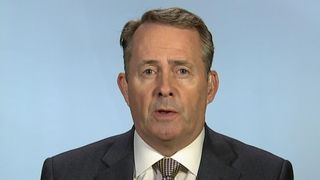 "And while I was negotiating our future security relationship with Europe, he was renegotiating the definition of anti-Semitism.
"He protests, I deliver."
Ex-Brexit secretary David Davis rose to ask Mrs May to publish the legal text of a draft free trade treaty, while Mr Davis' former Brexit department colleague Steve Baker enquired about the plans for a "no deal" scenario he was working on before he left the department.
Also in the chamber was another recently-departed minister – Boris Johnson.
There was an awkward moment for him during PMQs, when Tory colleague Keith Simpson referenced the recent visit of US President Donald Trump.
He praised the PM for her handling of a "giant ego" with a penchant for "fake news", before drily adding: "I'm not referring to the Rt Hon Gentleman for Uxbridge [Mr Johnson's constituency]."
[ad_2]