[ad_1]

Theresa May is defiantly sticking by her Chequers strategy for Brexit, despite the EU insisting a key element of her plan "will not work" and issuing a four-week deadline to agree a deal.
The prime minister was dealt a large setback on Thursday after she failed to attract EU backing for her Brexit plan during an informal gathering of the bloc's leaders in Salzburg, Austria.
At the end of the summit, European Council president Donald Tusk admitted there were "positive elements" to Mrs May's Chequers proposals but poured cold water over the prime minister's outline for the future EU-UK trade relationship.
Rejecting Mrs May's plan, he said: "The suggested framework for economic co-operation will not work."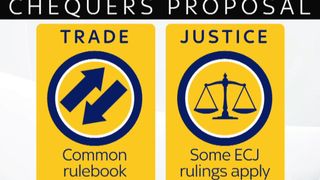 Under the Chequers plan, as agreed by ministers in July, the prime minister hopes to agree a "common rulebook" between Britain and the EU on goods, as well as a new customs arrangement with the bloc.
But the EU is hostile to both elements, with Mr Tusk adding the plan "risks undermining the single market".
Both Mr Tusk and European Commission president Jean-Claude Juncker used the conclusion of the Salzburg meeting to warn "the moment of truth for Brexit" will now come during the next gathering of EU leaders, at a formal summit in Brussels on 18 October.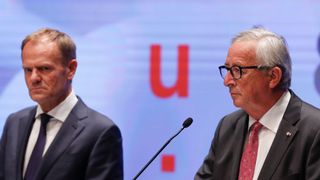 Mr Tusk added, if the October summit brings "maximum progress and results" in Brexit negotiations, the EU will then sanction an "extraordinary summit in November to finalise and formalise the deal".
It means Mrs May now has four weeks to persuade the EU to accept her Chequers plan or come up with an alternative, as well as agree a backstop solution to avoiding a hard border on the island of Ireland.
Despite the EU's apparent rejection of Chequers, the prime minister used a press conference following Mr Tusk's comments to declare her strategy remains "the only serious and credible proposition on the table" for avoiding friction at the Irish border.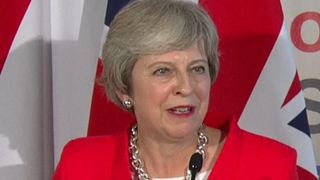 Mrs May also repeated her opposition to the EU's proposal for an Irish border backstop – to be employed in the event the future EU-UK trade relationship fails to avert a hard border – as the Brussels plan will "divide the UK into two customs territories".
Instead, the prime minister promised to bring forward new proposals of her own "shortly".
She also raised the prospect of the UK leaving the EU without an agreement, adding: "Let nobody be in any doubt: as I have always said, we are preparing for no deal.
"So that if we get to the position where it's not possible to reach a deal, then the British people can be confident that we will have done what is necessary to ensure we make a success of leaving the EU."
German chancellor Angela Merkel and French president Emmanuel Macron also delivered a negative assessment of Mrs May's proposals during her bruising trip to Salzburg.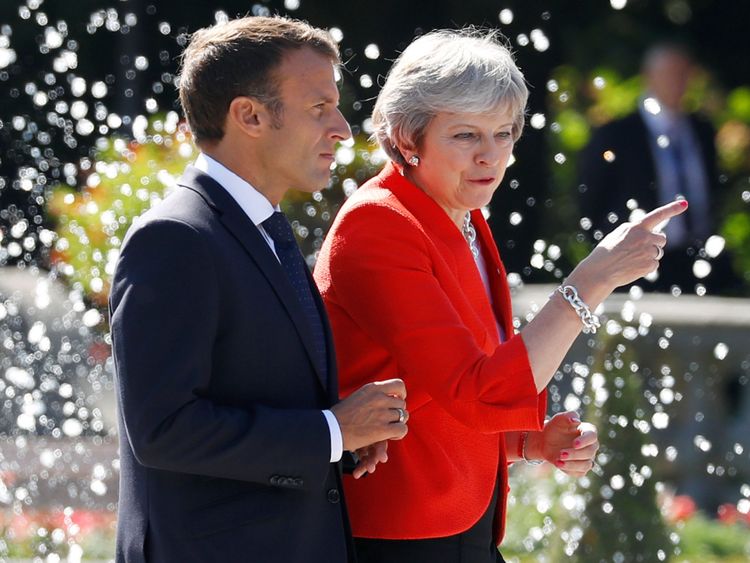 Ms Merkel warned there is "still a lot of work to do" before a future trade agreement is reached, while Mr Macron said: "We all agreed on this today, the proposals in their current state are not acceptable. The Chequers plan cannot be take it or leave it."
Mr Macron also attacked Brexiteers who "predicted easy solutions" for leaving the EU as "liars", adding: "What's more, they left the next day so they didn't have to handle it."
Mrs May's failure to achieve a positive EU response to her Chequers deal will increase pressure on the prime minister ahead of what promises to be a fractious Conservative Party conference later this month.
Tory Brexiteer Jacob Rees-Mogg, who is leading Conservative backbench calls to "chuck Chequers", told the government to "come up with a different approach" to Brexit and instead chase a trade deal with the EU along the lines of the bloc's agreement with Canada.
He told Sky News: "This idea that Chequers is the only viable deal is obviously not correct because Chequers isn't viable. The EU isn't going to accept it and it's not leaving the EU."
Remain-supporting Conservatives also seized on the EU's rejection of Chequers, with former minister Anna Soubry using it to push her call for a fresh referendum as part of the People's Vote campaign.
However, fellow Tory Remainer Grant Shapps claimed a failure by the EU to agree a future trade deal could see the UK renege on a commitment to stump up the cash for the Brexit divorce bill.
He tweeted: "Well, I'm no Brexiteer (in fact I voted Remain), but we may fast be approaching a situation where our handing over £39bn won't work for us either!"
Labour's shadow Brexit secretary Sir Keir Starmer called on the prime minister to "urgently drop her reckless red lines and put forward a credible plan for Brexit".
But, former UKIP leader Nigel Farage claimed the EU will never be satisfied with Mrs May's attempts to secure a deal.
He said: "It doesn't matter what concessions you make to these gangsters, they will always come back for more.
"Maybe this is a big opportunity to chuck Chequers and go back to them with a very simple trade deal, and say 'you have got two months to sign up to this'."
[ad_2]