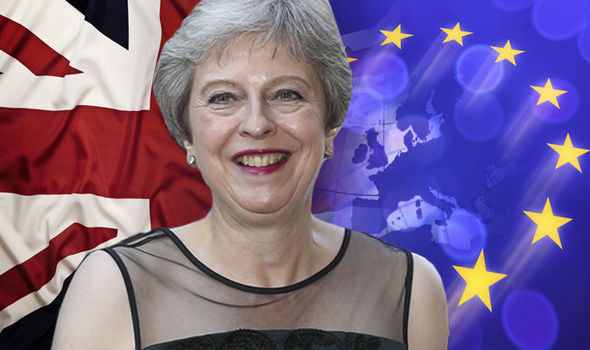 The Prime Minister now has an opportunity to get the UK's departure "back on track" (Image: GETTY)
Mrs May met her French counterpart Emmanuel Macron on Friday and while the French insisted that the meeting did not show Macron was prepared to "speak in place of" the EU's chief negotiator Michel Barnier, Mr Jones suggested that the talks between the leaders showed a growing desire for them to take hold of negotiations.
Last weekend Mrs May also secured the chance to put her proposals to EU heads of state at an informal summit on September 20.
Mr Jones, a minister for Brexit for a year between 2016 and 2017, said that now was the time to dump the Chequers plan, which involves staying in the single market in all but name.
A number of ministers, including David Davis and Boris Johnson, quit in protest at the proposals, saying they would water down Brexit and leave Britain in "miserable, permanent limbo".

The Chequers proposal has not met with the approval of the public and has undoubtedly caused problems for the party
Mr Jones said: "The Chequers proposal has not met with the approval of the public and has undoubtedly caused problems for the party.
"But the divisions opening up among EU member states now offer the Prime Minister a real opportunity to get Brexit back on track.
"She should take full advantage of these divisions and mount a serious attempt to secure a Canada-style free trade deal.
"She should also make it clear that if the EU does not agree to this, Britain is entirely happy to revert to World Trade Organisation terms of trade, which will be sufficient for the UK."
Tory MP Andrew Bridgen agreed that the time is right for a rethink. 
He said: "Theresa May should use this excuse to dump the toxic Chequers proposals."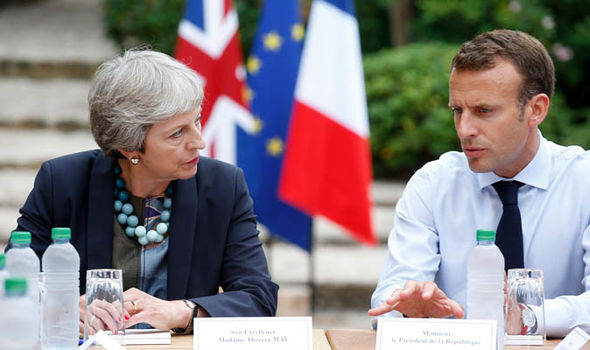 Mrs May met her French counterpart Emmanuel Macron on Friday (Image: AFP/GETTY)
No10 has remained tight-lipped about the outcome of the Macron meeting. Mrs May had cut short a holiday to Lake Garda in Italy to have discussions with the President at his "summer Elysee Palace" in the South of France.
The pair had a "friendly dinner" with their spouses at Fort Bregançon. A short video showed the leaders nodding and smiling. 
Mrs May believes she can secure a better deal by appealing directly to EU leaders like Mr Macron this summer.
However, closer to home, she is thought to be preparing for a meeting of her Cabinet next month to discuss more contingency plans in the event of a no-deal in March.
No10 rejected reports that the police would be asked to cancel leave for two months if Britain leaves the EU without a deal.
A Downing Street source said that "both sides" remained confident of achieving a good deal but it was the job of a "responsible government
to prepare for all scenarios".
She added: "We have already carried out very significant 'no-deal' preparations but we are now stepping up the pace. This does not reflect an increased likelihood of no-deal. An acceleration at this point was long planned to ensure plans are in place by March in the unlikely scenario they are needed." 
The Government has faced criticism that its planning has been engineered to scare the public about the prospect of a no-deal Brexit.
Experts warn that failing to reach a deal could cost the EU more than £500billion, with Britain operating under WTO rules. Pro-Brexit Economists For Free Trade estimate that Britain
will gain £651billion from walking away from talks, leaving the EU with a bill for £507billion.
Last night former Cabinet minister Iain Duncan Smith warned Bank of England Governor Mark Carney to stay out of politics after he claimed that Britain faced an "uncomfortably high" risk of a no-deal Brexit. 
EU Summit 2018 LIVE pictures from Brussels
Fri, March 23, 2018
Theresa May sought to unite EU leaders in condemnation of Moscow over the poisoning of a former Russian spy, but she faces resistance from states keen to protect their Kremlin ties
Mr Duncan Smith said: "It would be best if the Governor was more careful to avoid being accused of getting involved in politics."
Meanwhile, grassroots activists are this weekend collecting more signatures in their campaign to force politicians to deliver what they say is the Brexit the public voted for.
Christopher Kingsley, who set up the Herefordshire for Brexit movement, said that the fudged Chequers plan had galvanised voters.
He said: "People are saying they are angry. They understand they voted for independence and they know that Chequers does not represent independence.
"They think it represents semi-independence at best."
Ukip is also making plans to capitalise on opposition to the Chequers plan. Leader Gerard Batten said he has put his party on "red alert" for another election.
The party is also gearing up to publish its list of target seats, hoping it can knock out Remainer MPs in Leave constituencies.
Mr Batten said: "We know an election would be a complete disaster for [the Tories]. We can lose them quite a lot of their seats."