[ad_1]

Prime Minister Theresa May unveiled plans for the White Paper at Chequers last week, sparking a rebellion that first saw Brexit Secretary David Davis throw in the towel, followed by Foreign Secretary Boris Johnson. 
Both cited the government's agreement to the Brexit proposal outlined as prompting their need to extract themselves from the current Brexit trajectory. 
In his resignation letter, Mr Davis said delivering on the mandate of the referendum and the manifesto commitment to leave the Customs Union and the Single Market was most important. 
He said: "I am afraid that I think the current trend of policy and tactics is making it look less and less likely. 
Mr Johnson wrote in his: "[The Brexit] dream is dying, suffocated by needless self-doubt."
Yesterday, the most important document since the June 2016 referendum was published: The Brexit White Paper. 
In it, Mrs May outlined the proposed policies on economic partnership, security, cooperation and institutional arrangements.
The publication tossed the Conservative party into further chaos, not least because the press had access to the White Paper before the majority of MPs. 
The paper itself has largely been met with scorn.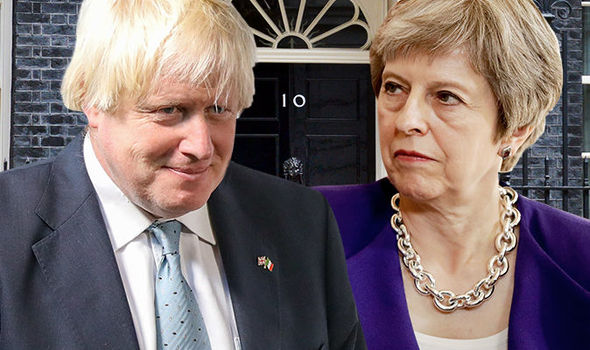 Getty
Tory party chaos: Boris Johnson has long been rumoured to have his eye on the top job
Conservative MP Jacob Rees-Mogg, the chair of the European Research Group of Tory Eurosceptics said: "It is a pale imitation of the paper prepared by David Davis, a bad deal for Britain. 
"It is not something I would vote for nor is it what the British people voted for." 
The furore has sparked speculation the Prime Minister may be in for a leadership battle.
Concerns have been raised that if 48 MPs write letters of no confidence to Graham Brady, chair of the backbench 1922 Committee, Mrs May will face a vote of no confidence.
There are those who believe that she would win such a vote, but if she lost, she would face a leadership challenge.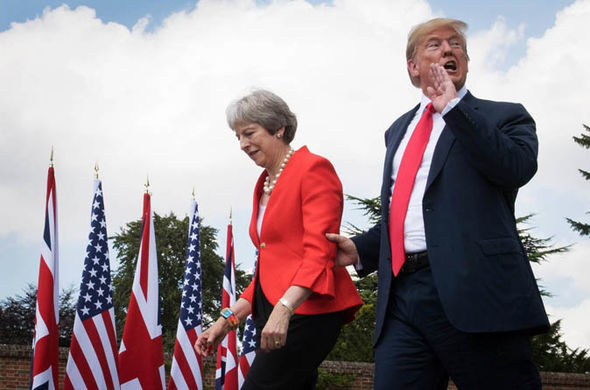 PA
Tory party chaos: Theresa May has been putting out the fires that Mr Trump started
Mrs May will not be pleased that these rumours have taken hold after Donald Trump told The Sun he thinks Mr Johnson "would be a great Prime Minister. I think he's got what it takes."
Boris Johnson, who has long been rumoured to have his eye on the top job, could be among the potential candidates ready to take the helm. 
Gerard Batten, leader of UKIP, told Express.co.uk: I think Boris Johnson is only about Boris Johnson. 
"He's calculated that Mrs May is a wounded animal and he wants to make sure he gets in the running for the top job. 
"I wouldn't trust Boris any further than I could throw him.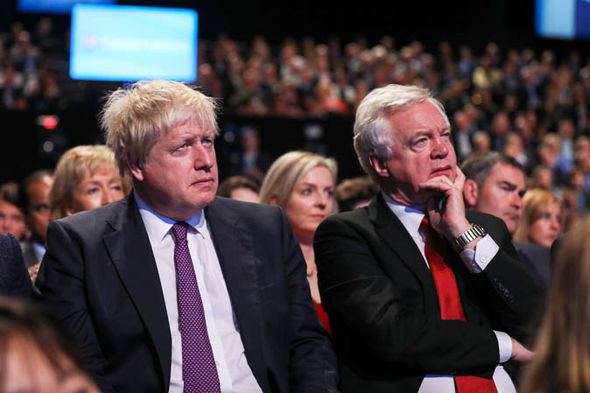 Getty
Tory party chaos: Foreign Secretary Boris Johnson and Brexit Secretary David Davis resigned
Speculation is rife that we could see more Cabinet members abandon Mrs May at this crucial juncture. 
Mr Batten said: "I think [Boris Johnson] saw when David Davis resigned that this could well be the domino effect that more people were going to go and he had to get in soon enough in order to be a leadership contender."
Currently, Theresa May has been putting out the fires that Mr Trump started in his explosive interview with The Sun. 
In the interview, Mr Trump claimed that he had told Mrs May how to go about Brexit but she ignored him, something he said could jeopardise US-UK trade relations. 
The two leaders met today at Chequers, and in a press conference afterwards Mr Trump appeared to back-track, branding the interview as "fake news."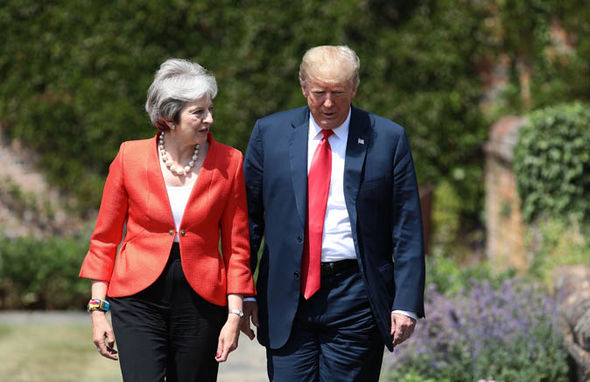 Getty
Tory party chaos: Trump called May a "tough negotiator" and "very smart, very tough, very capable"
Speaking to members of the British press, he said the US will back whatever Brexit policy the UK government wants to pursue. 
He added Mrs May is a "tough negotiator" and a "very smart, very tough, very capable woman".
Asked how he would rate the relationship between the US and UK, Mr Trump answered: "The highest grade of special."
Now, the UK's negotiating team have said they will engage with the EU at a swift pace, in other to conclude the Article 50 negotiations this autumn ahead of the UK's official departure from the EU in March 2019.
[ad_2]