Jeremy Corbyn has criticised Theresa May for "rolling out the red carpet" for Donald Trump during his controversial two-day visit.
In his first sit-down interview since the US president touched down in the UK, the Labour leader accused Mr Trump of meddling in British politics.
Mr Corbyn labelled the US leader's remarks about the recent Brexit turmoil "strange", adding that the strife caused by the resignation of Boris Johnson was "not his business".
He also said Mr Trump's criticism of London Mayor Sadiq Khan over his response to last year's terror attacks in the capital was "completely unacceptable".
Mr Corbyn made the comments before going to join an anti-Trump rally in Trafalgar Square, central London, one of numerous protests across the UK against the president.
Speaking at Islington Town Hall in north London, the Labour leader said: "Whatever the decision the Queen decides to take about whether to invite him to tea or not and what advice the prime minister gives on that is between them, I don't know what went on.
"But personally I don't think we should have been rolling out the red carpet for Donald Trump.
"We should be having meetings with the US government, the administration, as we always should, as we should with every other government in the world.
"We have to relate to other governments, but you've got to be clear what you're doing.
"Are we rolling out the red carpet uncritically or saying, hang on, there are issues where we fundamentally disagree?"
Mr Corbyn went on: "It's a very strange thing to do, to come on a visit to another country, to meet that country's prime minister, and then announce that you would like to see as her successor a person who's just resigned from her government.
"Well, Johnson resigned for the reasons that he gave, that is Johnson's business, that is Theresa May's business to respond to, it really isn't anything to do with Donald Trump."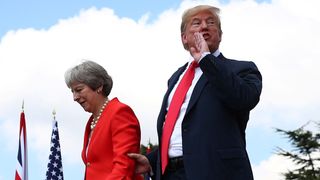 On the first day of Mr Trump's trip, an explosive interview with The Sun newspaper was published.
In it, the president warned Mrs May her Brexit blueprint would "probably kill" hopes of any future trade deal with the US.
He also described Mr Johnson, who sensationally quit as foreign secretary earlier this week over the PM's Brexit plans, as a "very talented guy" who has "got what it takes" to be a "great prime minister".
At a news conference on Friday Mr Trump revealed had apologised to Mrs May over the bombshell interview, describing the PM as an "incredible" leader who was "doing a fantastic job".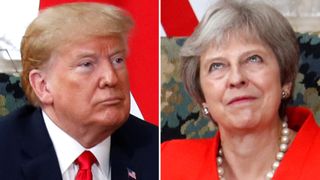 Mr Corbyn said serious questions about future trade relations lay behind Mr Trump's comments.
He called on the government to prioritise solving trade relations with Europe ahead of other countries, saying there would be "huge threats" to British industry if supply chains to the continent are impacted.
"This is a president who has unilaterally imposed tariffs on aluminium and steel, and is therefore very damaging to our industries as well as those of many other countries, and at the same time saying he is prepared to do trade deals on his terms with Britain," he said.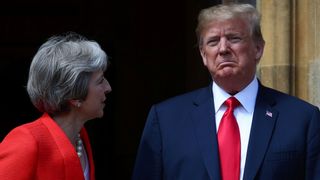 "My concern is that Theresa May has been discussing trade with him.
"She has at the same time said that we will keep the regulatory environment that we have with Europe, which all want to do. He doesn't want that, he has made that very, very clear.
"Are we going to remove our food standards and import chlorinated chicken and GM crops to this country or are we actually going to say, yes, we will do trade with a lot of people around the world, but it is based on high quality standards and based on human rights in the countries we are trading with?"