[ad_1]

The activist who blew the whistle on alleged electoral breaches by Vote Leave says draft findings that they cheated in the referendum means "democracy has been tainted" and there should be a second EU referendum.
A draft report by the Electoral Commission (EC) has found the official Brexit campaign breached electoral rules during the 2016 referendum.
The group is alleged to have disguised overspending by channelling money through a youth campaign.
Activist Shahmir Sanni, from youth campaign BeLeave, responded to allegations from Vote Leave chief executive Matthew Elliott that he had lied to the EC.
He told Sky News: "They broke the law, so it doesn't matter what Matthew Elliot calls me. The evidence shows our democracy has been tainted.
"The reason why I voted Leave was precisely the same reason why I am going through hell and back to make sure everyone knows that Vote Leave broke the law.
"It's because I believe in sovereignty and democracy."
Mr Sanni said he would still vote to leave the EU, but he does support the idea of a second Brexit referendum.
He said: "What is the alternative; that we go down a seemingly democratic process based on a lie?"
Revealing the EC's draft findings, Mr Elliott told Sky News that his campaign group faces a possible fine over allegations that they overspent during the EU referendum campaign in 2016.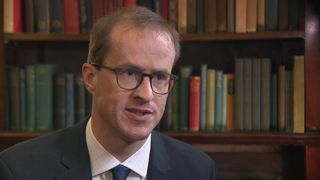 But Mr Elliot accuses the EC of a "huge breach of natural justice" by only listening to "the fantasists" without interviewing the directors of Vote Leave for their side of the story.
He also says that Mr Sanni, who has given evidence to the EC, was "completely lying" and was motivated by the desire for a second referendum.
The EC has said the "unusual step" by Vote Leave in sharing their initial findings "does not affect the process set out in law" and they will publish a closing report on their investigation into the campaign group "at the earliest opportunity".
Asked about the Vote Leave revelations in the House of Commons on Wednesday, Prime Minister Theresa May told MPs she would not comment on "what appears to be a leaked report that the government have not seen".
She added: "The Electoral Commission has said in relation to the Vote Leave matter that it will consider representations it has received and will 'publish a thorough and detailed closing report in order to provide a full and balanced account'.
"The government will of course consider that report when we receive it, and we will also consider any recommendations arising from it when it is released."
[ad_2]