[ad_1]

Perhaps everything written about this episode should start with a reminder: At the heart of this are two women.
It would be easy to lose sight of their serious allegations, currently being assessed by Police Scotland, amid all the noise surrounding the people and the politics involved.
It got louder when Alex Salmond quit the SNP in a social media post.
His chosen text wouldn't have been disputed by first minister and party leader Nicola Sturgeon, even if she might not have written it.
Mr Salmond tweeted with the headline: "Salmond puts Scottish independence first."
A rallying cry to the faithful – this was a crowdfunder launch after all.
It was also a catchline for his independence credentials which, whether he meant it or not, offered a searing contrast to Ms Sturgeon's faltering progress on the project.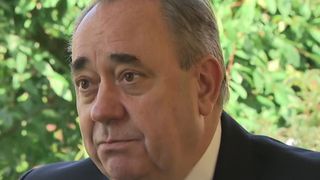 This is Mr Salmond outside the SNP tent, with big implications for the party inside.
Their opponents are spinning his departure as "civil war" within the party.
That may be a stretch but, even unspun, it's ominous.
Mr Salmond is an icon among independence campaigners – the man who steered Scotland to the brink of a breakaway in the 2014 referendum.
He still carries large support from within the independence movement, much of which has grown restless at a slowing of progress towards a second vote.
For so long, the drive for Scottish independence turned on the Alex-Nicola axis.
Notwithstanding the outcome of ongoing enquiries, police and otherwise, distance between the duo risks fragmenting hard-won unity behind the project.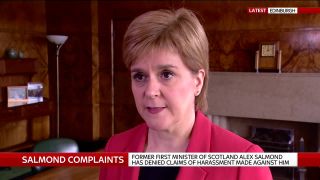 Mr Salmond faces allegations of sexual misconduct following an investigation by the Scottish government.
He strenuously denies the claims, which date back to 2013.
Since being informed of the allegations, he has held three meetings with Ms Sturgeon.
The substance of their conversations has not been revealed, but sources close to Mr Salmond say he took the opportunity to "point-blank deny" the claims against him.
She has expressed her sadness at losing her "friend and mentor" from the party.
He has spared her further pressure over calls for his suspension; a working arrangement for the Salmond-Sturgeon tag team to negotiate the immediate path ahead.
But the process of justice is a longer and more difficult road. And one they won't take together.
As one Salmond aide told me: "There's no victory for the SNP in this, whichever way it ends."
[ad_2]