[ad_1]

A former lord chief justice has joined an ex-counter terror chief and top MPs in calling for ancient treason laws to be updated in order to jail British jihadis for life.
Amid an ongoing row over efforts to bring two members of an Islamic State (IS or ISIS) murder squad to justice, the senior figures have backed a think tank's report on renewing legislation.
In a new report, Policy Exchange claim a new offence would allow "suitable ground" on which to prosecute captured jihadists Alexanda Kotey and Shafee El-Sheikh, who were part of a quartet named "the Beatles".
The report's authors include Labour shadow foreign minister Khalid Mahmood and Conservative Tom Tugendhat, the chair of the House of Commons foreign affairs committee.
In a foreword to the report, Lord Judge, the former lord chief justice of England and Wales, wrote: "If a citizen of this country chooses to fight with the Taliban in Afghanistan against British forces, his crime is more than terrorism.
"It is treason, and should be prosecuted accordingly."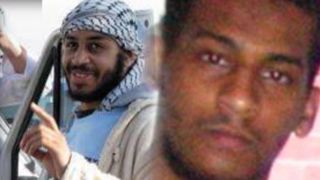 Former home secretary Amber Rudd has also backed the report along with Richard Walton, the former head of counter-terrorism at Scotland Yard, who said treason is "appropriate" for jihadists.
Mr Mahmood said: "Punishing treason properly is important to signal clearly that our communities condemn betrayal.
"Sentencing traitors to life imprisonment would recognise the gravity of the wrong they have committed and would help protect the public."
Mr Tugendhat, who told MPs earlier this week a charge of "betrayal" should be brought against Kotey and El-Sheikh, said: "British citizens who aid groups like ISIS, groups that intend to carry out attacks against the UK, or against UK forces are deployed abroad, betray our country and should be condemned.
"The law must be written to ensure they can be stopped and their betrayal is recognised as a distinct crime."
The government is currently under pressure over its decision not to seek assurances Kotey and El-Sheikh won't face execution if they are convicted in the US, despite the UK's long-standing opposition to the death penalty.
The pair, who are currently being held by US-backed forces in Syria, were stripped of UK citizenship after being members of an IS group behind the brutal beheadings of British and US journalists and aid workers.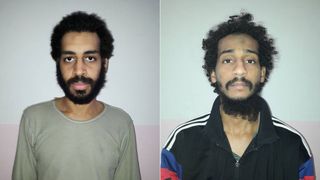 Ministers have said they do not believe there is evidence to try the pair in the UK and so do not want to stand in the way of them facing justice in America.
The Treason Act, which dates from 1351, was last used in the UK in 1945 to prosecute William Joyce (otherwise known as Lord Haw-Haw), a Nazi propagandist who assisted Germany during the Second World War.
Chancellor Philip Hammond previously raised the prospect of using treason laws in relation to British nationals who travelled to fight with IS when he was foreign secretary in 2014.
The Policy Exchange report states 193 offenders were jailed between 2006 and 2017 for terrorism offences, and more than 80 of them are due for release before the end of the year.
"If they had been convicted of treason and imprisoned for life, the UK would be considerably safer," the report said.
The thinktank claims the UK's terror laws fail to recognise the "wrongfulness of betrayal", while any new offence should cover the actions of British citizens overseas.
"This new offence would also provide a suitable ground on which to prosecute Alexanda Kotey and Shafee El-Sheikh, the most high-profile British subjects to have joined ISIS and two of the so called 'Beatles', whom, surprisingly, it seems our authorities do not otherwise intend to prosecute," the report added.
[ad_2]