[ad_1]

It wasn't a full blown state visit, but Theresa May pulled out all the stops for Donald Trump's trip.
There was military pageantry and the red carpet rolled out for a banquet at Blenheim Palace, lunch at Chequers and tea with the Queen at Windsor Castle.
All the while, shielding this thin-skinned president from the protests raging against him in London.
That's because a lot rests on this trip. She desperately needs some support over Brexit as many in her party – and some in her government – turn against her.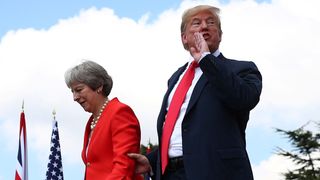 President Trump was not that Cavalry, as he launched into a broadside against her ahead of a bilateral meeting with the prime minster, criticising her Brexit plan and calling into question a US-UK trade deal.
The worst possible set up then for bilateral talks and a press conference, so how did it go?
:: Trade
Mr Trump suggested ahead of the bilateral meeting that it would be very hard to do a trade deal on the current Chequers plan, telling the Sun: "If they do a deal like that, we would be dealing with the European Union instead of the dealing with the UK, so it will probably kill the deal."
But the president embarked on some furious backpedalling at the press conference, saying that having talked to Mrs May he now believed it was possible to do a trade deal – with some qualifications.
"If they are going to go in a certain route I just said that I hope aground are going to be able to trade with the US," he said.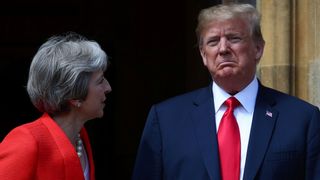 "I read reports where that won't be possible, but I believe after speaking with the prime minister's people and representatives and trade experts it will be absolutely possible."
Still, there was enough ambiguity to galvanise the Brexiteers.
They fear trade deals will be off the agenda – and, whether he meant to or not, the president confirmed their worst fears.
He can't close Pandora's box now.
:: Brexit
President Trump has been a long-term supporter of Brexit, aligning himself with Britain's Brexiteers-in-chief Nigel Farage and Boris Johnson.
He said Mrs May's Chequers plan was "a much different deal than the people voted on" ahead of the bilateral.
He also said he would have done the Brexit deal "differently".
"I actually told Theresa May how to do it but she didn't agree and didn't listen to me she wanted to go a different route," Mr Trump told The Sun.
Again, President Trump tried to backpedal on these incendiary remarks, heaping praise of the prime minister and saying he thought she was a "tough negotiator" who would do "very well".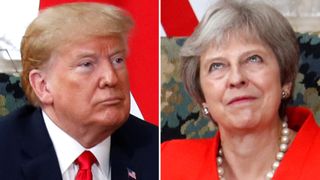 He did not criticise her Chequers plan at all, which will have come as a great relief to a prime minister battling with her Brexiteers over what they are describing as "Brino" – Brexit in name only.
But he couldn't help but put his own views forward, repeating that he had given her suggestions about how she should negotiate – and implied her handling of the talks was perhaps a little too soft.
"I did give her a suggestion. I wouldn't say advice. I think she found it maybe too brutal."
He didn't elaborate on what his "tough" tactics where – but the prime minister looked rather frustrated as she spoke, insisting that she hadn't felt undermined by her ally and was offered lots of advice on Brexit.
"My job is actually getting out there and doing it."
:: Rapport/"Special Relationship"
The offensive remarks made by President Trump before the bilateral provoked an outpouring of anger from politicians across the divide as MPs accused the president of humiliating the prime minister as they urged her to stand up to him.
Labour MP Anna Turley suggested he should not be allowed to meet the Queen.
President Trump again backtracked as he met Mrs May at Chequers. "Our relationship is very very strong. We have a good relationship," he said, following bilateral talks.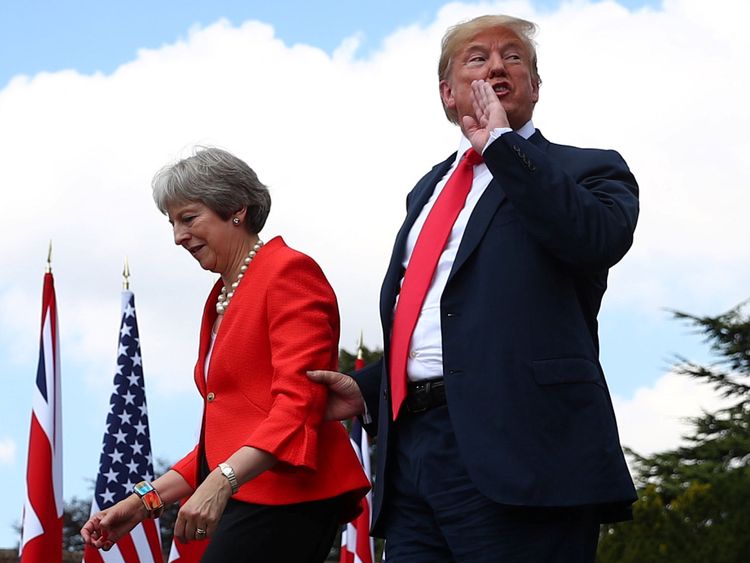 He went further during the press conference, claiming the relationship was the "highest level of special".
He said they'd spent a lot of time together – breakfast, lunch, dinner – and he'd got to know her more in this visit than he has in the last 18 months.
President Trump was at his most effusive and flamboyant; Mrs May looked uncomfortable throughout – perhaps worried about what the president might say.
He did tell reporters he'd apologised to her about The Sun interview to which she replied: "Its only the press."
A leader who likes strength in others, President Trump also praised her resilience, saying she was an "incredible woman doing a fantastic job" and that he'd "rather be her friend than her enemy".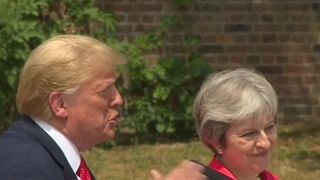 He also said she'd "left a lot of people in her wake" while rather undiplomatically talking about one she'd rather forget: his friend Boris Johnson.
He said again that he liked the former foreign secretary, that he thought he'd be a "great prime minister" and that "he'd been very nice to me".
A fulsome attempt by President Trump to warm up what has been a rather cool special relationship between the pair since his inauguration.
But the substance of his remarks during this two-day official visit has brought the prime minister problems rather than support. With friends like that, who needs enemies?
[ad_2]