[ad_1]

At a marathon ministerial summit at Chequers, the Prime Minister persuaded her team to unanimously back a 12-point blueprint for Britain's future relationship with Brussels.
"Now we must all move at pace to negotiate our proposal with the EU to deliver the prosperous and secure future all our people deserve," she said.
But she was braced for an angry backlash from Eurosceptic Tory MPs after the deal proposed a "free trade area for goods" that will mean the UK adopting many EU rules and regulations.
Her blueprint also included a role for the EU's Court of Justice as an "interpreter of EU rules" in the UK after Brexit.
In a warning to Brussels, the Cabinet also signalled that the Government will step up preparations for quitting the bloc without a deal unless EU negotiators are ready "to reach agreement on a good and sustainable future relationship".

At the core of this proposal is the establishment by the UK and the EU of a free trade area for goods.
Mrs May faced down a threatened revolt by up to seven Eurosceptic Cabinet ministers by daring her critics to walk away.
In an extraordinary move, the Prime Minister signalled her readiness for an emergency reshuffle to "bring on talent" if any rebels quit.
In a statement released tonight as nine hours of intense Cabinet talks drew to a close, the Prime Minister said: "Today in detailed discussions the Cabinet has agreed our collective position for the future of our negotiations with the EU.
"Our proposal will create a UK-EU free trade area which establishes a common rule book for industrial goods and agricultural products.
"This maintains high standards in these areas, but we will also ensure that no new changes in the future take place without the approval of our Parliament.
"As a result, we avoid friction in terms of trade, which protects jobs and livelihoods, as well as meeting our commitments in Northern Ireland.
"We have also agreed a new business-friendly customs model with freedom to strike new trade deals around the world.
"Next week we will be publishing a white paper which will set out more details of how we will be taking back control of our money, laws and borders."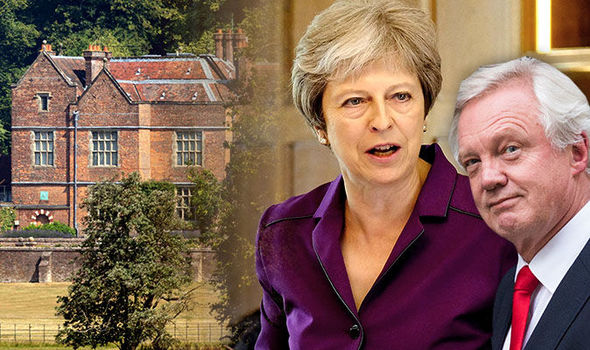 GETTY
Theresa May has vowed to accelerate the drive to quit the EU
A joint statement signed by the Prime Minister and all her 22 Cabinet ministers put forward a plan for an "economic and security partnership" with the EU.
"At the core of this proposal is the establishment by the UK and the EU of a free trade area for goods.
"This would avoid friction at the border, protect jobs and livelihoods, and ensure both sides meet their commitments to Northern Ireland and Ireland through the overall future relationship."
The plan included both sides adopting a "common rulebook for all goods" including agricultural produce. It would mean Britain volunteering "to commit by treaty to ongoing harmonisation with EU rules on goods, covering only those necessary to provide for frictionless trade at the border".
The EU's Court of Justice will play a role in enforcing EU regulations in the UK through a "joint commmittee" set up to provide "binding independent arbitration".
The document insisted the Luxembourg-based court could be an "interpreter" of the rules but "cannot resolve disputes".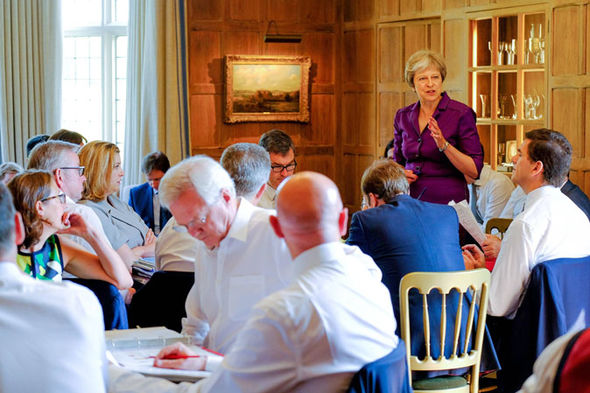 GETTY
Theresa May holding a Cabinet meeting at Chequers in Buckinghamshire
In a warning shot to the European Commission negotiating team, the document concluded that the Government will "continue preparations for a range of potential outcomes, including the possibility of 'no deal'."
It added: "Given the short period remaining before the necessary conclusion of negotiations in the autumn, we agreed preparations should be stepped up."
The agreed Cabinet statement, which will form the Government's negotiating position in the wrangle with Brussels, was released after around nine hours of talks at the Prime Minister's country residence in Buckinghamshire.
As the meeting rumbled on during the afternoon, Downing Street aides described the discussions as "positive and constructive".
At one stage ministers could be seen jacketless seated around a garden table at the rear of the manor house in the sunshine.
Foreign Secretary Boris Johnson, one of the leading Cabinet critics of Mrs May's plan, was spotted with his sleeves rolled up, was seen gesturing forcefully at the Prime Minister sitting opposite him during the discussion.
Earlier, Mrs May sought to face down Cabinet rebels threatening to resign over the plan by signalling that she was prepared for an emergency reshuffle in the event of anyone walking out of the Chequers gathering.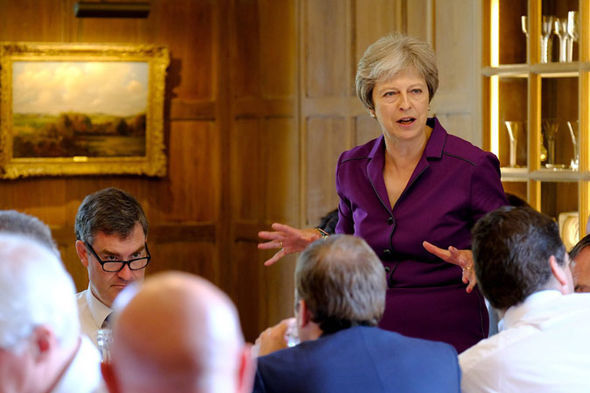 PA
Theresa May speaking at a Cabinet meeting at Chequers in Buckinghamshire
In a sign of her preparations, her Chief Whip Julian Smith met a series of junior ministers including Dominic Raab, Rishi Sunak, Steve Baker, Suella Braverman and Kit Malthouse to gauge their views on the issue and ambition for promotion.
"People need to know that we have a big talent pool," said one ally of the Prime Minister about the threat of resignations.
Mrs May even enlisted her predecessor David Cameron to help shore up her position ahead of the meeting.
The former prime minister met Mr Johnson to urge him to stay loyal to Mrs May and not resign.
Talks were held amidst the utmost secrecy, with ministers instructed to hand in their mobile phones and smart watches on arrival at Chequers. The items were not returned until the meeting concluded last night.
The Chequers summit in pictures: Theresa May's big Brexit meeting
Fri, July 6, 2018
The Prime Minister gathered her cabinet together ahead of a crunch Brexit showdown at her country retreat at Chequers in Buckinghamshire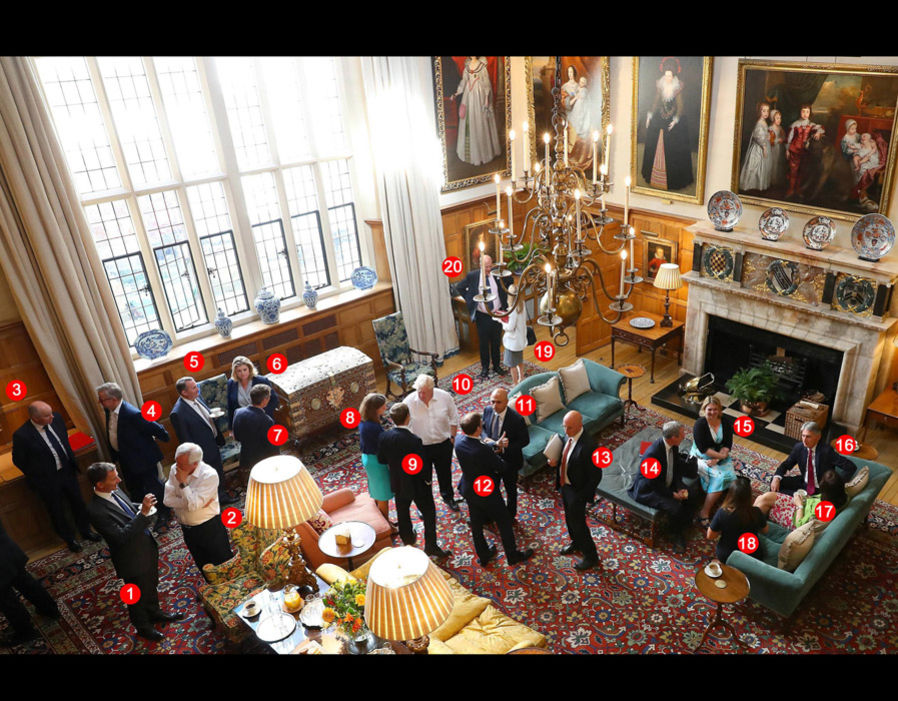 PA
1 of 14
All ministers had arrived at Chequers by 10am yesterday, drawing up one by one in ministerial cars.
International Development Secretary Penny Mordaunt was the first to be driven past a small group of anti-Brexit protesters into the 16th century redbrick manor house.
Liz Truss, the Chief Secretary to the Treasury, indicated her readiness for the marathon session by posting a picture of her breakfast of a slice of pizza and an espresso coffee on Twitter. "Pre-Chequers fortifications – Brexit breakfast," she wrote.
A buffet lunch served for ministers consisted of barbecued chicken thighs, a "wheat-beets-squash" salad and feta, a Chequers estate new potato salad, estate-grown mixed leaves with summer tomato salad and pomegranate dressings.
Pudding choices included Chequers scones with clotted cream and estate strawberry jam, Graham's sticky tea loaf and a fruit platter were on offer.
And a formal three-course dinner last night consisted of a starter of whisky and treacle-cured Scottish salmon smoked over whisky barrel chips, with homemade sourdough.
The main course was Oxfordshire beef fillet with crispy shin, baby leeks, turned estate potatoes and rich beef gravy. Marmalade bread and butter pudding was served for dessert.
[ad_2]