[ad_1]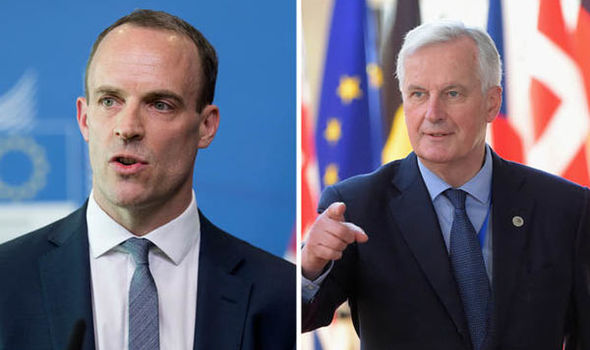 Dominic Raab held his FIRST talks with Michel Barnier today (Image: GETTY)
In response the EU has told its other 27 members to prepare for "no deal" as confidence that the Chequers plan – which critics say would leave Britain half in and half out – will not be agreed in Parliament or Brussels.
In a further rebuke to Mrs May and Mr Raab, sources in Brussels have said they will not negotiate her white paper directly.
A senior source told the Daily Express: "We are not negotiating the White Paper. 
"There won't be a formal position – we will take it into account, ask questions and negotiate the documents we want to have ready for October."
The meeting in Brussels was also overshadowed by revelations that the controversial civil servant Olly Robbins who came up with the discredited Chequers plan received a £20,000 Brexit bonus last year.
Defending the bonus, Downing Street said: "The performance for permanent secretaries, which is the role Olly was in when this bonus was awarded, are subject to a robust performance management system, assessed by the Permanent Secretaries Remuneration Committee, which has an independent chair and the Prime Minister then approves the recommendations."
A spokeswoman admitted that it would have been signed off by Mrs May.
Arriving in Brussels for his first meeting with Mr Barnier, Mr Raab told reporters he was looking forward to "heating up the negotiations".
He said progress had already been made, especially in terms of citizens' rights, but it was now "vital" to make progress on the framework of a future relationship between the UK and EU.
Mr Raab said: "I have come out to discuss the detailed proposals we have got in our white paper that you will have seen.
"I'm looking forward to, with renewed energy, vigour and vim, looking at the detail of all of this.
"As Michel (Barnier) has told us, the clock is ticking so I'm looking forward to intensifying, heating up the negotiations and making sure we are in the best position to get the best deal."
Ahead of the meeting, Mr Barnier gave Mr Raab a copy of 'Going to the Mountain' by Nelson Mandella's grandson Ndaba.
In return Mr Raab gave Mr Barnier a copy of the Hedgehog and the Fox by Isaiah Berlin.
The Frenchman is also planning on showing Raab a picture of himself and Mandela at the tenth anniversary of the end of apartheid.
Mr Barnier told reporters that "we have a lot of work to do", adding: "There are 13 weeks left before the October European Council. During this short time we have two things to do.
Chequers summit in pictures: Theresa May's big Brexit meeting
Fri, July 6, 2018
The Prime Minister gathered her cabinet together ahead of a crunch Brexit showdown at her country retreat at Chequers in Buckinghamshire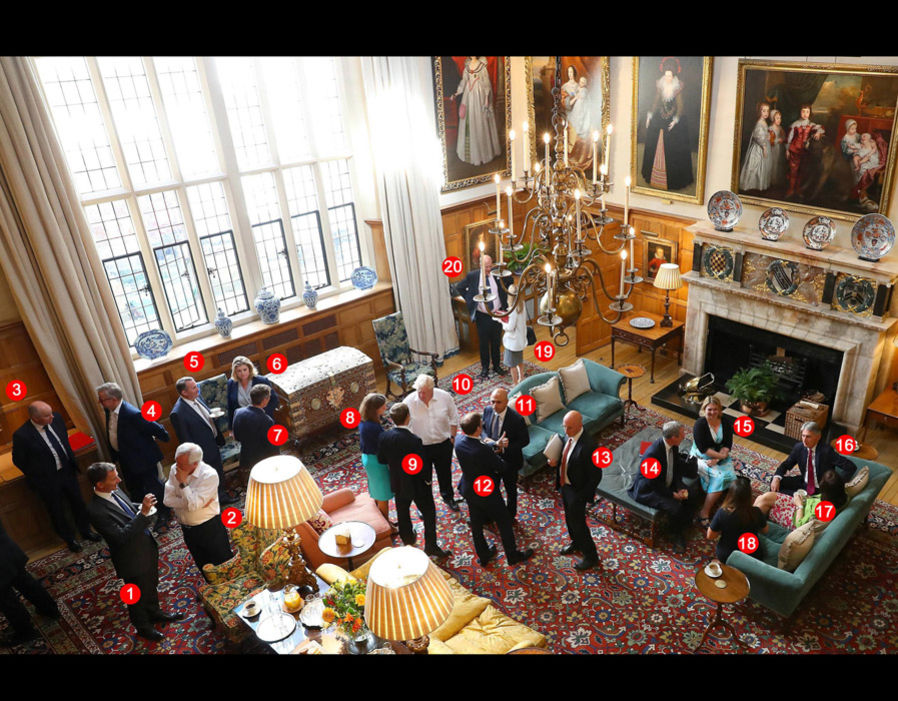 PA
1 of 14
"We must finalise the withdrawal agreement and we are not yet there.
"We must also prepare a political declaration on our future relationship.
"On the withdrawal agreement, it is a matter of urgency to agree a legally operative backstop for Ireland and Northern Ireland. We need an all-weather insurance policy."
Earlier, the Brexit Secretary took questions in the Commons where he sidestepped questions about a "no deal" which many Brexiteers now believe is the best option for Britain.
Labour's Sir Keir Starmer highlighted warnings from former Brexit minister Steve Baker, who suggested the number of Tory MPs willing to vote down a deal which is "too soft" is substantially more than 40.
Mr Raab sidestepped the question and insisted his focus is on "narrowing the differences" and securing a "win-win deal" which is good for both the UK and European countries.
Meanwhile, leading cabinet Brexiteer Andrea Leadsom has warned Brussels that the Chequers plan is "a final offer" to Brussels and rejection will see Britain leave with no deal.
The Leader of the House told The House magazine: "The EU has simply not taken us seriously so far in terms of the future agreement.
"What this deal does is it says to them, 'right, now we can have a free trading area where there won't be the need for border checks and controls'.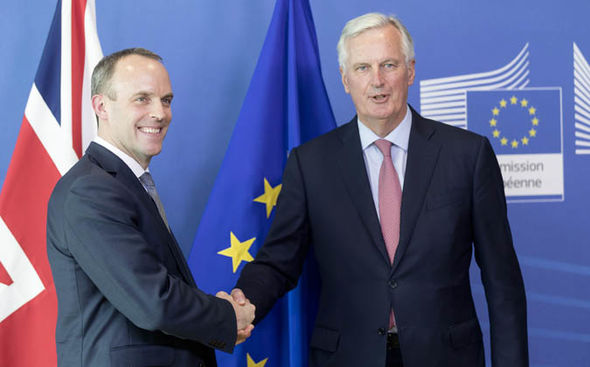 The EU has told its 27 members to prepare for 'no deal' (Image: GETTY)
"It's saying to the EU, 'you better take this seriously'. In my view, it's take this seriously or we are heading for no deal. The message to the EU has to be, 'this is the final offer'.
"So, when you say, 'is it flexible?', it's not in the sense of they're going to wriggle away at it and we're going to accept it. It is a very hard and fast offer to the EU that makes sense for them.
"But if they don't accept it, we're also ramping up our no deal preparations. That's where we will be heading and they will have forced us to do that.
"My message to the EU is, 'take this seriously because otherwise, you're forcing us down the road of no deal'."
She added: "It needs to be quite clear to the EU, 'you've got to come to the table and start negotiating with serious focus and concentration and goodwill because otherwise, we will be leaving with no deal'."
[ad_2]