[ad_1]

Speaking directly to Sunday Express readers, the Prime Minister attempted to quell concerns that Britain is headed for a "soft" Brexit after the Cabinet agreed on a 12-point compromise which could see Britain tied to some EU rules forever.
"The referendum delivered a powerful message on free movement and at Chequers I was clear on my determination to deliver on this," she said following Friday's crunch summit.
"I can give Sunday Express readers an absolute guarantee that free movement is going to end."
The clarification came after Tory MPs criticised her proposed "third way" proposal which would see the UK and EU abide by a "common rulebook" for industrial goods and farm products in order to ease the burden on business. Defending the deal, the Prime Minister said that it would achieve Brexit while safeguarding the economy.
Mrs May said: "What we're proposing is a good deal for Britain and a good deal for our future. "We're leaving the European Union. I think when people voted to leave the EU they wanted an end to free movement, free movement will end. They wanted us to end the jurisdiction of the European Court of Justice in the UK, that will end. They wanted us to stop sending the vast sums of money to the EU that we do today – so take control of our money, our laws and our borders – and that's exactly what we will do.
"But we'll do it in a way that protects jobs and enhances our economy for the future.

But we'll do it in a way that protects jobs and enhances our economy for the future
"We want to create a UK-EU free trade area, which would have a common rulebook in industrial goods and agricultural products that will enable us to maintain high standards and protect jobs, but also meet our commitment to no hard border between Northern Ireland and Ireland."
Brexiteers are concerned the plan could limit the UK's ability to strike trade deals with countries like the US and amount to so-called Brino: Brexit In Name Only.
Of particular concern is a line which allows for a "mobility framework" to ensure UK and EU citizens can continue to travel to each other's territories and apply to study or work, prompting fears free movement will be allowed to continue once we leave.
Last night, leading Brexiteer Jacob Rees-Mogg, chairman of the influential European Research Group of Tory MPs, said Leave voters were right to be concerned about the proposals.
"There are a number of questions the Government still has to answer in order to clarify the UK's position once we leave. The devil is in the detail. I will not be voting for anything that fails to deliver on the Conservative Party's manifesto commitments."
Mr Rees-Mogg had earlier likened Brexit to boiling eggs, saying: "An egg that is very softly boiled isn't boiled at all. A very soft Brexit means that we haven't left, we are simply a rule-taker. That is not something that this country voted for, it is not what the Prime Minister promised."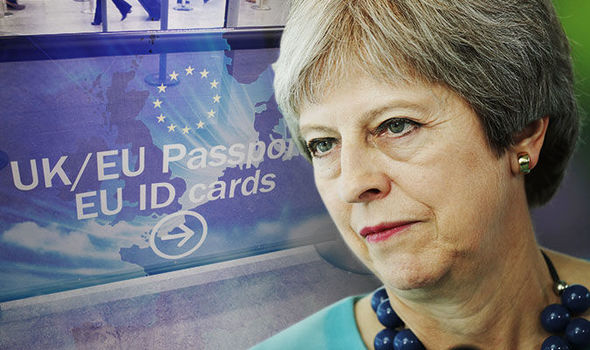 GETTY
Theresa may gave an absolute guarantee that free movement will end following Brexit
He also warned that the "common rulebook" plan could make "trade deals almost impossible" if it meant that regulations would have to be applied to any goods coming into the UK.
He added that "it is possible that this deal is worse" than a "no deal" Brexit.
An initial analysis by Brexiteer lawyer Michael Howe QC, of the Lawyers for Britain group, suggests the proposals will leave the UK as a "vassal state", cripple our competitiveness and bind us to the jurisdiction of the ECJ. Downing Street denies this is the case.
But as photographs emerged of Cabinet members reaching agreement over a packet of Haribo sweets, former Ukip leader Nigel Farage dubbed the deal "a sell-out from a Remainer prime minister who has duped the public" and accused the Eurosceptics in the Cabinet of putting "party before country".
A senior Tory MP went even further, accusing leading Brexiteers David Davis, Boris Johnson and Michael Gove of putting their leadership ambitions first.
The prominent Eurosceptic MP, who did not wish to be named, said: "The 17.4 million who voted to leave have been completely let down by the Brexiteers in Cabinet who have all proved they are too focused on becoming the next Prime Minister to care less about party and country.
"It's like Maastricht all over again, the Conservative Party will be abandoned in droves."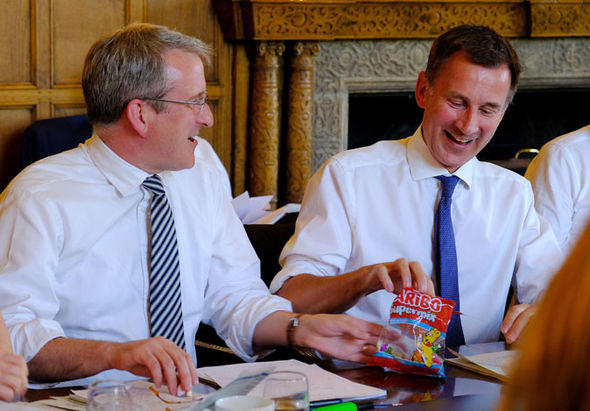 MOD
Damian Hinds and Jeremy Hunt enjoy a bag of sweets at Chequers meeting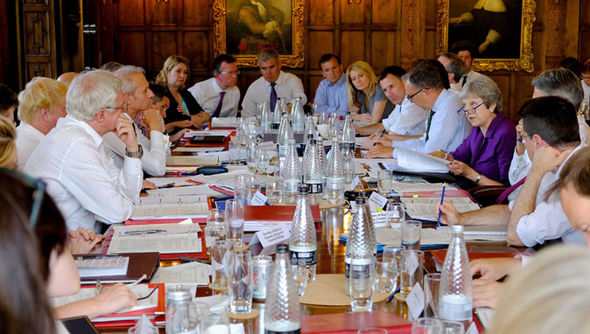 MOD
Prime Minister Theresa May commences a meeting with her Cabinet at Chequers about Brexit
Last night, sources close to Mr Davis and Mr Johnson insisted they "robustly" argued against the proposals but were outnumbered by Remainers in the Cabinet.
An insider at the Department for Exiting the European Union said: "David was never going to blow things up, he's there to see Brexit through. But there's no doubt the Brexiteers have been done up like a kipper."
A source close to Mr Johnson said he was "vocal and hostile" to the proposals, fearing they will turn Britain into a "vassal state".
But an aide said: "Boris has always been clear that resigning would achieve absolutely nothing."
One senior Tory singled out Michael Gove for criticism after he was reportedly the first Brexiteer to cave in.
"Michael has only one objective in his life right now, to be the next Conservative Party leader."
In a bid to see off a leadership bid, Mrs May sent a tough-talking letter to MPs on Friday warning them to support the Government. But Downing Street was last night said to be bracing itself for a potential challenge as early as next week.
Forty-eight MPs would need to submit letters to trigger a ballot, although allies insist Eurosceptics do not have the numbers to defeat her. 
Chequers summit in pictures: Theresa May's big Brexit meeting
Fri, July 6, 2018
The Prime Minister gathered her cabinet together ahead of a crunch Brexit showdown at her country retreat at Chequers in Buckinghamshire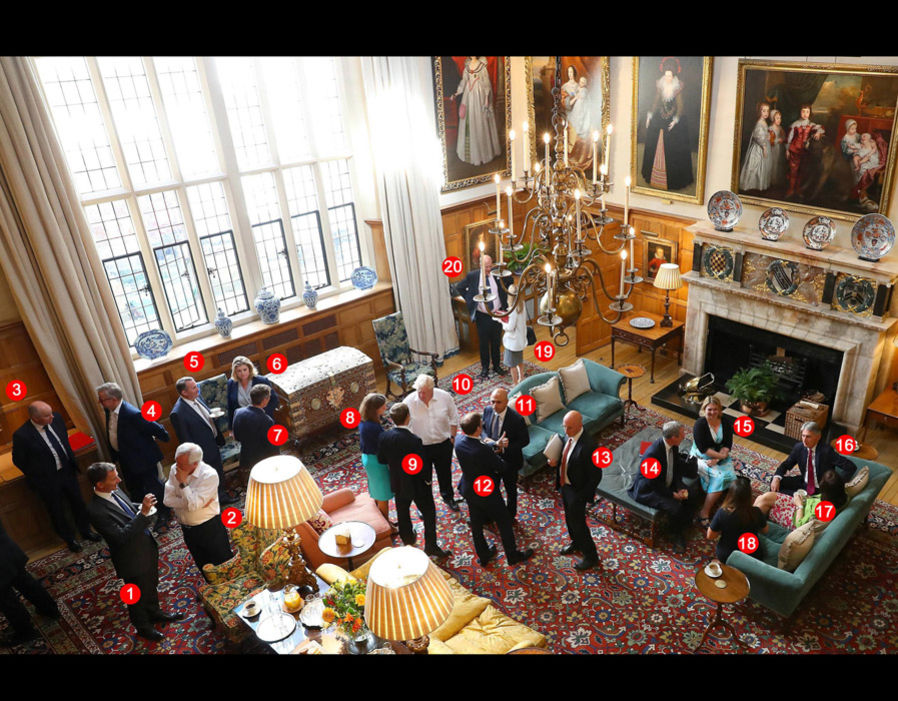 PA
1 of 14
One well-placed insider said the Brexiteers may well wait to see if she makes further concessions to Brussels and then "go in for the kill".
Brexiteers are said to have been given assurances by Mrs May that she will present the deal to Michel Barnier, the EU's chief negotiator, as a "take it or leave it" proposal and not make any further allowances.
Mr Barnier has said he is ready to adapt the EU's offer "should the UK red lines change", adding: "Our objective has always been to find an agreement with the UK, not against."
A Number 10 source last night denied claims that Mr Barnier and German Chancellor Angela Merkel had seen the Government's proposals before they were presented to Cabinet.
He added: "This is a serious, grown-up position we are taking. The ball is now very much in the EU's court, now it's time for Brussels to get real."
[ad_2]