[ad_1]

They spoke after it emerged ministers have emergency plans for the Army to help deliver vital supplies by truck and helicopter if a no-deal Brexit causes shortages.
Armed Forces personnel could help provide food, medicines and fuel, and fuel, particularly to vulnerable people in remote areas who could be cut off from conventional providers.
The need could arise if Britain leaves next March 29 without an agreement in place with Brussels and goods are held up at our borders, it is believed.
The Government's recent decision to step up planning for a no-deal departure was partly a concession to government Brexiteers who have been desperate for Theresa May to show Brussels she is serious about walking away from talks if the EU refuses to give us a good deal.
But some now accuse the Government of embarking on a new "Project Fear" to frighten people into accepting a bad deal – or even into demanding that the referendum be reversed.
Based on previously leaked risk assessments about a no-deal outcome, the NHS is reportedly expected to put itself on a year-round "winter crisis footing".
One source noted that the service already lined up non-EU sources of drugs, and stockpiled medicines, ahead of winters "so we can use the same model to deal with no-deal Brexit".
Mike Thompson, chief executive of the Association of the British Pharmaceutical Industry, has spoken of a company having to revalidate its supply chain for ingredients for 15,000 medicines, because they come from abroad and will not work if they were stuck at a border checkpoint for too long.
Plans are also underway to deal with lorry tailbacks from border delays, while one Border Force staff voiced fears about their already stretched service's ability to cope with a "crash-out" from the EU.
Meanwhile supermarkets have reportedly asked suppoliers to start emergency planning for a no-deal, with some considering stockpiling double their usual stockpiles of goods such as tea and coffee.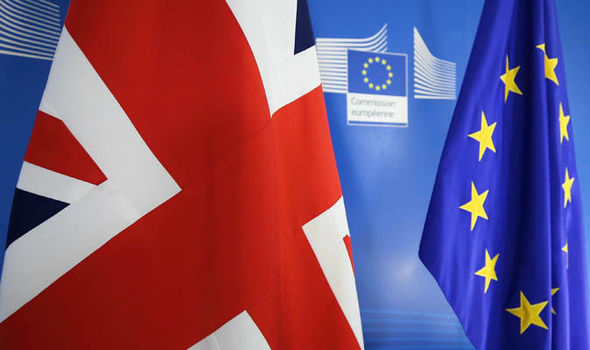 Brexiteers have questioned predictions about what will happen if we leave with no deal from the EU (Image: GETTY)

It's good to know that the Government are making preparations for no-deal as this should help to strengthen our negotiating position
On the potential role for the military, one ministerial source said: "There is a lot of civil contingency planning around the prospect of no deal. That's not frightening the horses, that's just being utterly realistic."
Another source noted that the Armed Forces had helped key workers get to work when parts of the northeast and Scotland were snowbound this winter.
A Ministry of Defence source said it had not received any formal request to help but there was "a blueprint for us supporting the civilian authorities can be dusted off".
Pro-Brexit Tory MP and former Armed Forces Minister Mark Francois told the Daily Express: "It's good to know that the Government are making preparations for no-deal as this should help to strengthen our negotiating position.
"However, talk of needing to deploy troops sounds rather melodramatic at this stage and smacks slightly of Project Fear that we were hearing prior to the referendum in 2016."
Chequers summit in pictures: Theresa May's big Brexit meeting
Fri, July 6, 2018
The Prime Minister gathered her cabinet together ahead of a crunch Brexit showdown at her country retreat at Chequers in Buckinghamshire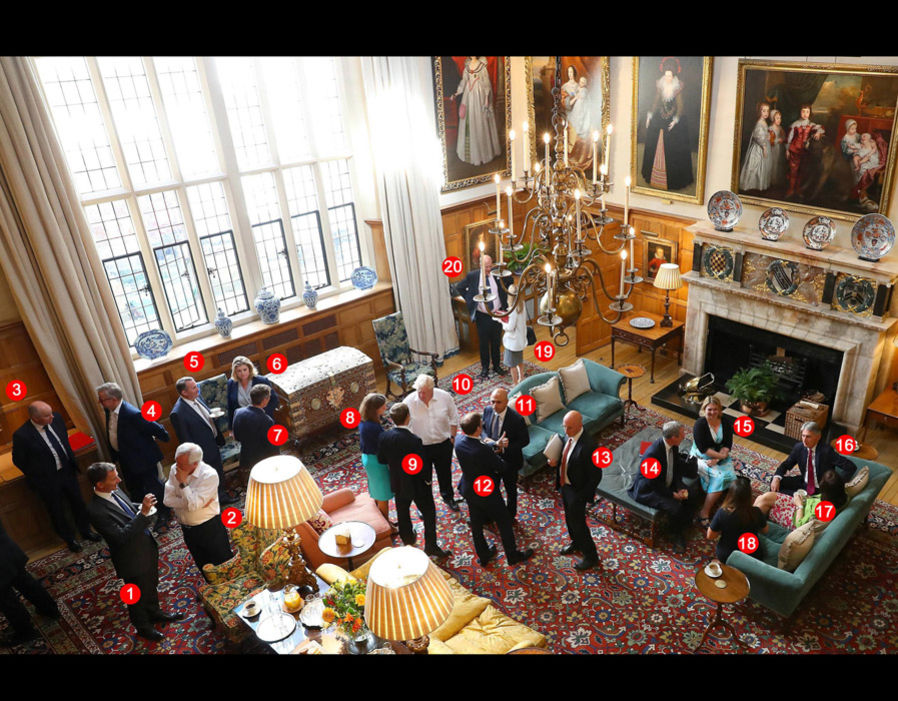 PA
1 of 14
Fellow Brexiteer Tory MP Peter Bone said: "I know we're in 'silly season' but this tops it all. It's palpable nonsense.
"A no deal Brexit isn't going to be a no deal, it's going to be, on trade, an agreement on World Trade Organisation rules and there will be agreements on other things like aviation.
"We are the fifth biggest economy in the world, with a £100billion trade deficit with the EU. They wouldn't want goods to stop flowing.
"This is as stupid as the Project Fear stuff in the referendum campaign and it's all being done for the same reason: to scare people about Brexit in the hope we will either agree to a Brexit-in-name only, or stay in.
"This will keep happening right until we come out because the Remainers and the establishment are determined to do everything they can to keep us in – but the people know better, as they showed when they voted to come out despite George Osborne's warnings of doom in 2016."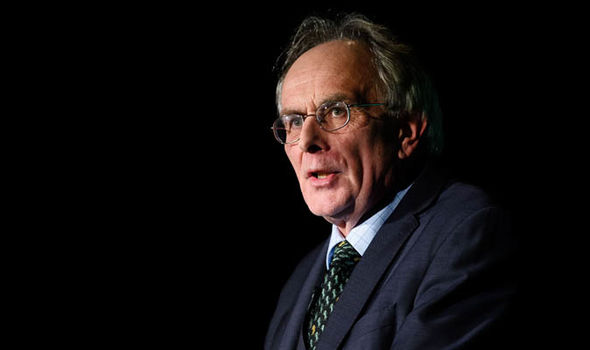 "A no deal Brexit isn't going to be a no deal," said Peter Bone MP (Image: GETTY)
Meanwhile it emerged yesterday that Government plans to detail how each part of the state is preparing for a no-deal outcome are now likely to be published together later this summer, rather than being published as weekly packages covering different sectors.
Government sources said the delay was due to the logistical and administrative challenges of getting the reports compiled,  and was not because of any fears that a regular update would panic the public.
One added: "We are confident and expect to get a good deal with the EU. However it is right that a responsible government plans for all outcomes and that's what you would expect us to do."
Jayne Adye, director of cross-party grassroots campaign Get Britain Out, urged ministers to cancel their holidays and focus on getting the best possible Brexit deal for Britain – with or without a Brussels agreement – "instead of attempting to scare the public with Project Fear Mark II.
"We now have the opportunity of a lifetime to grow into the global economy. We can buy our food, medicines and fuel from all over the world – under World Trade Organisation rules – as we do with many things at the moment, without the EU stifling us with its rules and regulations after Brexit Day.
Brexit march descends on London
Sat, June 23, 2018
Thousands take to the streets of London for Brexit march.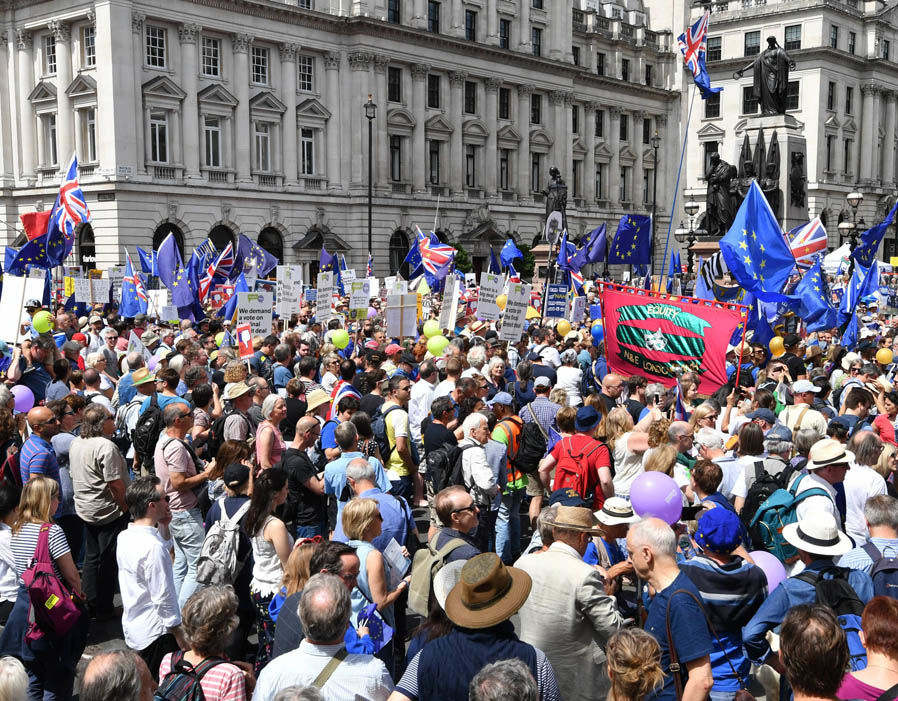 PA
1 of 21
"Project Fear scare stories like this are only playing into Michel Barnier's hands, making it appear we need the EU far more than we actually do."
She added: "Our Army has better things to do than hand out food parcels, so ministers must stop trying to halt Brexit, and get on with the job 17.4 million voters tasked them to do: to get Britain out of the EU as soon as possible."
Pro Brexit Tory MEP David Campbell  Bannerman also said : "Just as supermarkets routinely switch suppliers around the globe now to keep the shelves full of 'out of season' European produce so we would find global suppliers to meet any shortages. 
"This is Millennium Bug 2 – predictions of Armageddon followed by nothing happening."
[ad_2]