[ad_1]

Donald Trump has sought to undo the damage caused by his Brexit intervention by revealing he apologised to Theresa May for an explosive newspaper interview.
Following talks with the prime minister at her Chequer's country retreat, the US president backtracked on his claim Mrs May's Brexit blueprint will "kill" any hopes of any future US-UK trade deal.
Mr Trump repeated his call for the UK to retain the ability to sign new trade agreements once it leaves the EU, but signalled he had received assurances from Mrs May this would be the case.
The president also heaped praise on the prime minister, as he hit out at "fake news" for neglecting to include positive comments he made about Mrs May in an interview with The Sun.
This is despite the newspaper having reported Mr Trump's statement the prime minister is "a very good person".
Mr Trump's visit to the UK has so far been dominated by the bombshell newspaper interview, which also saw the US president claim recently resigned foreign secretary Boris Johnson – who has consistently agitated against Mrs May – would make a "great prime minister".
In addition, Mr Trump claimed he would be negotiating Brexit "much differently" and declared Mrs May "didn't listen to me".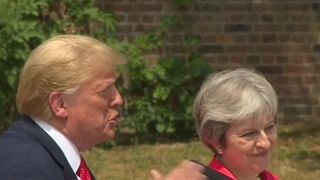 Addressing the row at a joint news conference with Mrs May on Friday, Mr Trump said: "The only thing I ask of Theresa is that we make sure we can trade and we don't have any restrictions because we want to trade with the UK and the UK wants to trade with us.
"We are by far their biggest trading partner and we have just a tremendous opportunity to double, triple, quadruple that.
"So if they go in a slightly different route [on Brexit] – and I know they do want independence, it's going to be independence, it's just your definition – if they are going to go in a certain route I just said that I hope you are going to be able to trade with the United States.
"I read reports where that won't be possible, but I believe after speaking with the prime minister's people and representatives and trade experts it will absolutely be possible."
More follows…
[ad_2]