[ad_1]

The government has agreed to a "short-term pause" in cooperation with the US over two members of an Islamic State murder squad dubbed "the Beatles".
It comes in the face of a legal challenge against a decision by ministers not to seek assurances the pair won't be executed if they face justice in America.
The controversial action, revealed in a leaked letter from Home Secretary Sajid Javid to US attorney Jeff Sessions, has seen the government angrily accused of abandoning the UK's long-standing opposition to the death penalty.
Alexanda Kotey and Shafee El-Sheikh, who are currently being held by US-backed forces in Syria, were stripped of UK citizenship after joining an IS cell behind the brutal beheadings of British and US journalists and aid workers.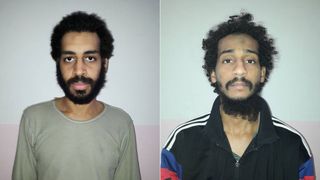 Ministers have said they do not believe there is evidence to try the pair in the UK and so do not want to stand in the way of them facing justice in America.
However, lawyers acting on behalf of the mother of El-Sheikh have demanded the government breaks off continued assistance with the US over the case with the threat of an application for an injunction if they did not agree.
On Wednesday, government lawyers representing Mr Javid gave an undertaking that no "further" provision of assistance would take place, according to El-Sheikh's mother's solicitor.
Yet, this only represents a "very short term promise", the solicitor added.
Subsequently, on Thursday, the legal firm representing El-Sheikh's mother sent government lawyers detailed grounds as to why Mr Javid's decision was "unlawful" and setting out an "urgent timetable" for a full judicial review of the action.
El-Sheikh's mother is described as having "long made clear her wholesale opposition" to the actions of IS, with her request that "the norms of internationally accepted due process form the basis of any trial of accusations concerning her son".
Her legal firm stated Mr Javid's decision not to seek assurances about the death penalty "raises questions of enormous constitutional importance, including the ability of a minister without reference to parliament to agree to so complete a departure from a prohibition understood by all to have the status of constitutional certainty and without any public debate".
Sky News understands that, by agreeing to the temporary suspension of cooperation with America, the government has not changed its stance on the case but is merely following due process in the face of a challenge to Mr Javid's decision.
A Home Office spokesperson said: "Yesterday we received a request from the legal representative of the family of one of the suspects to pause the Mutual Legal Assistance (MLA) response. We have agreed to a short-term pause.
"The government remains committed to bringing these people to justice and we are confident we have acted in full accordance of the law and within the government's longstanding MLA policy."
[ad_2]