[ad_1]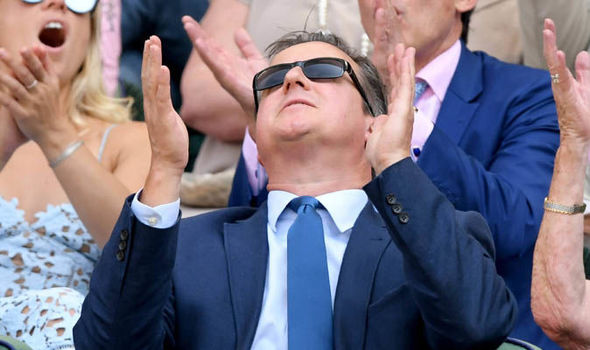 WIREIMAGE
David Cameron looked like a man without a care in the world at Wimbledon today
But the architect of all this chaos, former Tory Prime Minister David Cameron, looked like a man without a care in the world as he relaxed in the sun at Wimbledon today.
Admittedly he seemed a touch over-dressed in a formal blue suit and matching tie but then when one is a guest in the Royal Box on Centre Court one eschews the tee-shirt and flip-flops.
Former Foreign Secretary William Hague and Remainer Tory MPs Stephen Hammond and Justine Greening were also enjoying the action at SW19.
Mr Cameron's afternoon in the sun seemed a world away from the storm clouds gathering over Chequers.
Mrs May faces a major Cabinet rebellion from Brexit hardliners over her mid-course solution to Britain's future relationship with the EU.
If the Cabinet split is as deep as some reports it could end her premiership and even bring down her Government.
Mr Cameron it was who quit Downing Street immediately after losing the EU referendum in 2016 leaving his colleagues to actually sort out the tricky process of extricating the country from 40 years of EU-rule.
However, he is still working in the background and reportedly talked old Bullingdon Club pal Boris Johnson not to resign in protest at Mrs May's complicated 'third way' proposals on trade with the EU.
Remain supporter Mr Cameron, who quit after losing the EU 2016 referendum met with the Foreign Secretary the night before the crunch Brexit talks, it has been confirmed.
Craig Oliver, the former Conservative communications director, hit out at allegations that Mr Cameron criticised his successor during their meeting.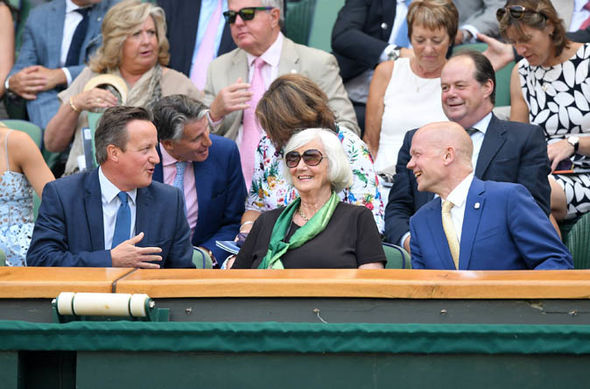 WIREIMAGE
David Cameron sat alongside his mother Mary and a previous foreign secretary, Lord Hague
He said: "Claims that David Cameron thinks Theresa May's position is the 'worst of both worlds' are wrong.
"He has always understood compromise will be necessary. It's also wrong to claim he sees himself as 'the father of Brexit'.
"Why would that be true when he fought it tooth and nail?"
It is understood his meeting with Mr Johnson, a fellow Old Etonian, had been long in their diaries and was not arranged with Friday's Chequers summit in mind.
But it is believed Brexit was among a number of subjects they discussed.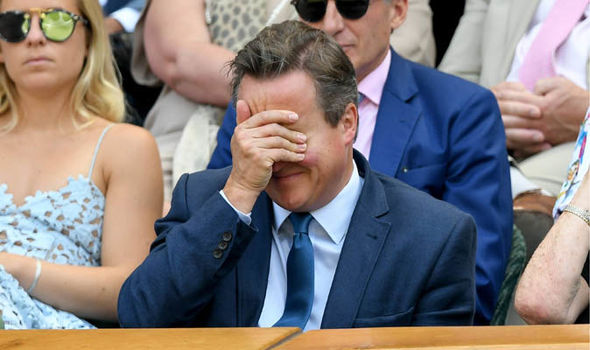 WIREIMAGE
Mr Cameron it was who quit Downing Street immediately after losing the EU referendum in 2016
Mr Cameron enjoyed a different sort of back-and-forth while the Chequers talks took place on Friday, attending the tennis at Wimbledon.
He was spotted looking tanned in a smart suit and sunglasses in the Royal Box alongside his mother Mary and a previous foreign secretary, Lord Hague.
Former education secretary Justine Greening was among other politicians watching the action on Centre Court.
Mr Johnson is said to have been talked off the ledge by Mr Cameron in a clandestine heart-to-heart on the eve of the Chequers summit.
Mr Cameron apparently convinced Mr Johnson that Theresa May's 'third way' plan for future ties to the EU is the only one that parliament will accept.
Mr Cameron called the historic EU referendum in 2016 under intense pressure from his party, but foot tooth and nail for a Remain vote.
He resigned immediately afterwards and has been keeping busy writing his memoirs and giving lucrative corporate speeches, amid complaints that he abandoned the country after triggering Brexit.
Sources close to Mr Cameron confirmed he had a 'long-standing' meeting with Mr Johnson last night at which they discussed Brexit among other issues.
Another source told The Times that Mr Cameron's intervention had persuaded Mr Johnson to 'behave' rather than walk out of the government.
However, there are also claims that the pair agreed the proposed arrangements were the 'worst of all worlds' – although the suggestion was rubbished by allies of Mr Cameron.
The manoeuvring between the two Old Etonians emerged as ministers arrived at the PM's country residence for a potentially decisive battle over Brexit.
Mrs May is mounting an all-out bid to force through her trade plan despite a massive onslaught from more than half-a-dozen senior ministers led by Mr Johnson.
They are incandescent that the blueprint would commit to aligning with EU regulations, obeying European judges, and effectively giving up on a comprehensive trade deal with the US.
But Mrs May is said to be determined to face them down – and aides have drawn up a 'full reshuffle plan' in case anyone resigns.
As tensions escalated ahead of the Cabinet showdown, allies of Mrs May issued extraordinary threats that resigning ministers will be immediately stripped of their official cars – humiliatingly forcing them to catch a taxi or walk miles to the nearest rail station.
'Taxi cards for Astons the taxi firm are in the foyer for those who decide they can't face making the right decision for the country but it will still be a long walk as it is a mile long driveway,' one told the Times.
Tory MP Peter Bone reacted to the sabre-rattling from No10 by offering to come and pick up Brexiteer ministers.
'I will be on my way with my car, 4 seats available, guess another couple of cars will be required!' he tweeted.
The talks at the premier's Chequers country residence are being held in great secrecy, with ministers having their phones and even smart watches confiscated.
Special advisers have also been barred from attending in a bid to ensure there are no leaks. However, civil servants will be on hand to redraft the document.
Mrs May is almost certain to have the majority of the 29-strong Cabinet behind her if she pushes the 120-page plan to a vote, but a bloc of ministers resigning could fatally damage her government.
As Brexiteers mobilised against the proposals last night, seven Cabinet ministers gathered in Mr Johnson's office to discuss tactics for watering down, or even killing off the PM's plans.
The Foreign Secretary was joined by Environment Secretary Michael Gove, Brexit Secretary David Davis, International Trade Secretary Liam Fox, Commons Leader Andrea Leadsom, Work and Pensions Secretary Esther McVey and International Development Secretary Penny Mordaunt for the talks, which lasted for over an hour.
Downing Street angrily denied that Mrs May's third way would prevent a trade deal with the US – and she appears to have peeled off Dr Fox from the group after one-on-one talks last night.
[ad_2]