[ad_1]

Campaigners pledged to make a formal complaint to Westminster's standards watchdog about the Labour leader's failure to disclose details of the funding for his flights and accommodation for the journey in 2014.
The move came as a fresh blow to the crisis engulfing his leadership following the revelation of his presence at a ceremony honouring the memory of extremists linked to the 1972 Munich Olympics massacre.
And as the row deepened, Mr Corbyn admitted for the first time that he did lay a wreath at the Palestinian Martyrs Cemetery in Tunisia.
"I laid one wreath along with many other people," he said, a day after being ridiculed for claiming: "I don't think I was involved."

I laid one wreath along with many other people. I don't think I was involved
In an astonishing television interview, the Labour leader was filmed rolling his eyes in apparent exasperation on being questioned again about his involvement in the tribute.
But he remained defiant and refused to apologise in the face of growing criticism from backbench Labour MPs, Jewish groups and even Israeli prime minister Benjamin Netanyahu.
"I'm not apologising for being there at all," the Labour leader said.
Mr Corbyn visited the cemetery during the International Conference on Monitoring the Palestinian Political and Legal Situation in the Light of Israeli Aggression hosted by the President of Tunisia at the end of September 2014.
Although his flights, two nights' hotel accommodation and other expenses were paid for by the Tunisian government, he did not declare the trip in Parliament's Register of MP's Interests.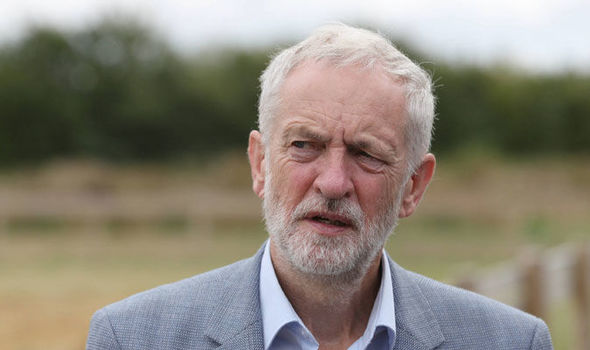 Jeremy Corbyn faces a parliamentary investigation for not declaring his trip to Tunisia (Image: PA)
Aides insisted the total cost of the Labour leader's trip was under the £660 threshold set out in parliamentary rules requiring declaration in the register.
Yet a Tory peer who also attended the conference in Tunisia did declare the trip.
Lord Sheikh, who did not visit the cemetery and was not aware of the wreath laying, recorded that his trip "was paid by the Government of Tunisia".
Tory MP Andrew Bridgen has made a formal complaint on Tuesday about Mr Corbyn's failure to declare the funding of his visit to Tunisia in 2014.
In a letter to the Parliamentary Commissioner Standards, Mr Bridgen wrote: "I am writing to request you to investigate a serious breach of the House of Commons Code of Conduct."
He added: "It is clear Mr Corbyn has not registered this trip abroad; this raises serious questions over who funded the trip, and how much the trip cost.
"It also raises the question of whether Mr Corbyn breached the Code of Conduct by not referring to his entry in the Register in debates mentioning Israel, Palestine or Tunisia."
Mr Bridgen alleged that Mr Corbyn had "demonstrably failed" the test of openness set by the Code of Conduct.
He added: "It is clear that Mr Corbyn's actions in attending the wreath-laying ceremony, subsequently not declaring it and the following media coverage has caused significant damage to the reputation of the House of Commons and its members."
Tory MP James Cleverly, a deputy chairman of the Conservative Party, said: "If, as it seems, Mr Corbyn failed to declare this visit it should be looked into."
The Campaign Against Antisemitism has also promised to formally complain about the lack of funding declaration when Parliament returns after the summer break.
Stephen Silverman, director of investigations and enforcement at the Campaign Against Antisemitism, said: "The public needs to know who paid for Jeremy Corbyn's trip to honour the anti-Semitic Black September terrorists.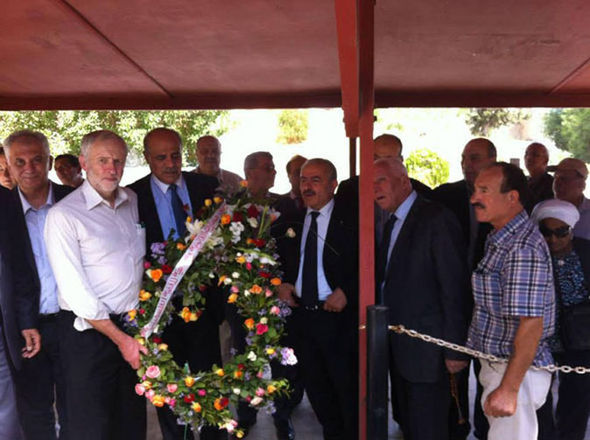 Jeremy Corbyn laid a wreath in Tunisia with the Palestinian delegation (Image: PALESTINIAN EMBASSY TUNISIA)
"He has a track record of receiving donations from people with close links to terrorist organisations and extremists, and if he received funds which he has not declared for this trip then that needs to be investigated.
"If he paid for such a trip himself, then that would be extremely disturbing, but if some other entity paid for the trip, the Parliamentary Commissioner for Standards must tell the public who is pulling his strings."
Beleaguered Mr Corbyn has been under intense pressure for months over his links with extremists holding anti-Semitic views.
In his television interview on Tuesday, the Labour leader insisted his presence at the Palestinian Martyrs Ceremony in 2014 had been to honour the memory of Palestinian activists killed by Israeli security services rather than the terrorists involved in the outrage at the Munich Olympics.
"The Black September attackers, some of those that were accused of that were actually killed in Paris and some of those were killed in Beirut by Israeli agents," the Labour leader said.
"And I, along with other colleagues who were, delegates to the conference, laid a wreath in memory of all those who have died in the hope that we have a peace process and peace in the future, so those raids are never repeated.
"I'm totally clear, I'm totally clear, that the way forward is of peace, the way forward is of dialogue, the way forward is of recognition. It is not bombing. It is not shooting civilians in Gaza."
He insisted he laid a wreath at the ceremony "in memory of all those that dies in the 1985 Israeli attack" on a Palestinian Liberation Organisation HQ and other victims of the Middle East conflict.
"It was laid on the grave of all those who died. Look I totally condemned what happened in Munich in 1972; appalling, totally wrong by any stretch of the imagination. I condemn all killing. All killing is wrong," Mr Corbyn said.
"I was there when the wreaths were laid. That's pretty obvious. There were many others there who were witness to that. I witnessed many other people laying many other wreaths."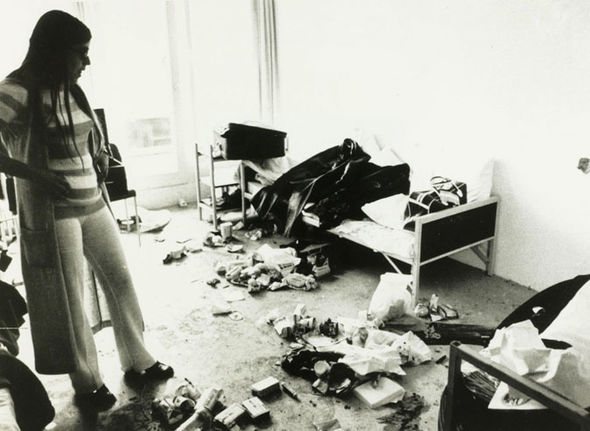 The room in which two Israelis were killed in a terror attack in Munich 1972 (Image: GETTY)
He added: "I laid one wreath along with many other people in memory of all those who died in the awful attack in 1985, which I keep repeating and you seem not to understand, was condemned by the whole world."
Eleven Israeli athletes and a West German police officer were taken hostage in the Olympic Village and murdered by members of the Palestinian terrorist group Black September at the games in the summer of 1972.
Following the Labour leader's television interview, Conservative Party chairman Brandon Lewis said: "Jeremy Corbyn's story changes by the hour. Yesterday he admitted being at the commemoration – but said he didn't think he was involved in laying a wreath.
"Today he says he did lay a wreath, but can't say exactly where.
"It's time for Corbyn to finally come clean on his role in this shocking affair."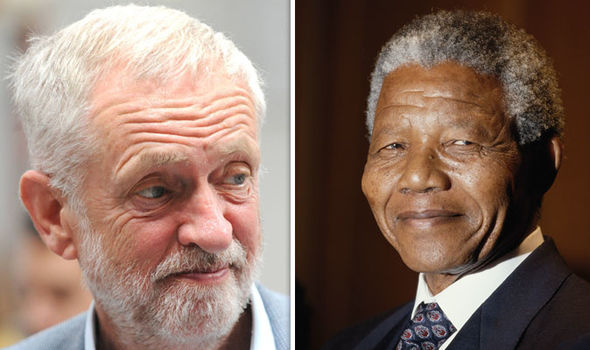 A Labour MP likened Jeremy Corbyn to Nelson Mandela (Image: EPA/GETTY)
Labour faced further embarrassment on Tuesday when party backbencher Chris Williamson, a close support of Mr Corbyn, referred to the attackers responsible for the Munich Olympic outrage as "alleged terrorists" in a BBC Radio interview.
"Jeremy has been very clear about it, he was there but wasn't involved in any ceremony relating to the alleged terrorists," Mr Williamson said.
He also sent on to liken Mr Corybn to former South African statesman and anti-Apartheid campaigner Nelson Mandela.
"The same people who are now criticising Jeremy Corbyn demonised Nelson Mandela as a terrorist," he added.
[ad_2]