[ad_1]

Jeremy Corbyn is facing fresh accusations of comparing Israelis to the Nazis after a video emerged of the Labour leader claiming actions in the West Bank are like World War Two occupations.
Footage shows Mr Corbyn speaking at an event in which he suggested Palestinians in the West Bank live "under occupation of the very sort that would be recognised by many people in Europe who suffered occupation during the Second World War".
An internationally-recognised definition and examples of anti-Semitism, which Labour has chosen not to adopt in full, includes drawing comparisons of contemporary Israeli policy to that of the Nazis.
Mr Corbyn is now facing claims Labour's refusal to endorse the International Holocaust Remembrance Alliance's (IHRA) working definition of anti-Semitism, including all its examples, is being "overwhelmingly driven by his own appalling past statements".
In a video clip, posted on Twitter by a user called "The Golem", Mr Corbyn highlighted "endless road blocks, imprisonment, irrational behaviour by the military and the police" in the West Bank.
He also said: "The Palestinian people are generally very poor and in the case of Gaza, virtually imprisoned within that very small area and facing environmental disaster and catastrophe."
EXCLUSIVE – In 2013 @JeremyCorbyn spoke at an event hosted by the Palestinian Return Centre in which he made a direct comparison between Israel's occupation of the West Bank and the Nazi occupation of Europe during WW2. Watch until the end… pic.twitter.com/POMfsX5APq

— The Golem (@TheGolem_) August 10, 2018
The Twitter account claimed the footage is from a 2013 event hosted by the Palestinian Return Centre (PRC), which describes itself as an independent consultancy focused on the issue of Palestinian refugees.
Its website reveals Mr Corbyn, who was a backbench MP at the time, attended a number of PRC events in 2013.
In response to criticism of Mr Corbyn's remarks, a Labour party spokesperson said: "Jeremy was describing conditions of occupations in World War Two in Europe, of which there are multiple examples, not comparing the Israeli state to Nazis."
It is understood the Labour leader also had Soviet, Italian, British and US occupations in mind, as well as those of Nazi Germany.
Last week, Labour also denied Mr Corbyn compared the actions of Israelis to those of the Nazis after separate footage was revealed of him mentioning the 1940s sieges of Leningrad and Stalingrad in a speech outside the Israeli embassy in London.
It was followed by the emergence of Mr Corbyn's comments in a 2011 appearance on Iranian state TV, in which he suggested the BBC has a "bias towards saying that Israel is a democracy in the Middle East, Israel has a right to exist, Israel has its security concerns".
Labour insisted Mr Corbyn is "committed to a comprehensive peace in the Middle East based on a two-state solution – a secure Israel alongside a secure and viable state of Palestine".
Jennifer Gerber, director of Labour Friends of Israel, said: "Earlier this week, we discovered that Jeremy Corbyn engaged in wild conspiracy theories questioning Israel's right to exist.
"Today, it is revealed he drew comparisons between conditions in the West Bank and the Nazi occupation of Europe.
"It is increasingly clear that his opposition to adopting the IHRA definition in full appears to be overwhelmingly driven by his own appalling past statements.
"The Labour Party's once proud record on fighting racism and the protection of British Jews from anti-Semitism is being sacrificed to protect Jeremy Corbyn's reputation."
Euan Philipps, a spokesperson for Labour Against Antisemitism, said: "This film of Jeremy Corbyn appears to show his apparent drawing of comparison between the actions of the Israeli government and Nazism.
"For Jews, whose families suffered immeasurable loss during and after the Second World War, making this kind of equivalence is understandably extremely distressing and hurtful. Under the terms of the IHRA definition, it may be considered antisemitic.
"Is this film, and evidence like it, why Mr Corbyn is opposed to adopting the IHRA definition: because the elements of the definition that his party appear to have altered are the very ones that could lead to his suspension from the party if they were readopted?"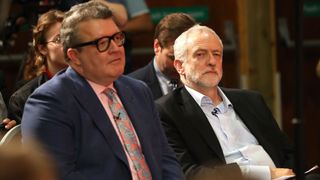 In a new party code of conduct, Labour has accepted the IHRA definition of anti-Semitism in full, but omitted four of the IHRA examples, including the example of comparing contemporary Israeli policies to those of the Nazis.
The party says that while the examples are not reproduced word for word, they are covered.
Mr Corbyn and Labour officials have come under pressure to adopt the IHRA definition and examples in full, with UNISON general secretary Dave Prentis joining those calls.


[ad_2]