[ad_1]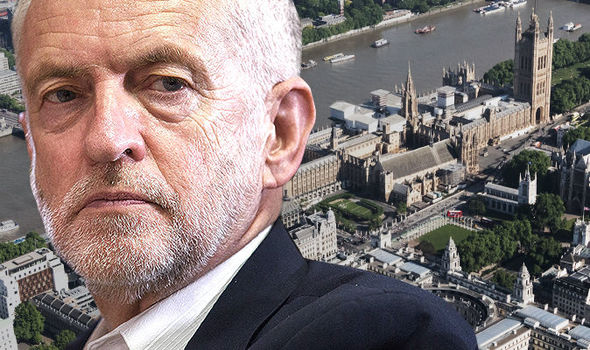 Jeremy Corbyn faces a Labour leadership coup as his reign spirals out of control (Image: GETTY / PA)
The revelation comes as Mr Corbyn's leadership became further embroiled in accusations of anti-Semitism.
Mr Corbyn's hard Left supporters launched what appeared a coordinated attack on social media attacking deputy leader Tom Watson and demanding he resigns for standing up to anti-Semitism in the party.
The Daily Express has learnt that for months senior moderate Labour MPs have been planning a fightback with including at least two away days involving a core group of around 12 senior MPs at a luxury venue.
The group would catch the 7.18pm train from Waterloo East on a Thursday evening to Stonegate before taking a seven-minute taxi ride to the luxury bed and breakfast estate Fair Oak Farm in Sussex.
The £144 for one night accommodation on a 12-acre site is set within wonderful gardens accommodation includes a stunning Grade II Listed Sussex farmhouse built around 1600.
Business and visitor facilities include a range of converted Grade II Listed farm buildings and barns, eco-lodge tree houses and shepherd's huts.
It was claimed attendees at the events included former leadership candidate Liz Kendall, former shadow cabinet members Chuka Umunna and Chris Leslie, and other senior MPs Stephen Kinnock, Gavin Shuker and Conor McGinn.
Barrow and Furness MP John Woodcock, one of the most outspoken critics of Mr Corbyn, also attended but has recently quit the party to become an independent.
A source at the meetings told the Daily Express: "We are getting together regularly to discuss how to take back control of the party.
"At some point the Corbyn leadership is going to fail and collapse, we only need to see what is happening with the anti-Semitism problem, and we need to be ready to step in, win the leadership rebuild the party as a credible force and repair the damage that has been done."
Meetings have taken place with the group at other locations and there is a wider group of rebel MPs numbering more than 20.
Among the subjects discussed have been plans to regain the leadership and form a new party.
The Daily Express has learnt that one proposal put forward was to wait for a Corbyn election victory and then to use the large group of moderate Labour MPs to prevent him from becoming prime minister.
Another attendee at the away days told the Express: "As things stand Labour could win the next election simply because the Tories have made such a mess over Brexit and look so incompetent.
"If that happens we will break away and either form a separate Labour Party within parliament or a new party.
"There are [Remainer] Conservative and Lib Dem MPs who are interested in joining us if we do form a new party because of Brexit."
The MP added: "The issue would be then whether we would have time to create a proper identity before an election or if there would need to be an election soon after. In that sense it is complicated."
The last away day at the 12-acre luxury accommodation is understood to have happened in mid-May but other meetings have been held around parliament.
If there were a leadership election the favourites to take on the left are Home Affairs select committee chairwoman Yvette Cooper, leading Remainers Chuka Umunna and Chris Leslie, and Mr Kinnock, the son of the former leader Lord Kinnock.
The candidate from the left is expected to be shadow Chancellor John McDonnell, shadow education secretary Angela Rayner or shadow business secretary Rebecca Long-Bailey.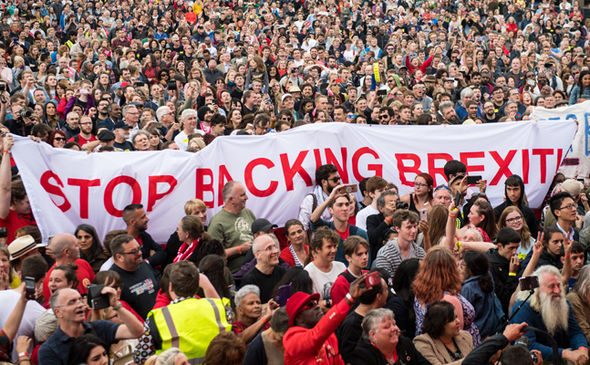 Frustration over Brexit has led to calls for Jeremy Corbyn to be removed as Labour leader (Image: GETTY)
Shadow foreign secretary Emily Thornberry and shadow Brexit secretary Sir Keir Starmer could also emerge as compromise candidates.
YesterdayMON Ms Long-Bailey found herself in the eye of the storm over the anti-Semitism row engulfing Labour.
She said the party needed to put the matter of anti-Semitism "to bed" and act quickly.
Speaking on a visit to wind turbine manufacturer Hutchinson Engineering in Widnes, Cheshire, she said: "It's true to say that we weren't dealing with things quickly enough and that's why we needed to act quickly and we still need to act quickly now in making sure that firstly, we liaise with the Jewish community and get our anti-Semitism code of conduct spot on so that it restores faith in our processes both within the Jewish community and outside.
"But we also roll out our educational programme to all of our members to explain in detail what language is acceptable and what language isn't acceptable so that anybody who falls foul of that set of guidelines is immediately taken to task."
However, she declined to comment on whether disciplinary action against Ian Austin and Dame Margaret Hodge should be dropped but said: "I know that the topic of anti-Semitism is quite a dark and passionate subject for everybody in the Labour Party."
Ms Cooper warned that the row over anti-Semitism in Labour will not go away until the party fully adopts the international definition of what constitutes prejudice against Jews.
She told BBC Radio 4's Today programme: "I think this problem that we are in is awful for the Labour Party that's got such a history of fighting racism.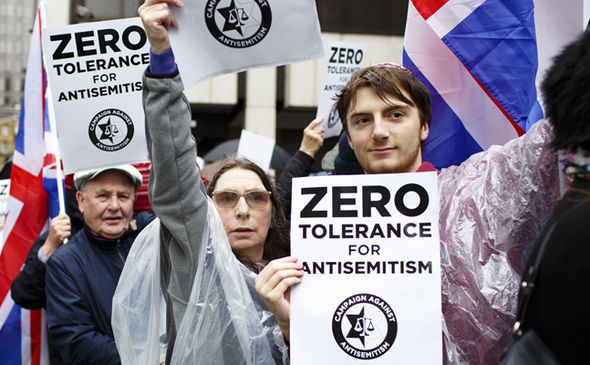 Jeremy Corbyn's Labour has been embroiled in an anti-Semitism row during his leadership (Image: GETTY)
"To be stuck in this mess, it's an awful situation that we are in.
"I think it is not going to go away until the party adopts the international definition of anti-Semitism."
Asked if she agreed with Mr Watson that the party faced a "vortex of eternal shame" if it failed to get to grips with the issue, she replied: "I support Tom on this. I think the point is we need to address it."
Meanwhile, Mr Watson was being targetted by hard Left supporters of Mr Corbyn on social media with a #resignwatson hashtag following his warning that Labour faced a "vortex of eternal shame" unless it got to grips with the issue.
Many of the far Left extremists also trolled the Holocaust Education Trust with abusive Tweets.
Jewish leaders made it clear that they believe Mr Corbyn is part of the problem.
In a joint message, Marie van der Zyl, the president of the Board of Deputies of British Jews and Jonathan Goldstein, the chair of the Jewish Leadership Council, accused Mr Corbyn of failing to acknowledge his own "problematic" history.
"Until Corbyn can honestly and fully own up to the problematic nature of some of his own past actions, he will struggle to lead the cultural change that is needed to clear the decks of a loud minority within Labour who behave in this way," they said.
The Daily Express tried to contact Fair Oak Farm but was unable to speak to anybody.
An email reply from Fair Oak Farm said: "Fair Oak Farm provides an extremely economical solution for savvy senior management teams, business groups and alike from all over the world, but particularly if they are London based."
Mr Kinnock said he could not recall the meeting.
He said: "Hand on heart I have no clue about that. If such meetings are taking place I have yet to receive an invitation!"
Mr Leslie insisted the meetings were about policy development.
He said: "I meet with colleagues all the time, mostly in Parliament but sometimes it's good to get out of Westminster. We had a really positive policy discussion and I very much appreciated the opportunity. I can't recall Jeremy Corbyn featuring in the discussion at all."
A source close to Mr Corbyn said: "Labour isn't about to fall back into the hands of out-of-touch career politicians who support cuts and back foreign wars, no matter how many fancy away days they hold."
[ad_2]