[ad_1]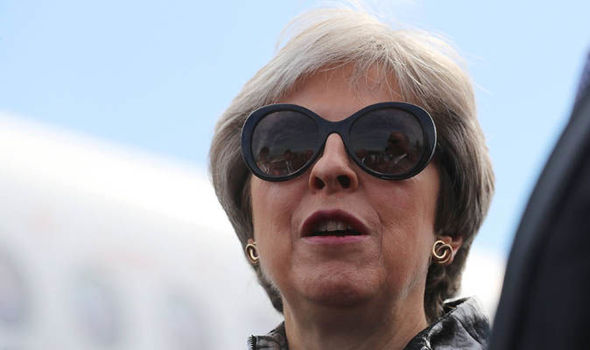 GETTY
Theresa May opening the Farnborough Air Show yesterday
Downing Street aides claimed the changes were "consistent" with her Brexit plans, but backbenchers insisted her retreat had "killed" the blueprint for close customs links between the UK and the EU after Brexit.
One delighted Tory Eurosceptic said the overhaul left the plan agreed by the Cabinet at Chequers earlier this month "dead on arrival".
Mrs May caved in to the demands from Brexiteer Tory rebels following a string of frontbench resignations and a threatened rebellion by up to 80 MPs.
She insisted the amendments did not "change" her plan.

I fear the elements of the Brexit white paper will inevitably put me in direct conflict with the views expressed by a large section of my constituents.
Ministers were last night understood to be considering an attempt to start the Commons summer break early in an attempt to shore up the Prime Minister's position.
It would cut short the sitting, which had been due to run until next Tuesday, giving less time for Tory plotters to gather support for a motion of no confidence in Mrs May.
Yesterday, parliamentary private secretary Scott Mann, the North Cornwall MP, became the 10th Tory frontbencher to quit the Government within nine days, following the furious row over the Brexit plan set out in a "white paper" discussion document.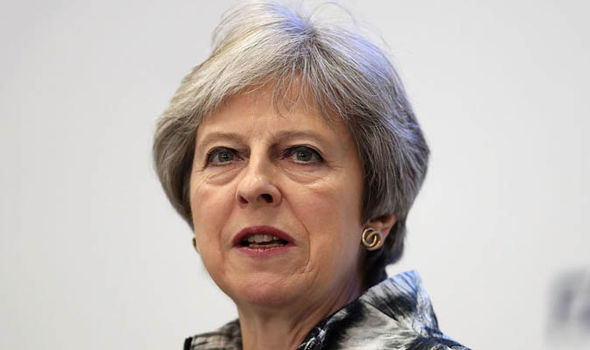 GETTY
Mrs May accepted four amendments but said they did not 'change' her plan
In his resignation letter, Mr Mann wrote: "I fear the elements of the Brexit white paper will inevitably put me in direct conflict with the views expressed by a large section of my constituents.
"I am not prepared to compromise their wishes to deliver a watered-down Brexit."
Mrs May accepted the amendments after talks with Jacob Rees-Mogg and Sir Bernard Jenkin, leading figures in the backbench European Research Group, yesterday.
The amendments were tabled by the pair along with former Cabinet minister Priti Patel and Iain Duncan Smith.
One of their proposed amendments demanded that the EU should collect British tariffs on imports in exchange for a commitment in the plan for UK border officials to collect EU tariffs in a scheme to avoid extensive customs checks at the Irish border.
Another demand was that a future customs union with the EU can only be set up with approval by Parliament.
Chequers summit in pictures: Theresa May's big Brexit meeting
Fri, July 6, 2018
The Prime Minister gathered her cabinet together ahead of a crunch Brexit showdown at her country retreat at Chequers in Buckinghamshire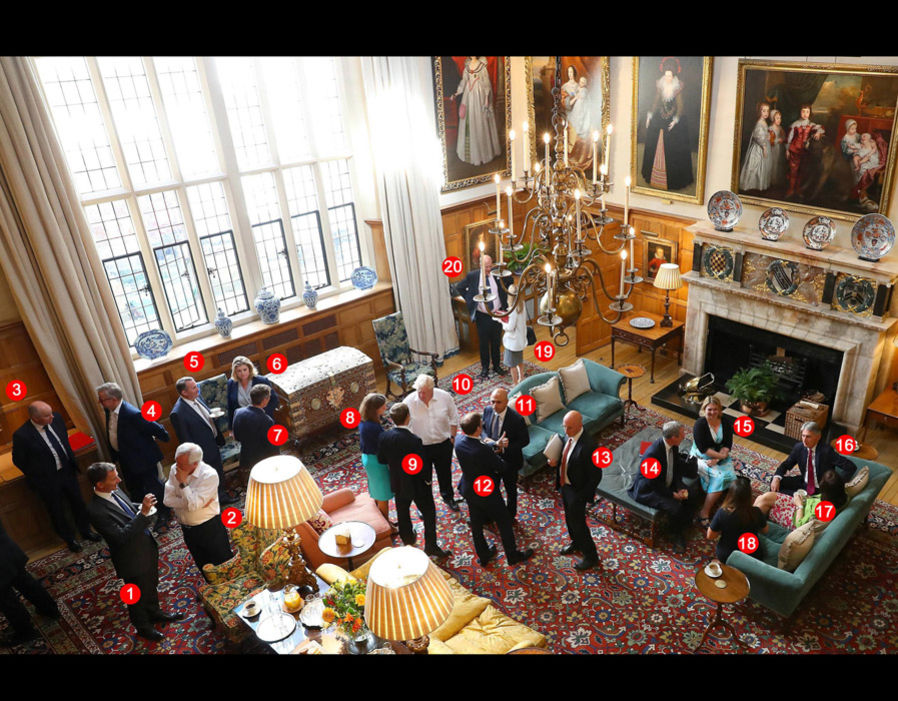 PA
1 of 14
Other amendments sought a commitment that Northern Ireland will not be treated differently from the EU and a promise that the UK will not become part of the EU's VAT regime.
A spokesman for the Prime Minister said: "We are accepting them because we think they are consistent with the white paper we published last week."
Sir Bernard said: "These amendments were only ever about clarifying Government policy.
"By accepting these amendments, the Government does no more than confirm our understanding of stated Government policy."
Ms Patel, who tabled the amendment calling for reciprocal action on collecting tariffs, said the Government's acceptance was "constructive".
"We have been calling for change, we have been calling for more engagement and the wider arguments to be heard," she said.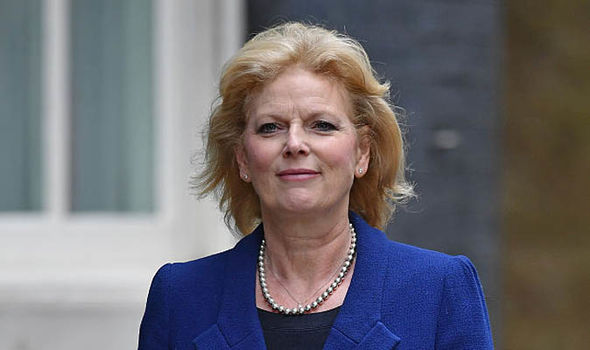 GETTY
Former business minister Anna Soubry
But fellow backbencher Peter Bone, another signatory to the amendments, called for the entire Brexit plan agreed at Chequers to be dropped.
He said: "I can't possibly dress it up in any other words than it's an absolute shambles."
But the amendments enraged pro-Brussels Tories last night.
Former business minister Anna Soubry said: "It is deeply regrettable that this Government has accepted those amendments even though they clearly seek to undermine the great advances made in this white paper."
She told the Commons: "Members on the frontbench and across this place should be shaking their heads with shame.
"And the only reason that the Government has accepted these amendments is because it is frightened of somewhere in the region of 40 Members of Parliament – the hard, no deal Brexiteers, who should have been seen off a long time ago.
Brexit march descends on London
Sat, June 23, 2018
Thousands take to the streets of London for Brexit march.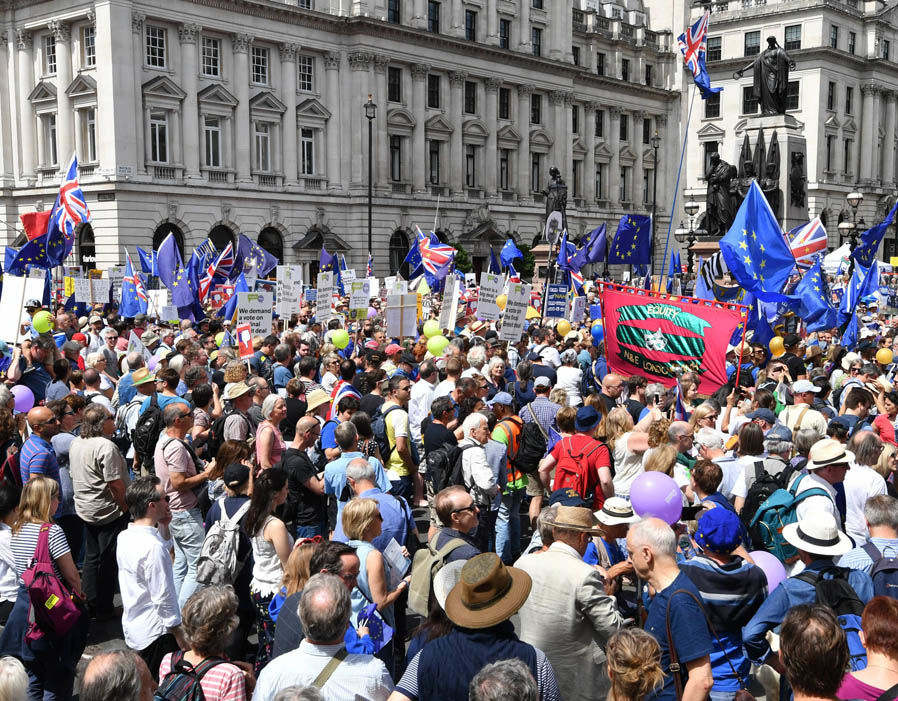 PA
1 of 21
"These are people who do not want a responsible Brexit, they want their version of Brexit – they don't even represent the people who actually voted Leave."
Labour MP Stephen Kinnock accused Mrs May of "dancing to the tune" of the European Research Group.
She was "capitulating" and her plan was "dead in the water".
But the Prime Minister told MPs: "He is absolutely wrong in his reference to the agreement that was reached at Chequers, I would not have gone through all the work that I did to ensure that we reached that agreement only to see it changed in some way through these Bills.
"They do not change that Chequers agreement and the minister from the despatch box later today will be making that clear."
[ad_2]