[ad_1]

John McDonnell has hailed Labour's plans to renationalise the water industry, telling the party's conference it is part of "the greatest extension of economic democratic rights that this country has ever seen".
The shadow chancellor told Labour's annual gathering in Liverpool that the policy would "put this essential service back in the hands of local councils, workers and customers".
Mr McDonnell said the party's plans for sweeping nationalisation of industries like water, energy and rail would not be "a return to the past" but the catalyst for genuine change.
"We don't want to take power away from faceless directors only to centralise it all in a Whitehall office, to swap one remote manager for another," he told delegates.
He said Labour would ensure there would be "unprecedented openness and transparency" in how the water industry was managed, as well as launch a "large scale consultation" on "democracy in our public services".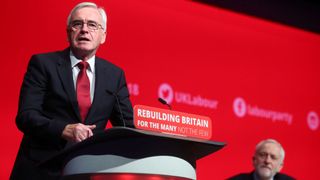 Mr McDonnell said an industry shake-up would see it reorganised under new Regional Water Authorities (RWAs).
These would include local councillors, worker representatives and representatives of community, consumer and environmental interests.
Mr McDonnell promised: "We are ending the profiteering in dividends, vast executive salaries, and excessive interest payments.
"Surpluses will be reinvested in water infrastructure and staff, or used to reduce bills.
"Real investment will allow the highest environmental standards."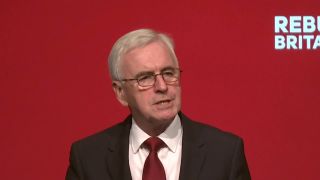 Mr McDonnell said a Public and Community Ownership Unit in the Treasury would take charge of the return of water, energy, rail and the Royal Mail to public ownership.
The shadow chancellor also announced plans to make employees part-owners of their company if the firm employs more than 250 people, a policy the party claims could leave workers up to £500 a year better off.
The Conservatives said this was "yet another tax rise" which could deter companies from taking on staff, while the Confederation of British Industry warned it would drive down investment.
The business group also expressed concerns about Mr McDonnell's speech more generally, warning "the fallout…would be a drop in living standards".
Director-general Carolyn Fairbairn said: "From renationalisation to dilution of shares, Labour seems determined to impose rules that display a wilful misunderstanding of business.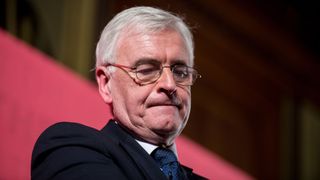 "Their policies would immediately reduce the value of shares owned by ordinary people by over 10% and hobble UK ambitions to compete on a global stage.
"That's a double whammy for people's pensions and savings.
"At a time of great uncertainty, this is no way to build the foundations of competitiveness and productivity that will improve people's lives."
[ad_2]