[ad_1]

Chancellor Philip Hammond has risked infuriating Tory Brexiteers by warning of "large fiscal consequences" of a "no-deal" Brexit – on the same day other ministers sought to reassure the public about such a scenario.
In a letter to fellow Tory MP Nicky Morgan, the chair of the House of Commons' treasury committee, the chancellor repeated the findings of a government analysis of various Brexit outcomes from January.
Mr Hammond highlighted how the document found a no-deal Brexit would see the UK's GDP suffer a hit of up to 10.3%.
He wrote: "GDP impacts of this magnitude, were they to arise, would have large fiscal consequences."
The chancellor also pointed to how the analysis estimated government borrowing would be around £80bn a year higher by 2033-34, if the UK were to trade with the EU on World Trade Organisation rules.
:: Britain under 'no-deal': A far cry from 'less red tape'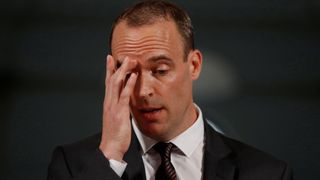 He revealed the Whitehall analysis of various Brexit scenarios are "now undergoing a process of refinement" prior to MPs voting on any agreement with Brussels later this year.
"However, we expect the analysis to show that for scenarios in which we have higher barriers to trade with the EU there will be a more damaging effect on the economy and public finances," he added.
He stressed none of the scenarios analysed in the document represented the government's preferred option for a future trade agreement with the EU.
The chancellor also repeated a promise to provide MPs with an analysis of a deal the government strikes with Brussels before a parliamentary vote on such an agreement.
Mr Hammond's repetition of the consequences of a no-deal Brexit came just hours after the government released the first batch of "technical notices" on plans to mitigate the impact of leaving the EU without a divorce agreement.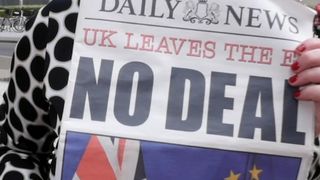 Earlier, Brexit Secretary Dominic Raab used his first major speech in the role to declare his confidence that the UK's "best days lie ahead".
The timing of the chancellor's letter will prompt suspicions among Tory Brexiteers, who already believe he is trying to keep the UK closely tied to the EU.
Both Mr Hammond and Mrs Morgan supported Remain at the EU referendum.
Mrs Morgan said: "The chancellor has confirmed that the government forecasts a disastrous hit to our economy and living standards in the event of a 'no-deal' Brexit.
"The committee will expect an updated analysis to be published in good time to inform parliament's key decisions on the final deal."
Leading Tory Brexiteer Jacob Rees-Mogg immediately dismissed the chancellor's letter.
He told Sky News: "The treasury designed 'Project Fear' and loves its own work even though it has been entirely wrong so far."
Labour MP Virendra Sharma, who voted against the UK triggering Article 50 to leave the EU and supports the Best for Britain campaign for a second referendum, claimed Mr Hammond's "bombshell letter" revealed "chaos at the heart of government".
He said: "Senior ministers don't seem to talk or even have a coherent plan. The government is totally split with only months until we are supposed to Brexit."
[ad_2]